With the aim to "create trendy lifestyle", conquer the elite group of Vietnam, in Hanoi and Ho Chi Minh City, Sunshine Homes will officially launch duo product lines of luxury technology resort: Sunshine Marina - Multi-experience complex resort and Sunshine Premier - Inner-city resort.
Coming up exploding event in Lotte          
Up to now, all preparations for the launch of Sunshine Homes' 2 resort product lines – Sunshine Group's real estate development brand, have been completed. In Hanoi, the imposing, classy and distinguish grand opening will be taken place on October 31 at Lotte – the third tallest building in Vietnam.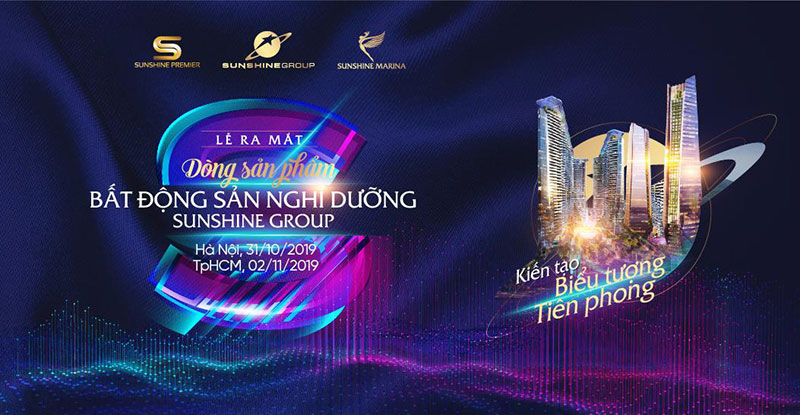 With the investment in modern sound and light system, the event is elaborately staged on the stage of the trendy panorama stage with the appearance of famous artists such as singer Noo Phuoc Thinh and Dong Nhi singer, MC Thuy Van, MC Nguyen Khang, Miss Hoang Anh, … the program not only promises an impressive of launch event but also shows the willingness to spend of the Sunshine Group investor.
At this event, the real estate market will receive two high-class and distinct product lines, generating strong pushes to raise the resort real estate market in Vietnam.
As the representative of Sunshine Group once shared: "Joining in the real estate market, Sunshine Group is consistent with its own strategic vision that is "prestige creates strength" as well as the once the investor does, it must be quality".
And to "make it quality", not only stopped at high-end apartment projects with sophisticated architecture, closed utilities, top technology such as 5-star resorts, Sunshine Group also invested greatly in the resort real estate market to confirm its own path with pioneering, unique products, expecting to become a symbol of Vietnam.
Accordingly, two new real estate lines: Sunshine Marina – Real Estate for resorts and Sunshine Premier – Real Estate for inner city stays will be super smart, world-class, international-class resorts, leaving their mark on the journey for find its unique ego in the area of real estate resort of Sunshine Group
>> Let's see the spectacular launching event of 2 luxury resort lines of Sunshine Group
What's special about the 2 newly launched product lines of Sunshine Group?
All of Sunshine Group's Sunshine Marina tourism projects are coastal projects, developed under the Integrated Resort (IR) model – the popular resort complex model in the world, but first appeared in Vietnam with high-class tourism, entertainment and entertainment activities.
These beach resort projects will be located in the famous coastal cities of Vietnam, which possess the most beautiful beaches on the planet or nature-favored destinations with special cultural accents. This product line will include projects:  Sunshine Marina Nha Trang Bay, Sunshine Diamond Bay, Sunshine Marina Hạ Long Bay, Sunshine Marina Hội An.
In particular, Sunshine Marina Nha Trang Bay is considered the "ace" of the Sunshine Marina resort line. The project not only has the beautiful natural scenery, architectural masterpieces, it also satisfy "one thousand and one" needs with multi-dimensional experiences through a combination of trendy utilities such as: Casino, wharf yacht, aquarium, theater, water music stage, infinity pool, private beach with a chain of bars – sky bar, 5-star restaurant ++, experience "Rowing on the inner river connecting to the sea" or exclusive itinerary on a yacht…
In addition to the Sunshine Marina resort line, the launching night of October 31 will also be an opportunity for Sunshine Homes to launch the 5-star-class Sunshine Premier inner-city resort real estate in major urban centers and leading destination of Vietnam as Hanoi, TP. HCM.
Sunshine Premier is aimed at a group of business travelers and global professionals working at centers, developed urban destinations in Asia, along with a particularly high-class wealthy customer who needs to stay right in the city center.
The projects in the inner-city resort line are all well-run by the world's leading management brands, along with standard resort facilities and especially those suitable for global businessmen, such as: separate workspaces, high-class conference rooms, international conference rooms,…
The two typical representatives of the Sunshine Premier ultra-luxury inner-city resort real estate line are Sunshine Empire and Sunshine Dragon Twins Tower, promising to become a unique architectural masterpiece that transcends all limits of space.
In particular, with the status of a major international trade center, Sunshine Empire brings together top-class utilities and services, becoming the first destination in Hanoi with global appeal; where the elites satisfy their thirst for unique ego with exclusive luxury goods from the great international trade center; businessmen and businessmen showing their bravery on the market at multinational summits; elites conquering perfect values with fashion catwalks, centers for organizing international art programs … At the same time, with thousands of available utilities, Sunshine Empire meets all needs of living and working. , entertain and enjoy with international standards.
In addition, with the advantage of a precursor domestic and foreign software developer, through Sunshine Tech, Sunshine Group launched a series of proprietary technology applications, only for the Sunshine Marina resort real estate system, and Sunshine Premier brings a "new breeze" to the resort real estate, opening a new era for this area in Vietnam.
Not only does it bring smart home technology into every resort apartment, Sunshine Tech also applies it to the entire high-end multi-service resort complex. Therefore, this "technology ecosystem" has become a link between emotions and regal experiences, bringing a full international vacation and "complete relaxation from the beginning to the end of the journey".