Going beyond common standards of luxury accommodation with diverse utilities and modern technologies, Sunshine Homes is set to elevate residential properties to an art of living and the pinnacle for affirming the status of the elite.
From the inspiration of luxury goods to the philosophy of high-end real estate development
Modern-day living has changed how people indulge and pamper themselves. The perceived values of happiness have gone beyond the tangible materialistic concepts of "eating well, dressing well" to focus more on achieving "fulfillment" – a state of living in which personal emotional and spiritual needs are fulfilled, bringing a tailored sense of satisfaction.
It is human nature to always strive to conquer higher values than what we have already possessed. The more developed the economy, the more the desire for refinement, vanity, and luxury grows. There is a growing affection for rare, one-of-a-kind items in all fields, from fashion, technology and high-tech gadgets, to real estates.
Sunshine Group has anticipated this trend with the Sunshine Homes luxury real estate brand, which is always striving to create a stunning canvas for luxe living, "bespoke" for the elite. Each project of Sunshine Homes merges the quintessence of world-class architecture, echoing the most opulent buildings and cities such as the Trump Tower in New York, or prosperous cities in Europe – posh London, splendidly romantic Paris, Singapore's green buildings, etc.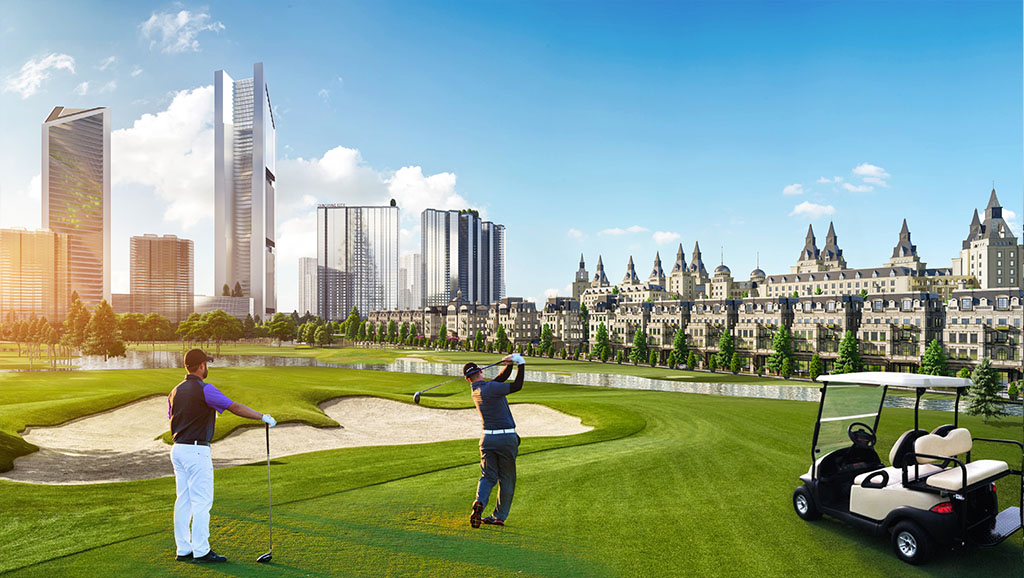 Sunshine Homes constructs top-valued luxury real estate projects on the market
With the vision of honoring "Truth, Goodness, and Beauty", Sunshine Homes' real estate projects always aim for everlasting beauty and sustainability against the test of time. The brand always places customers' needs at the center and embodies the finest architectural and cultural values; each Sunshine Homes project is as exquisite as a masterpiece, tailor-made for elite owners – those who know their worth and want only the best in their life.
Using a unique living philosophy, each crafted detail tells a story, setting new standards of personal branding values and quality of a resort lifestyle in a lavish, indulgent environment. The prestigious Sunshine Homes branded projects offer homeowners the sense of being themselves, of true ownership and belonging, where they can freely pursue their personal hobbies in the most fashionable and extravagant settings.
Affirming the leading position in the Real estate market
Sunshine Homes has become a renowned brand for luxury and super-luxury real estate projects. Each product line always offers the highest standards to satisfy the customers' demands, even the strictest elite and super-rich, while also transforming the facade of its residing landscape.
All Sunshine Homes projects are located at prime locations considered the "golden lands" in big cities, such as: Hanoi, Ho Chi Minh City, Da Nang, Thanh Hoa, Phan Thiet, etc. The unbeatable locations in central areas are convenient, accessible, with good feng-shui to bring fortune, luck and prosperity.
As the top real estate developer in Vietnam, Sunshine Homes creates unique projects that are imbued with futuristic designs, leading the trend of symbolic luxury estate products in the market. One can easily name some of their outstanding projects: the Sunshine Heritage mega-project – the pioneer in integrating resort properties with the conservation and development of cultural heritage nationwide; the Sunshine Capital with a collection of villas, shopvillas, shophouses, luxury properties in various segments – high-end apartments, single and duplex villas, etc. – all created with a timeless architecture style in the West of West Lake (Hanoi) and Thanh Hoa.
Sunshine Homes' projects embody ultimate aesthetics in architecture; each building or villa is a whole artwork with each detail meticulously crafted. Moreover, despite being located on the most expensive lands, Sunshine Homes still sets aside vacant commercial lands for green areas, water features, as well as public facilities, etc. to provide healthy living environments and high living standards while nurturing balanced, sustainable living spaces. It is safe to say that Sunshine Homes has earned their place as one of the leading real estate developers in Vietnam by building sustainable green metropolises for their residences right in the hearts of cities.
Sunshine Homes has always affirmed their leading position by pioneering the application of smart ultra-connective technologies, creating a new high-tech lifestyle with Smart Living standards using 4 automation solutions: Smart Home, Smart Security, Smart Management, and Smart Parking. Each Sunshine property-owner becomes a global citizen when they gain access to a 4.0 technology ecosystem that seamlessly integrates across all utilities and services of Sunshine Group.
With the brand's vision of consistency in real estate development, all Sunshine Homes projects boast modern, self-contained utilities rings. With the All-in-one model offering luxurious, private, well-equipped living spaces to owners, coming home will feel like returning to a secluded haven away from the hustle and bustle of big cities.
Drawing endless inspiration from the journey of creating architectural masterpieces, Sunshine Homes has constructed the most aesthetic spaces integrated with high-tech facilities, services, and the ultra-trendy "Sunshine ecosystem". Sunshine Homes' real estate collections not only offer the most exquisite and impressive experiences, but also contribute significantly to uplifting the facade of Vietnam's urban areas and elevating the citizens' living standards.