The Covid-19 has affected customers' buying behavior, and the number of customers searching online real estate pages has increased sharply during the last season.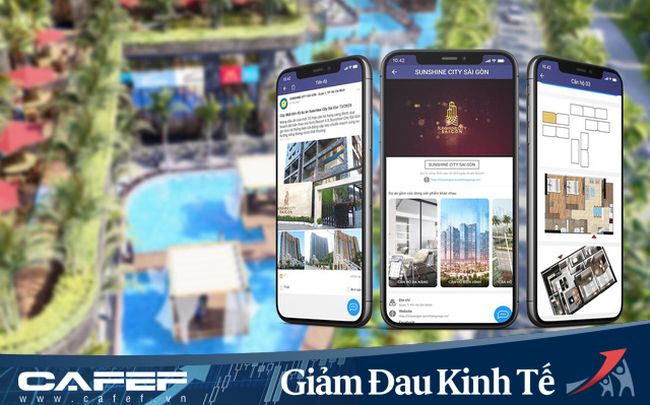 The Covid-19 has caused a sharp increase in the digitalization wave in almost all industries. The most profitable is the retail industry with sales increasing rapidly, several times higher than before. Even in the electronics industry, online purchasing power also increased from 50-100% compared to normal.
Not stopping at ordinary consumer goods, the Covid-19 has changed the habits of buyers, making many typical products of great value such as real estate "faithful" to the offline sales, nowadays it has switched to online models with many forms.
Leading the trend of selling in real estate online is Sunshine Group. In January 2020, Sunshine Group launched the Sunshine App, which integrates two major needs of customers, namely home buying and real estate investment. At that time, when there was no outbreak of Covid-19, the market did not really pay attention to the model of online house purchase, online real estate investment.
When the Covid-19 began to spread, the requirement for quarantine nationwide made it difficult for many real estate businesses to not reach customers. In this context, Sunshine Group has good sales.
According to the company's representative, the Covid-19 has affected customers' buying behavior, and the number of visits on Sunshine App has grown exponentially over the past three months. Currently, the number of visitors with peak days reaches hundreds of thousands of times, transactions also tend to increase strongly.
"By the end of March and early April, although the national isolation order made the real estate enterprises struggling, we recorded nearly 500 successful transactions. This may be a modest figure in the favorable market conditions in the past, but in the current difficult period, it is a good sign when most business activities have to stop trading "face to face" to prevent disease", Sunshine Group said.
Successful from online sales, Sunshine Group is now promoting online real estate investment channel through Sunshine Fintech on Sunshine App. Accordingly, completely different from ordinary apartment investment, investors only need to spend the lowest investment of VND 100 million to own a part of an apartment or a villa with prices from several billion up to several tens of billion dong.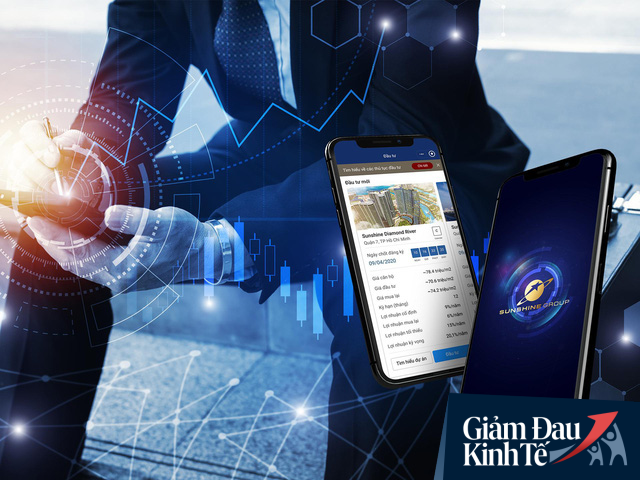 After Sunshine Group, Vinhomes has recently officially announced Vinhomes Online. According to information from Mr. Huynh Du An – Deputy General Director of Vinhomes Joint Stock Company, there were 200 successful transactions in the first day.
"On the first day of launch, there were more than 32,000 visits and 200 apartments were successfully traded. This is an unexpected result, especially in the context of the disease today. We believe that, transaction volume through Vinhomes Online will continue to be positive in the near future" Mr. An said.
Also according to Mr. An, Vinhomes Online real estate exchanges aims to help customers buy houses remotely with the "3 best" benefits: the most convenient, fastest and lowest cost. With the motto "Stay home – Buy home", to catch the trend of online consumption for the real estate market in Vietnam.
In addition to the two large enterprises, Sunshine Group and Vingroup, a series of other businesses have also "joined" quickly in the sales race with technology and also have quite good results.
Recently, Mr. Pham Thanh Hung – Vice Chairman of CenGroup said Cengroup has just poured US$ 1 million into Revex technology platform – online real estate investment.
According to Mr. Hung, thanks to quickly adapting and converting numbers in the present time, Cengroup is the best trading unit, and is almost the only trading platform in Vietnam still operating well. Although employees must work from home, the Group still has adaptive solutions. "We have not had to reduce personnel because of the disease" Mr. Hung stressed.
In the market, many other real estate businesses are also converting strongly. It can be mentioned as LinkHouse Company launched LinkHouse App, Khai Hoan Land Company also launched sales app, real estate trading sites such as Youhome, Batdongsan.com.vn … all have their own application software.
Some businesses perform live streaming at the project site, or use software such as Fastkey, Reality Scanning with 3D images. Typically, big companies such as Hung Thinh, LDG, An Gia Group, Vingroup, Novaland … promptly put technology applications into operation to interact with customers.
Once consumers have bought online as acquaintance, they will continue even when the disease is over!
Survey results on consumer reactions and behavior before the Covid -19 have been conducted by Nielsen Vietnam, combined with Infocus Mekong Mobile Panel, showing that this disease has had a significant impact on common behavior of Vietnamese people.
Specifically, 47% of Vietnamese people have changed their eating habits; 60% change leisure/entertainment activities; 70% reconsider their travel plans and 44% think their source of income has been affected.
Nielsen Vietnam judges that Vietnamese people are spending more time online and shopping online. This creates a great opportunity for businesses to step up their digital communication strategy to create stronger imprints in the online market.
Even recently, in the Malcolm Pinkerton media, Kantar retail experts think that many consumers will continue to use digital platforms even after the pandemic: "This is a fairly short opportunity for companies to grow their brand."
Theo: cafef.vn