On December 9, 2019, at Sunshine Center headquarters (16 Pham Hung, Hanoi) Sunshine Group officially signed a cooperation agreement with Samsung Vina Electronics Co., Ltd. (belonging to Samsung Korea Group) with the aim of applying modern and smart technologies to the developing Sunshine Group housing projects to bring different experiences to customers.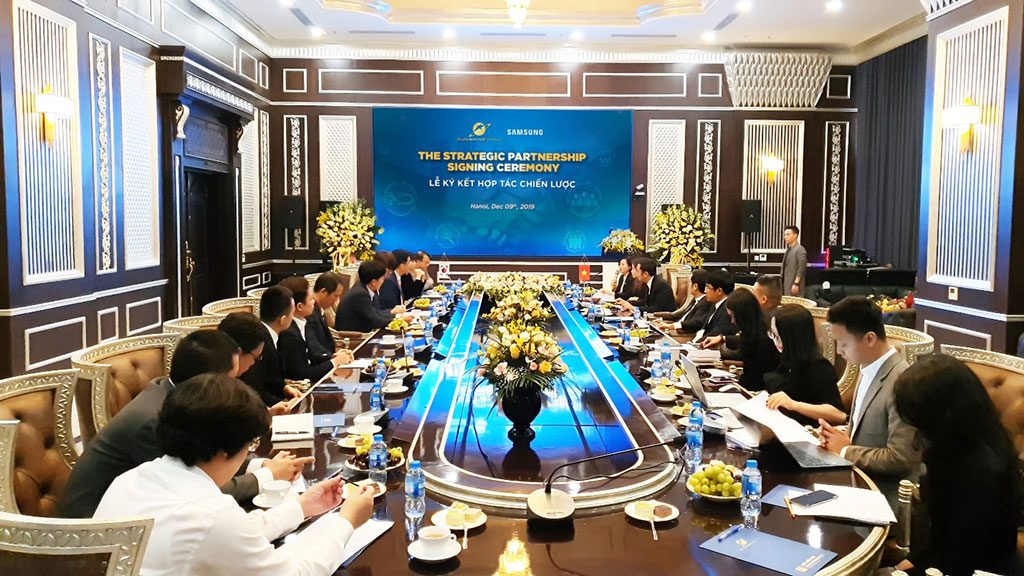 Leading the Samsung Vina delegation is Mr. Suh Kyung Wook – General Director of Samsung Vina Electronics, Ms. Nguyen Y Mai – Deputy General Director of Samsung Vina Electronics. On Sunshine Group, the leaders are Mr. Do Anh Tuan – Chairman of the Board of Sunshine Group, Mr. Do Van Truong – Vice Chairman of the Board of Sunshine Group, Mr. Nguyen Van Minh – Vice Chairman of Sunshine Tech.
The meeting between 2 technology giants
Samsung Vina is known as the market leader in researching new applications, IoT solutions for consumer electronics products as well as important mobile telecommunications products such as smartphones. Smarttablet. Most recently, on October 3, 2019, Smart Solutions package including Smart Home and Smart Building was officially introduced by Samsung Vina in Vietnam market.
On the Sunshine Group, this is a pioneer real estate group in bringing 4.0 technology applications into real estate. Currently, all Sunshine Group's projects apply thoroughly technological achievements in operation and management such as Face ID, Sunshine Pay, Sunshine Cab. … In particular, super application Sunshine App which allows integration and use of many utilities, services, e-wallets is a breakthrough of Sunshine Group in the real estate market in Vietnam.
Speaking at the signing ceremony, Chairman of Sunshine Group Do Anh Tuan said: "Samsung Vina is a large corporation that has achieved much success when applying technology to the development of household electrical products and smart phones. Since Samsung Vina introduced Smart Solutions, we have realized that Sunshine Group can materialize its vision of "smart home, smart life" by cooperating with Samsung Vina to integrate IoT ecosystems in the ongoing Sunshine Group projects, aiming to bring Vietnamese consumers the most advanced and modern technology".
In addition, the smart technology platform integrated into the Sunshine App super by Sunshine Group can be compatible and suitable for Samsung smart devices. With the desire to perfect the Smart Living ecosystem on a single application, Sunshine Group has chosen Samsung Vina as a strategic partner, "the Chairman of Sunshine Group also affirmed.
Appreciating what Sunshine Group is doing, Samsung Vina, General Manager Mr. Suh Kyung Wook said: "We realize that there are many interesting similarities between Sunshine Group and Samsung Vina. It is the pioneering spirit in applying breakthrough technology innovations to bring the most unique and meaningful experience to customers. Therefore, I believe that the cooperation between Samsung Vina and Sunshine Group will bring the best results, adding value to residents living in Sunshine apartments. We believe that after becoming a strategic partner, the two sides will take a new journey and gain more success together. "
The revolution of smart living space starts to form
At the ceremony, Sunshine Group has introduced Sunshine App to Samsung Vina. This super application is integrated with core technology of industrial revolution 4.0, such as: AI, Bigdate…bringing the most convenient and smartest life to users as being able to purchase a house just by some "clicks", investing real estate with only several hundreds of million dong and dozens of other services such as free shuttle service, travel, shopping, health care …
Mr. Do Anh Tuan – Chairman of Sunshine Group said: "With hundreds of ultimate features integrated in this super application, Sunshine Group will bring technological solutions of the future. Many features will be added for the first time in Vietnam, opening up attractive investment and commercial opportunities for millions of users in Vietnam and the future is international, Sunshine Group highly appreciates and expects that this cooperation will mark a new milestone for the cooperation and Sunshine Group's invasion in technology, real estate, digital investment, e-commerce … through the Sunshine App ".
The strategic cooperation agreement between Sunshine Group and Samsung Vina will include total solutions such as air conditioning systems, electronics devices, televisions, digital door locks and smart home solutions using the most advanced technology products from Samsung at every project invested by Sunshine Group. At the same time, in the future, Sunshine App will be a distribution channel of Samsung electronic products with attractive incentive policies for residents and partners of Sunshine Group. In particular, the signing ceremony of Samsung Vina will act as a bridge to promote the support and technical and technological cooperation between Sunshine Group and Samsung Group's research and development team to offer unique product lines to the residents of Sunshine.
After the perfect strategic corporation between Sunshine Group and Samsung Vina, the two sides believe that the cooperation between the two technology giants will enter a new era, bringing more benefits, not only for the product-service ecosystem of Sunshine. It also is a step forward for Vietnamese branded products.