On October 13, 2021, at the Announcement and Celebration Ceremony for Vietnamese Strong Brands of 2020 - 2021, Sunshine Group was honored as one of the Top 10 businesses in Real estate and Construction, and was among the 30 notable businesses attending the meeting with National Assembly Chairman, Mr. Vuong Dinh Hue.
Vinh danh những doanh nghiệp tiêu biểu nhất Việt Nam
As the largest annual event created and organized by the Vietnam Economic Times since 2003, Vietnamese Strong Brands is a program dedicated to the business and entrepreneur communities of VIetnam in various economic sectors, in order to encourage sustainable growth of Vietnamese brands and in-depth integration into global values. With the theme of "Overcoming Challenges", the 2021 program particularly focused on criteria related to the innovation index, digital transformation, business restructuring, adjustment and changes to business models, business operation models' suitability and effectiveness in new situations, etc.
Solemnly organized at the International Convention Center, 35 Hung Vuong Street, Ba Dinh District, Hanoi, this year's event honored 109 Strong Brands, including Top 10 Vietnamese Strong Brands, Top 10 in Real Estate – Construction, Top 10 in Banking and Finance, Top 10 in Digital Technology Services and Retail.
Also attending the occasion were representatives from the leadership of the Central Economic Commission, the Ministry of Foreign Affairs, the Ministry of Industry and Trade, Vietnam Union of Science and Technology Associations, as well as representatives from businesses nationwide.
On the same day, 30 representatives of leadership from Vietnamese businesses met with the National Assembly Chairman at the National Assembly Building. Chairman Vuong Dinh Hue and leaders of the National Assembly Standing Committee congratulated the entrepreneurs and businesses of Strong Brands on Vietnam Entrepreneurs' Day, October 13.
At the meeting, the business delegation also received guidance from the Chairman, and were able to offer their opinions and suggestions regarding important future decisions for the Party and National Assembly.
The Sunshine Group brand and efforts to become the leading multi-industry economic group in Vietnam
As one of the businesses honored in the Top 10 Vietnamese Strong Brands in 2020 – 2021 for Real Estate – Construction, Sunshine Group continues to assert themselves and elevate their position in core areas, while striving to become the leading multi-industry economic group in Vietnam.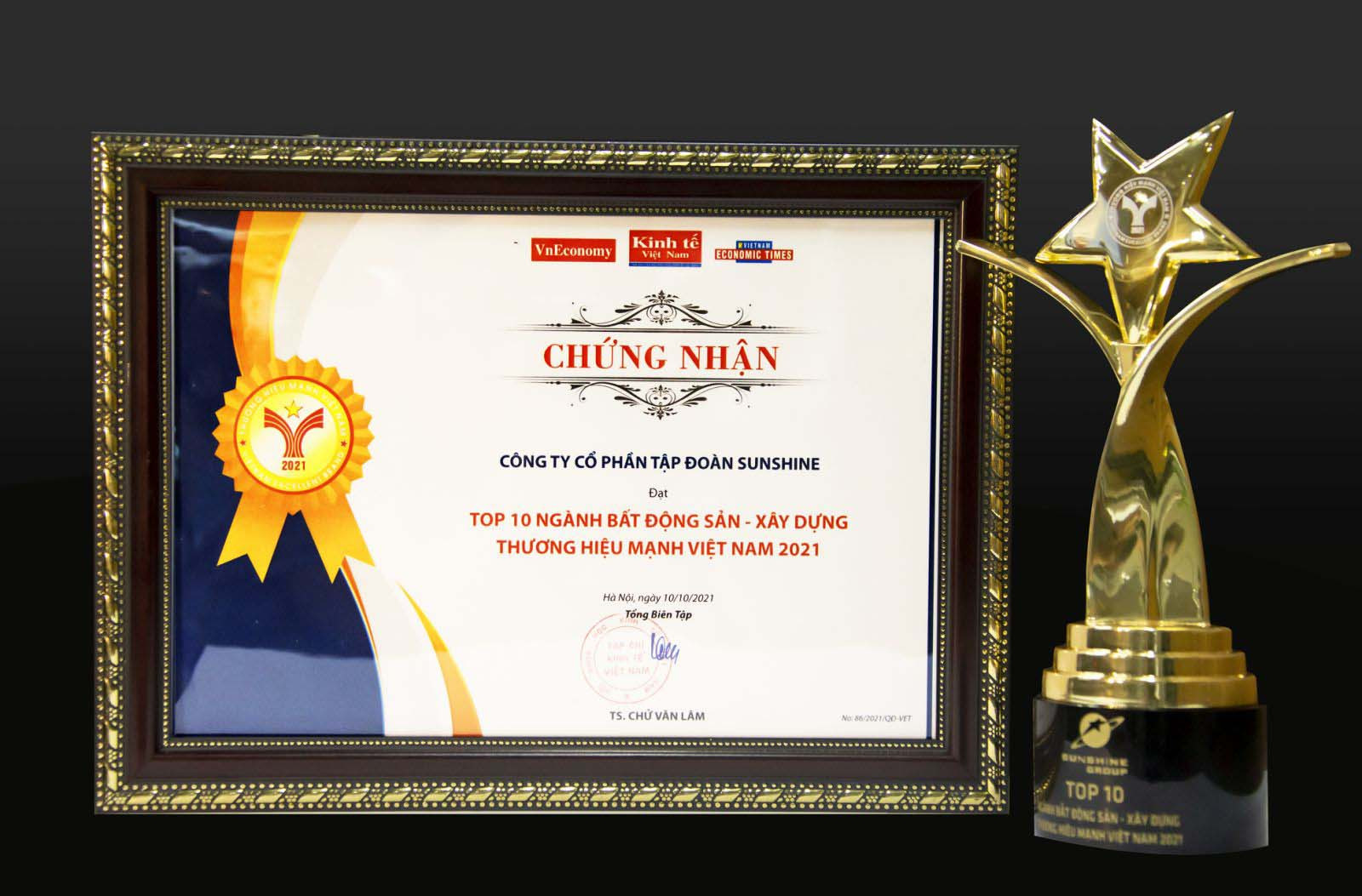 Operating in many sectors such as real estate, technology, finance, education, healthcare, industrial, commerce and services, Sunshine Group has set great ambitions and intense focus to reach great heights of quality, affirming their strong position in sectors pursued by the business. Among the fields, real estate and technology are considered key sectors for the corporation. Real estate projects invested in and developed by Sunshine Group are all part of high-grade segments, situated at strategic locations, elegantly designed with the trendy Smart Living ecosystem, thereby ensuring the highest living quality for its residents. In particular, Sunshine Group is one of the leading names in the creation and construction of highly-valued projects following Green-Smart standards, in addition to the one-of-a-kind series of real estate projects in the market which integrate technology and heritage conservation.
At the Announcement and Honoring Ceremony for Vietnamese Strong Brands of 2020 – 2021, representing Sunshine Group, Deputy General Director Hoang Thi My Binh affirmed, "As a diversified economic group that is highly rated by the market because of our initiatives and potential strengths, especially in the application of technology in real estate recently, Sunshine Group always strives to make an outstanding impression in innovation and sustainable growth, responsible business, and global integration. Having set the goal to be one of the leading professional real estate developers in Vietnam, and moving on to conquer regional and international markets, we consider ourselves always ready. Each fluctuation in the current situation is an opportunity to "Overcome Challenges", creating new core values of a brand that has made its name on the market.