Sunshine App launch ceremony in Ho Chi Minh City on January 09, 2020 is considered as an important milestone of Sunshine Group on the way to pioneer in creating new values. "Come rain or shine" Sunshine App, a fintech solution, will affect traditional real estate transaction market directly.
Releasing Sunshine App, Sunshine Group dominates technology "game"
Since the end of 2019, whole real estate market has simmered about a multifunctional integrated app revealed by Sunshine Group. Sunshine App meets all people's demands from buying-selling-leasing real estate, online investment, project consultancy, consumer loan, entertainment, vehicle booking, house helping, travel, education, healthcare, shopping, house management … By cooperating with strategic partners such as Samsung or continuously researching the most advanced technology solutions in the world to apply in this App, Sunshine Group gradually realize its eager which is turning technology into real values to serve all of people's essential needs in technology 4.0 times, not simply an idea performance.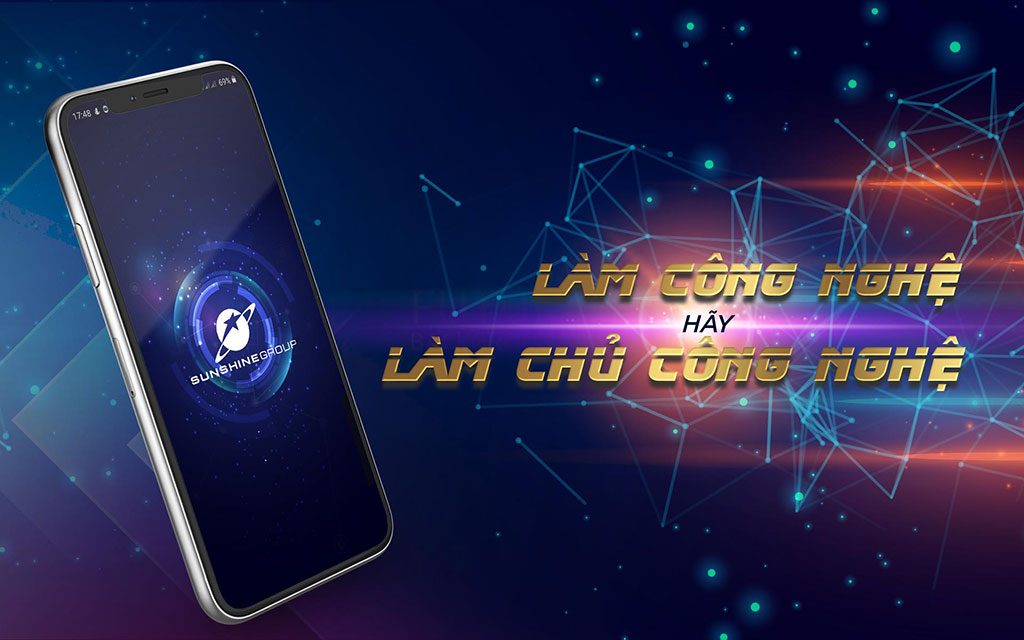 Sunshine App, considering technology as a core, an optimal solution to minimize intermediate steps in order to bring about convenience, transparency, diversity of Modules on digital platform, is exactly "an App for all App" built and completed by Sunshine Group devotedly day by day. This App not only keeps pace with the trend but also renovates it into the most suitable way for customers, partners, investors … and market's fluctuations.
For example, popular Smart Home app is upgraded into Smart Living with full of various ecosystem applied with technology 4.0. To change mindset of both real estate sellers and buyers in real estate brokerage, Sunshine Homes together with online consultancy, online booking is released. Entertaining with Sunshine TV through a variety of copyrighted "blockbuster" movies and international television channels… is to help viewers experience lively sound and images all the time, all the places.
Especially, through module Fintech which is named as "an interesting investment channel in the future", Sunshine App provides a series of modules such as investment-payment-credit flexibly, transparently and suitably for all objects, but absolutely safe indeed.
In which, Credit module, accordingly to Chairman Do Anh Tuan, is the privilege of electronic residents supplied by Sunshine Group that they are "supported with a loan package worth 500 million to 1 billion dong only within 3-5 hours"
Technology simplifies life
In digital era, information is a significant key for anyone accessing them correctly and sufficiently to adapt in life. Besides that, when integrated in a shared economics, information transparency is both chance but big challenge for individuals and organizations.
Overcoming this challenge, Sunshine App with the mission to digitalize modules, provides sufficient information, publicizes all data of the project from the investor with the aim of creating transparency and synchronization. Thus, Sunshine App is the pride of Sunshine Group marking a new development milestone on the way to pioneer in leading community in the future by technology.
Typically in the field of real estate business, Sunshine App brings absolute convenience to both customers and consultants, directly forming a new "form" for the real estate brokerage market.
Accordingly, customers can access documents about the project immediately via modules of Sunshine App: overview introduction, utility, finished materials, sales policy, model apartment, picture 360o, master plan as well as selling price. This is a completely distinct thing changing real estate selling and buying mindset when customers are provided with too much source of information before, as the result, they "hear it on the grapevine". Additionally, "investment reference" module is also a useful information counselling channel helping customers to make the most correct final decision.
Demonstrating the "true value", at the launch event of Sunshine App on January 9, 2020, Sunshine Group's customers and investors could directly verifiy and experience this new unique and distinct features right on their smart phones.
Technology brings real "billion-dong" value to customers
The launch of Sunshine App on January 09 doesn't attach importance to music performances or the appearance of artists like regular events so much, but is truly a real technology experience session. In which, each guest can personally experience in the Sunshine App, on their own Smartphone, with very close, practical sharing of Sunshine Group representatives. In particular, the most practical are the great prizes for customers and business specialists through random lucky draw on Sunshine App dramatically.
It was full of surprises when receiving the prize of 1 billion VND (one of the prizes for customers who successfully booked one of the two projects, Sunshine Continental, Sunshine Horizon), Ms. Tran Dieu Hang (a banker at Vietcombank, a resident in District 7, Ho Chi Minh City) could not help but excited to share: "Via  Sunshine App, I find out the latest information about the investor as well as the apartment that I choose. "It's quite clear and transparent. I'm also surprised that this is the first time I've used the app to buy an apartment and even won a huge prize via the app."
Sunshine App is not only concerned about customers, agent partners and real estate consultants, but also the "number one assistant" which accompany 24/7 with them during the negotiation process with customers, supporting procedures and control commissions with the Investor preciously.
 "With the Sunshine App, we created a playground and a professional job for real estate sales specialists in the 4.0 era. Here, all transactions with customers will not be limited because wherever you are, even going abroad, you can continue counselling 24/24 to customers directly. Besides, you can distribute a lot of  projects at the same time, maximize your potential and bring better income "- Mr. Do Anh Tuan – Chairman of Sunshine Group shared.
The essence of technology is to bring simplicity and the most practical benefits to users. The Sunshine App of course will not stop at a premiere, but a process that goes hand in hand with the industrial revolution 4.0, notably the integration of core elements: "Internet of Things", "Big Data". ", Cloud computing… are changing most common values, digitizing transactions. Like popular brands such as Apple, Samsung, Ford … the continuous improvement and upgrading to bring more and more perfect experiences to users is the focus of the post-launch development of Sunshine App, all for a goal to simplify the life for Sunshine Group's companions.
According to information disclosed from the investor, after the launch event, the "the rain of gift" will remain until the Lunar New Year 2020. Specifically, on January 25, 2019 (i.e, the first day of Tet), Sunshine Group again "spends a fortune" holding the lucky draw, giving customers the opportunity to spend only VND 2020 buying Sunshine Diamond River luxury apartment worth 3 billion provided that they can successfully book one of the two projects, Sunshine Horizon or Sunshine Continental projects on Sunshine App.
More surprisingly, Sunshine Group also are so generous to customers successful in transactions of the two super products in January that customers can get double benefit from vouchers worth up to VND 200 million and a 40% discount compared to the listed price on Samsung electronic devices.
On the other hand, sales staff of the distribution system of Sunshine Horizon and Sunshine Continental projects will receive lucky money by drawing 5 lucky prizes per day, each prize worth one tenth of tael of gold 9999 on the 1st, 2nd and 3rd day of Tet. Sales specialists who have successful booking are also presented with a great gift in 3 days of Tet with a total value of up to 220 million dong.