The Covid – 19 pandemic did not discourage investors. Conversely, if calculated smartly, investors spending money at this time can easily "earn" attractive profits up to 25% / year.
Real estate supply continues to be scarce after the pandemic
Although real estate is affected by the negative effects of Covid – 19 pandemic, the experts said: Real estate selling price in the coming time is still stable and tends to increase due to market size. The supply of project and housing products are declining.
Previously, in 2019, according to statistics from the Vietnam Association of Real Estate Brokers, the supply of real estate products dropped sharply, especially in the apartment segment. Specifically, in this year, in Ho Chi Minh City the supply decreases 52%, while in Hanoi, it is 24%. Entering to 2020, the supply of housing real estate is still in scarcity, especially in Hanoi because many projects have not solved the obstacles of legal procedures to be ready to launch goods. After the outbreak of Covid – 19 pandemic, a national isolation order was issued, supplies were increasingly in short supply due to construction disruptions.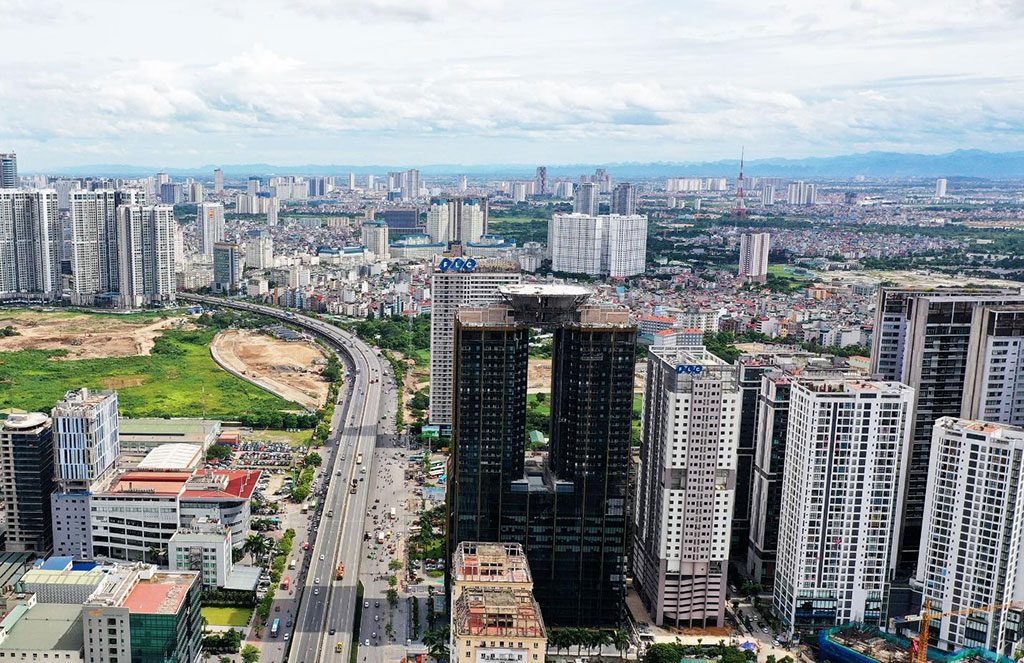 Despite the shortage of supply, the demand for housing real estate is still growing because this is an urgent demand and the speed of urbanization still increases sharply. Not to mention that through the respiratory pandemic, people are more aware of the outstanding advantages of apartment products with airy space, green living environment and smart technology. From building security equipment system operated automatically, without touch to secure  residents by limiting direct contact, to controlling all equipment in the apartment to bring the maximum convenience for homeowners.
Therefore, in the middle of a quiet market, smart green projects such as Sunshine Homes (Sunshine Group) are still in the steady growth of housing real estate segment.
Actually, the survey showed that Sunshine Homes apartments in Hanoi and Ho Chi Minh City prices up from 15% to 30% compared to the initial price. For example, the Sunshine City project (Nam Thang Long urban area, Hanoi) in both segments of low-rise shophouse and high-rise apartment buildings has markedly priced up, including low-rise apartment buildings are up 20% and 18% of high-rise ones. Sunshine Diamond River project in the area of District 7, Ho Chi Minh City also sometimes increased sharply up to 30%.
Dinh Thu Huong (Cau Giay, Hanoi) said that in early 2018, after many options, she decided to buy an apartment in Sunshine City. Currently, her apartment has increased sharply compared to before. If she sold now, her investment would have doubled the bank interest rate. "I will sell it to make a profit until the project is handed over because this will be the" golden "time. When the outstanding technological value of the project is officially verified, the apartment price will certainly push to the highest level, "Huong emphasized.
Especially, in the face of the current scarce supply, it is forecast that in 2020, the price of houses in big cities like Hanoi and Ho Chi Minh City is expected to increase by an average of from 10% to 15% over the year 2019. Especially after a prolonged pandemic, the market may bring a new fever of real estate causing prices such as compression springs to rebound strongly. Because past experience has shown that a pandemic is a premise to create bursts of supply and create tremendous momentum in terms of price and investment opportunities. For example, after the SARS (2003) or pandemic H1N1 (2010) pandemic, the real estate market subsequently increased sharply.
"Money generates money" thanks to intelligent investment
With the potential for price increases, real estate is always considered a "golden egg" for smart investors. In particular, if you choose a wise investment method to "put eggs in the basket", the ability to attract lucrative is sooner or later reaped.
Sunshine Fintech, the investment feature on Sunshine App, is being evaluated by experts as the most attractive investment form of technology investors. They have three preeminent features: Flexible capital – safe, no risk – easy transactions, overcoming most of the disadvantages of traditional investment forms.
With Sunshine Fintech, investors have the opportunity to participate in high-end real estate investment with a capital of only VND 100 million. At the end of the investment term, investors can choose to take profits in two forms:
Firstly, investors can resell investments to Sunshine Tech (the owner of Sunshine App), receive up to 15% of the original investment and profit (including fixed profits plus profits acquires an investment committed by Sunshine Tech under the Business Cooperation Contract).
In another form, investors choose to vote on Sunshine App to sell the apartment out and receive the original capital and fixed profit, plus the profit from the difference in selling price compared to the original price of the apartment to be redistributed for investors according to the investment rate. Accordingly, with the real increase in prices of Sunshine Homes projects for a long time, the expected return for investors may reach 19 – 25% / year.
Thus, Sunshine Fintech ensures investors are always profitable in any case, with a minimum profit of 14-15% / year.
>> Hướng dẫn Tính năng đầu tư Sunshine Fintech trên Sunshine App:
Products are guaranteed, only profitable investment
It is easy to see that the newly introduced fund reserved for investors in Sunshine Fintech is always the most beautiful and "hot" apartments in the row of a Sunshine Homes project. In Hanoi, there are Sunshine Heritage, Sunshine Mystery, Sunshine Crystal River, Sunshine Golden River or Sunshine Empire … In Ho Chi Minh City, Saigon investors can invest in the "couple" of the same project located on District 7, Sunshine City – District 7, Ho Chi Minh City, Sunshine Diamond River, or to District 2 with the Italian-inspired project Sunshine Venicia …
Along with that, the "digital" strength of a real estate business from technology always brings Sunshine Homes with a distinctive difference of technology 4.0 from design, construction to management and operation.
Professional and experienced investors also pay attention to long-term factors through considering and evaluating the real value system and the sustainability of investment products. Looking at Sunshine Homes projects, it can be seen that they are mostly bought by the Sunshine Group (in which, many projects have belonged to big foreign businesses but still not qualified and capable to be developed). They then apply science and technology to create products that meet the needs of domestic and international markets, bringing sustainable values from the ecosystem of utilities – services to the smart housing model Smart Living, as well as the aesthetics of architectural design and urban landscape.
These practical values explain why Sunshine Homes' homes have never been discounted or depreciated. On the contrary, they are always in the group of products on the strong rise as recorded by the market recently. That also contributes to the liquidity of the product because the trend investors will transfer their investment to get profits if profitable.
With the "guarantee" above, "Only profit, even compound profit" is a fact that investors Sunshine Fintech experience with Sunshine App – super application is considered the most breakthrough technology real estate market currently in Vietnam.