After the success of the preschool and elementary school system, from the 2021-2022 school year, Sunshine Maple Bear - a Canadian-standard education system - will deploy the secondary curriculum. Following this pathway, Sunshine Maple Bear affirms its goal of developing a world-class inter-level K12 school system in Vietnam.
The first secondary school to launch the Maple Bear Canada program
Over the years, Sunshine Maple Bear has been known as the first education system in Vietnam that brings the quintessence of Vietnamese and Canadian education. We aim to build an international standard learning environment through the global education program of Maple Bear Canada. The educational brand invested and developed by Sunshine Group is associated with international quality and a happy school environment. It is a place to inspire and cultivate dreams, ambitions, and qualities for future global citizens.
Currently, the preschool and elementary school system of Sunshine Maple Bear has been asserting its prestige, becoming the first choice of many parents in Hanoi. In these schools, many students have achieved high results in several national and international competitions.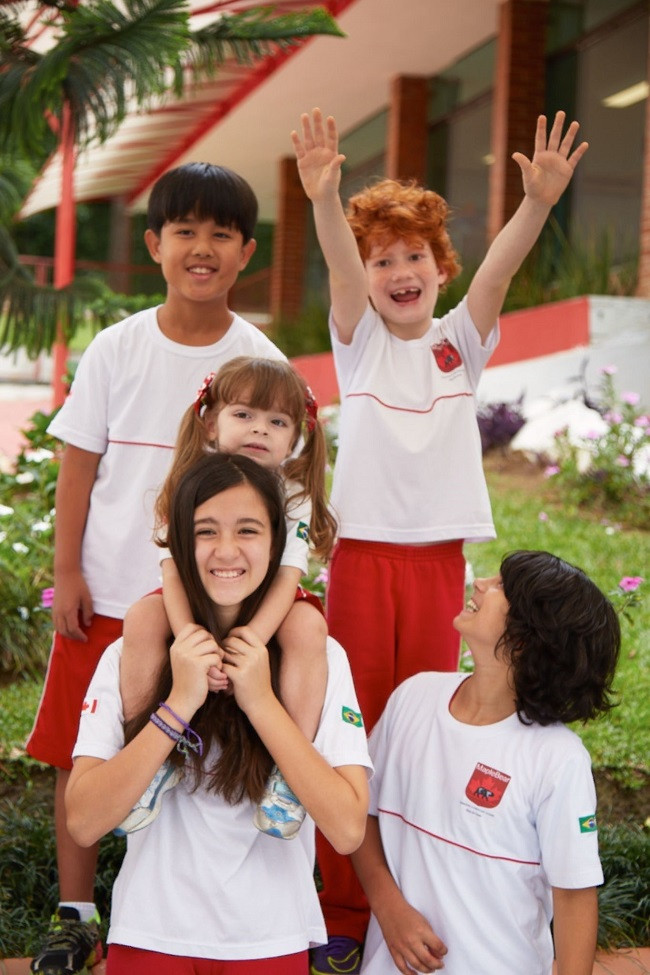 The personalized and experience-oriented learning method at Sunshine Maple Bear helps students make rapid progress.
From the 2021-2022 school year, Sunshine Maple Bear will officially launch the secondary school core curriculum from Maple Bear Canada Program at the system's campus located in Nam Thang Long Urban Area (Hanoi). The Sunshine Maple Bear Education System is currently the only unit in Vietnam with a quality inter-level program from preschool, elementary and secondary schools that follows the Maple Bear Canada education program. The system will synchronize with the high-school program shortly. This way, each student's learning path is built consistently and throughout, following a long-term, comprehensive education and development program, from physical to intellectual, along with skills throughout all levels.
Like our preschool and elementary schools, Sunshine Maple Bear Secondary School is invested synchronously following the copyright education program and built entirely according to international standards. With a globally recognized curriculum, students who have completed the Maple Bear curriculum will receive a completion certificate from Ontario province, recognized in Canada and internationally.
The pioneering mark of Sunshine Maple Bear does not stop at opening more secondary schools. It expands to equipping the 21st-century citizens through each subject and lesson. This will best be exemplified by the school year 2021-2022, as Sunshine Maple Bear will pioneer developing the Digital Citizenship subject, applied to the international system at elementary and middle school levels. The Digital Citizenship subject contains three main pillars: Understanding the digital world, using software to create products and critical thinking about computers and programming. These pillars help students develop critical thinking skills, master technology, and be prepared to enter the digital world.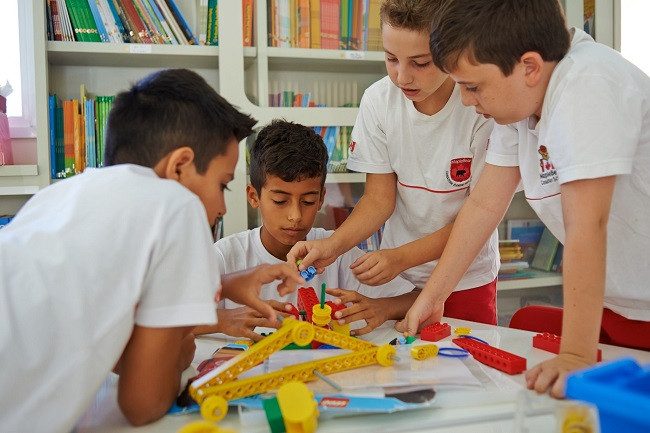 Digital Citizenship – the highlight of the Maple Bear program – will be taught in the 2021-2022 new school year.
Opportunity to win attractive scholarships up to VND 50 million/ semester
In addition to the most advanced curriculum, the Sunshine Maple Bear Education System is equipped with modern facilities, providing students with the most convenient learning environment. The classroom system is designed to suit all learning needs and the curriculum of each school system. Function rooms such as gymnasium, STEM room, outdoor playground, spacious four-season swimming pool help students build excitement for learning and develop comprehensively.
To facilitate the dreams of studying in an international-quality educational environment, Sunshine Maple Bear has deployed a series of valuable scholarship programs for elementary and secondary school students in Hanoi.
Shine With Me is an annual scholarship program reviewed each semester. Students from grade 1 to grade 9 of bilingual and international systems, either studying at the Sunshine Maple Bear Education System or other Hanoi schools, have the opportunity to receive the Shine With Me scholarship for the next semester. To obtain the scholarship, students need to have good academic performance, active participation in educational activities, experiences, community activities, and exemplary behavior to spread Sunshine Maple Bear's core values.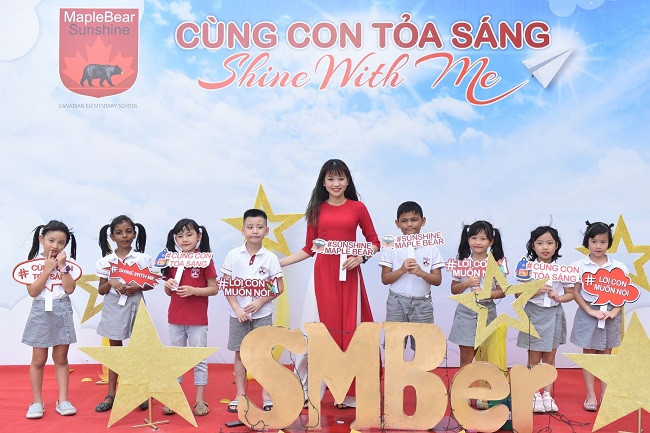 According to the Sunshine Maple Bear Education System representative, each semester from the 2021-2022 school year, the system will award scholarships worth VND 10 million – 50 million to students who meet the criteria of programs for both bilingual and international systems.
To start the admission period, Sunshine Maple Bear Middle School offers an excellent promotion policy for the 2021-2022 school year. The school offers a 30% discount of the tuition fee for all study programs at the whole school level, free registration and admission fees (VND 10 million), and free school development fees until students have transferred to the new campus. Other promotions include a 20% discount on bus fees, a 5% discount on the tuition fee for a group of five enrolling students, etc.
These valuable scholarship programs and practical promotions at Sunshine Maple Bear Education System are considered gifts from the school to encourage students and reduce financial pressure on parents. They can help parents confidently provide their children with a happy learning environment with an open development path to the future.