The careful and professional investment and preparation from the majestic stages combined with the participation of many celebrities have made up of the success and great spreading of the launching event of Sunshine Homes real estate resort of Sunshine Group.
Large scale organization venue
To mark up the groundbreaking event of Sunshine Homes – the prestigious home development brand of Sunshine Group – officially entering the resort sector, Sunshine Group's investors have chosen luxurious and high-class event venues on October 31 in Hanoi and on November 02 in Ho Chi Minh City.
Extreme and careful stage
Audiences in Hanoi City and Ho Chi Minh City experienced explosive moments with super-large Led screen system, extremely unique and impressive stage effects showing the enthusiasm for investment and creativity in the organization process to bring new experiences to attendees.
In addition to the extreme stage, all art performances inspired by water and light are elaborately arranged, pushing the viewers' emotions to the extreme. Through the unique art performances, the outstanding spirit of the Sunshine Homes resort real estate projects has been fully shown. It is the delicate combination of life colors, sublimation of architectural art, technology and utilities – the highest level of service unprecedented in Vietnam.
Art performances are carefully and emotionally invested (The dance "The interference of Light and water symphony" – a combination of two elements of water and light, representing two resort sectors of seaside resorts and inner city).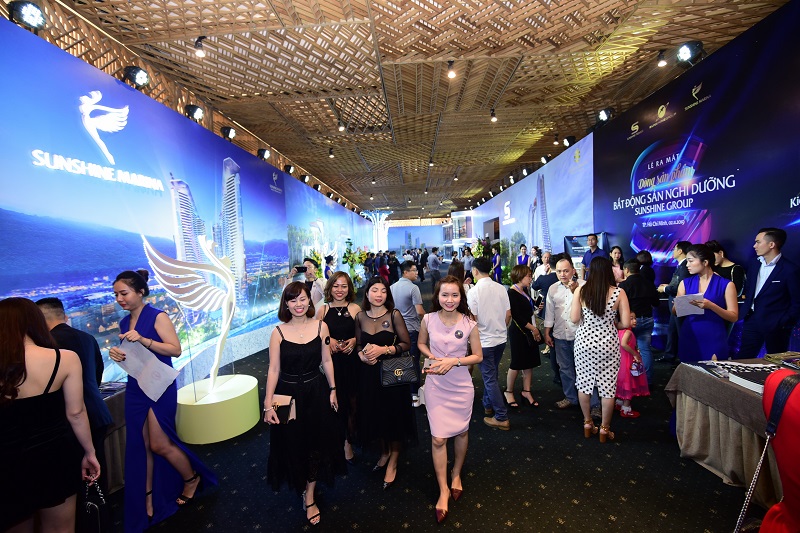 The check-in area creates the strong impression with the attendants by the exquisite and artistic decoration.
The gathering event of Vietnamese famous and leading celebrities
In addition to the careful preparation of the stage, the appearances of A-class celebrities such as MC Nguyen Khang, the runner-up Hoang Oanh, singer Dong Nhi, singer Noo Phuoc Thinh or MTV music band, … with a powerful voice presenting hits contributed to make the night of Sunshine Group's resort launching event become more memorable.
Launching super high-end projects
The most important factor in the success of Sunshine Group's event chain is the attraction from the pioneering and differentiating features of Sunshine Homes' collection of resort projects.
Sunshine Marina product line is located in famous tourist cities of Vietnam and brings together leisure and entertainment activities on the basis of modern and advanced 40 technology, giving visitors the lasting 5-star standard experience.
Sunshine Premier – the inner-city resort line with a focus on 5-star hotel rooms, Grade A office systems and a range of unprecedented 4.0-scale resort services and amenities such as indoor ski play course, runway catwalk high-end runway, the most epic trade center in Vietnam ..
Especially, the event is also the opportunity to "launch" two super products representing for the newly launched resort product line: Sunshine Marina Nha Trang Bay in Nha Trang Paradise Bay and Sunshine Empire located in Nam Thang Long International Urban Area in Hanoi.
According to Ms. Duong Thi Mai Hoa – CEO of Sunshine Homes, these two super products are a great combination of pioneering and creative ideas in Sunshine Group's product development with aesthetic thinking and experience in designs of architects from AMA Group, a well-known European corporation with over 40 years of experience in landscape planning, architectural design and construction consultancy…
In addition, with the advantages of Sunshine Group, a professional software developer, representative of Sunshien Homes emphasized that; "We also thoroughly put 4.0 technology to serve the people, pioneering in the market to give customers new and fashionable experiences"
Impressive moment: Sunshine Group's resort real estate product line is officially launched