Sky Villas Sunshine Crystal River not only brings a wonderful living space for the owners but also emphasizes the perfection of privilege and privacy. Therefore, this project quickly conquered the attention from top class guests.
A villa must have a private pool!
It is not reluctant to say that the Sky Villas of Sunshine are the newest, the most luxurious and the most perfect urban product line in the real estate list of rich Vietnamese. Fully grasping all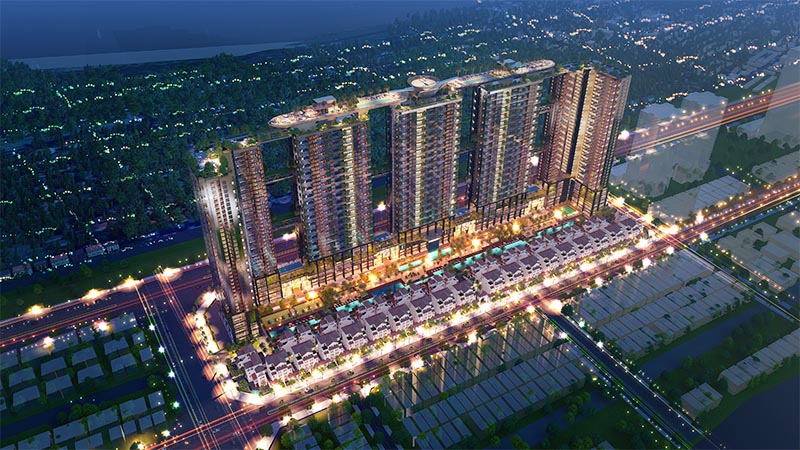 advantages from location, architecture, utilities … makes every Sky Villas become completely different from the super luxury apartments that have appeared in Hanoi.
Sunshine Crystal River owns a golden position with a view that covers the expensive Ciputra golf course
"Today is always better than yesterday, tomorrow is always better than today" – that is the philosophy of the customers who choose Sunshine Crystal River – the high-end sky villa bringing the most complete definition of life to the perfect. At Sunshine Crystal River, the investors has put resort criteria into each apartment. Each apartment has a 4-season swimming pool, combining a jacuzzi of nearly 20m2 outside the balcony is a proof of pioneering the application of advances in modern construction technology. This trend can not catch up by any real estate developers.
Putting swimming pools into apartments is a long-term trend, but most only apply to penthouses with very few in luxury buildings. Around the world, Sky buildings with private pools at each apartment have only a few big projects like the One KL building in Kuala Lumpur; Porsche Tower in Miami (Florida); Soori High Line project in Manhattan (New York) or Bandra Ohm cult project in Mumbai, India … Mounting swimming pool into hundreds of Sky Villas in Sunshine Crystal River project is not merely an architectural game of a great real estate developer but also expresses a consistent viewpoint in the rich living standard according to the world trend that Sunshine wants to create.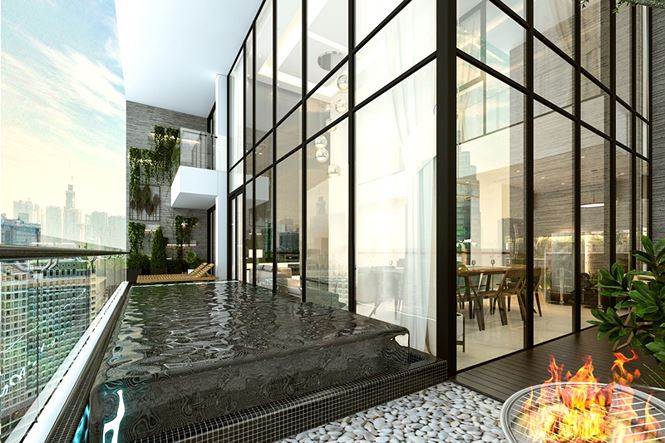 The pool with a relaxing jacuzzi is luxuriously designed in the villas of Sunshine Crystal River project
The perfection of privacy
Ensuring the privacy of the traditional villas to the air, in addition to private pools, each Sky Villas of Sunshine Crystal River spend most of the area outside logia to cover the apartment with private garden, hanging garden with many kinds of rich plants.
In addition, residents of Sunshine Crystal River are allowed to use their own high-speed elevators to the door. This is one of the outstanding privileges that ensures absolute privacy for each owner.
Not only at the unique architectural design when perfect coordination of spatial advantages from penthouse, duplex and villa types, sky villas of Sunshine Crystal River also integrate smarthome features, offering the privilege of enjoying the latest technology for employers.
At Sunshine Crystal River, the privilege of enjoying technology is further extended to residents when the whole building is equipped with modern operating systems such as Face ID security camera, smart parking … Moreover, Sunshine Crystal River also installed ring video doorbell in front of the staircase at the first floor and basements to host the guests …
Another technology privilege at Sunshine Crystal River is mobile application (apps) that allow direct communication with management on all issues wherever, Sunshine Pay e-wallet for paying monthly bills, non-cash purchases … and especially Sunshine Cab for calling cars to transport (private vehicle fleet serving Sunshine residents only).
And another privilege that sophisticated customers immediately recognize when approaching Sunshine Group's projects is "everything at hand". Owning Sunshine Crystal River in Nam Thang Long urban area – Ciputra (West of West Lake, Hanoi), customers can enjoy high-class facilities with perfect planning: international preschool, Olympic standard saltwater mineral swimming pool, green square with 5 continuous swimming pools with super long swimming pool, Hawaii garden, BBQ area, children's play area, volleyball court, multi-purpose gym, indoor and indoor golf course, community house, library …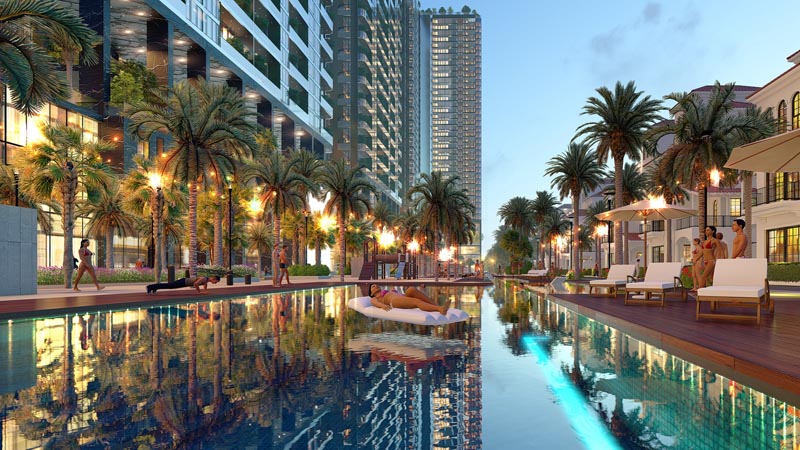 Design of Sunshine Crystal River combines the best advantages from penthouse, duplex, loft.
In addition to its prime location, the Sunshine Crystal River towers also have a minimum of 5 storeys, a shophouse, a commercial center to satisfy the shopping and entertainment needs of people of all ages right at the foot of their sky villa.
Sunshine Crystal River is Sunshine Group's ultra-luxury project of Sunshine Sky Villas (aerial villa) – the pioneer of applying technology 4.0 in managing and operating the project, while bringing to residents a "Sunshine ecosystem" including Education, Trade, Services – Entertainment … with international standards.
For futher detail about Sunshine Crystal River, please visit:
Website: http://crystalriver.sunshinegroup.vn/
Fanpage: https://www.facebook.com/sscrystalriver/
Hotline: 1800 6897