Sunshine Group is gradually asserting its position in the real estate market of Ho Chi Minh City with pioneering and sustainable steps. Not using the advantages of project location, facilities, architecture to become a leader, this investor chooses a distinct direction, bearing a strong impression on technology. More importantly, this direction serves living needs of residents in a maximum manner.
Sunshine City – District 7, Ho Chi Minh City possesses a preeminent living technology, which is the smart and convenient Smart Living 4.0 ecosystem. Sunshine Group has invested a great number of dedication and resources in this project so that Smart Living 4.0 can be operated in each apartment.
Smart Security
Firstly, Smart Security makes a safety belt that guarantees absolute security for residents of Sunshine City – District 7, Ho Chi Minh City. Smart Security technology is set up with various modern devices such as Face-ID, Smart Lock, smart sensor devices by Sunshine Group.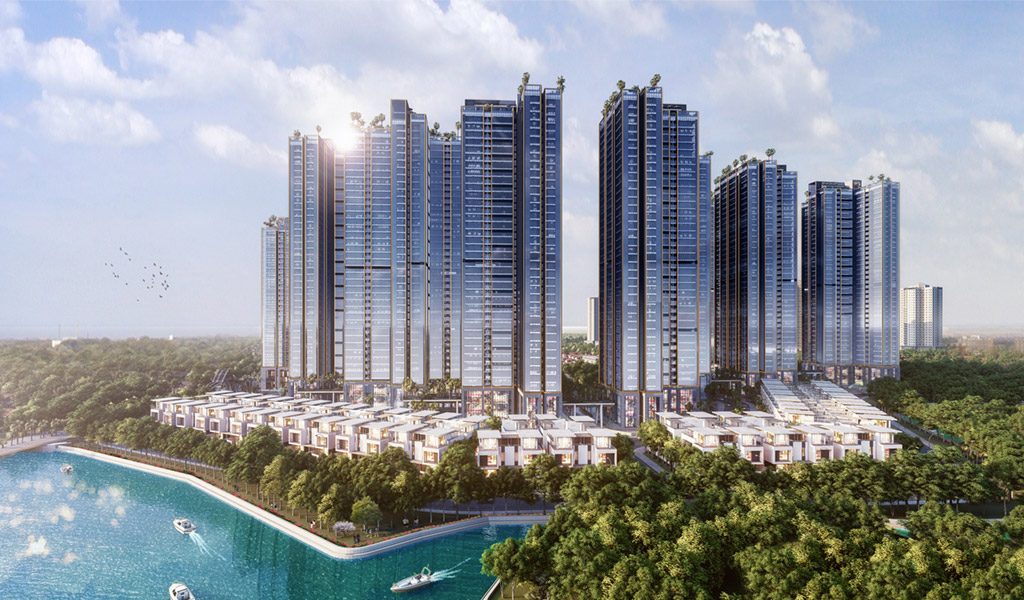 Face ID is installed in various places in the apartment area such as parking lot, lobby. Face ID can identify the familiar owners of Sunshine City – District 7, Ho Chi Minh City, quickly discover strangers when they enter the apartment area. Face ID also has the function of calling an elevator to the right floor of the apartment where the residents live.
Smart Lock enables residents to control the security of their own apartments, having up to 05 door opening methods including: passwords, fingerprints, resident cards, mechanical keys and application. Doors installed in all apartments of Sunshine City – District 7, Ho Chi Minh City are fireproof security door from European leading brands. Some other smart devices are also installed in each apartment such as smoke sensor, sound sensor,etc.
Smart Home
Smart Home in Sunshine City – District 7, Ho Chi Minh City not only enables home owners remotely control electric devices, lighting equipment, curtains but also set up a scenario according to your will and living habits. Specifically, in case residents have programed some devices to operate in the "returning home" mode, if the mode is activated, some necessary lighting equipment, air-conditioner in living room and curtain shall be opened automatically. This mode also enables home owners automatically locate and book the nearest parking location.
Each resident may set up a scenario under their living habits and liking.
Smart Speaker is installed in Sunshine City – District 7, Ho Chi Minh City as a function of Smart Home. The device is considered as a "Smart steward" that assists all activities of families when necessary. Besides, Camera 360 is also installed as a function of Smart Home. It a wide-angle observation device that enables owners to observe the activities and identify strangers breaking into their apartments for timely settlement.
Furthermore, a Smart Monitor is installed in door area that enables residents observe their guests and call for security guard.  More specifically, the ability to extract camera data from public areas such as swimming pools, libraries, and restaurants so that residents can set up a reasonable play schedule.
Additionally, Smart resident card of Sunshine Group is integrated with functions of not only checking in and out, calling elevators but also acting as an ATM card. Moreover, this card may be used for    other facilities in the common system of Sunshine Home.
Smart Parking
With Smart Parking, even when cars are still on the road, residents can check and book a parking lot for their car. Smart Parking is also integrated with the feature of orienting car in the right place, quickly recognizing plate number to make residents more comfortable after a tiring working day.
Sunshine City – District 7, Ho Chi Minh City is located near the crossroad of Phu Nhuan and Huynh Tan Phat. It takes residents here about 20 minutes to drive to central area of the city and about 5 minutes to drive to Phu My Hung urban area.
Average price of a two-bedroom apartment in Sunshine City – District 7, Ho Chi Minh City is about 4 billion Vietnamese dong. When buying such apartment, buyer shall pay 10% of the apartment value, or 400 million Vietnamese at the first payment stage. 70% of the apartment value shall be loaned with the interest rate of 0% in the interest preference period by VPBank. The rest amount shall has it payment period extended to 07 months after the Bank disburses fully.
Sunshine Group is applying a special preference program to customers in October. Specifically, customers shall be offered a furniture package that is worth up to 200 million Vietnamese dong when becoming an apartment owner of the project. Besides, other attractive preference policies for customers who make payment in this period shall be applied.
Hotline: 1800 6233
Website: http://citysaigon.sunshinegroup.vn/