More than 2000 salesmen with flaming spirit have made incredible success for the launching ceremony of Sunshine Group and Sunshine Continental Projects in Ho Chi Minh City of Sunshine Group on January 3, 2020. It is promising to bring many resounding successes for the Group in 2020.
Starting hot "2020 real estate season"
The spirit of "lighting the racetrack – overcoming any limit" was shown by the "sales warriors" right from the first moments of the program, demonstrating the super hot nature of the two super luxury projects that will appear in Ho Chi Minh City Market in the near future.
Speaking at the ceremony, Ms. Do Thu Huyen – Deputy General Director in charge of Business of Sunshine Group – representative for the Investor shared: Sunshine Group has been very successful in "presenting itself" before the Ho Chi Minh City real estate market with Sunshine City – District 7, Ho Chi Minh City Project. Unwavering on its path of creating super-luxury real estate values and contributing to changing the appearance of Ho Chi Minh City real estate, Sunshine Group continues to launch two super products that bring a "resort-like" living space right in the heart of such a bustling and hustling Saigon: Sunshine Horizon (District 4) and Sunshine Continental (District 10).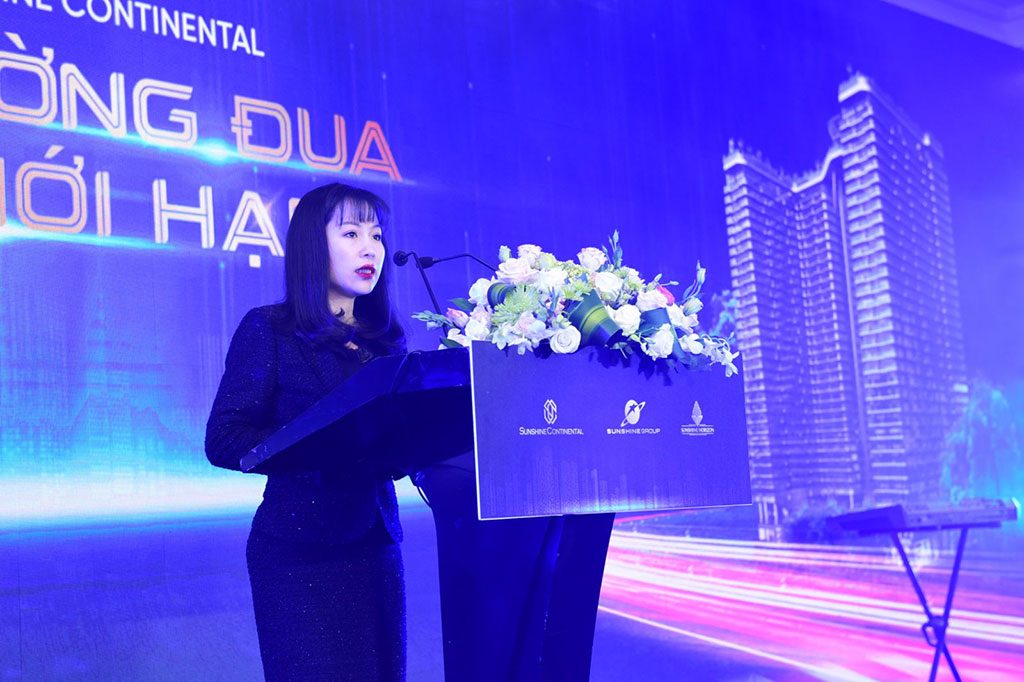 Ms. Do Thu Huyen – Deputy General Director of Sunshine Group expressed great expectation at the spread of these two projects as the Investor has devoted much effort to create a high-class lifestyle for the honored owners
Sunshine Group always considers its partners, agents and consultants as the important companion and link between the Investor and customers. Sunshine Group believes that with their enthusiastic and passionate spirit, the business staff gathering here are compared to the outstanding riders who will be a powerful force, with overwhelming power on all fronts, to cause thousands of high-class apartments of these two projects to reach out to the market, satisfying the thirst for luxury apartments of customers as well as wise investors.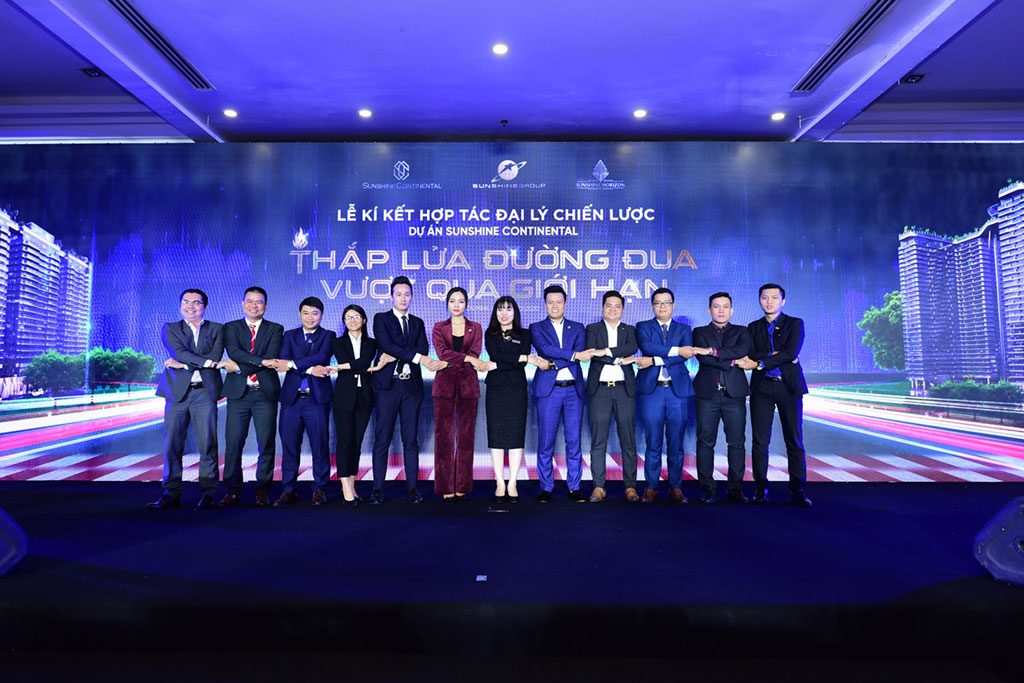 The agents, consultants – strategic partners of Sunshine Group will be those who help convey completely the Investor's enthusiasm to customers.
The warrior spirit was even more pervasive and spread throughout the auditorium when details such as scale, utilities, design, sales policies of the two projects were shared. In particular, these are the first two projects that the Investor applies selling through Sunshine App – a completely new selling method that brings many benefits to customers, distributors and the Investor.
At the event, the ceremony of signing a strategic cooperation agreement between the Investor and the Distributors was executed.
 Sunshine Group creates values for an upper class life
Following the success of a series of high class and luxury apartment projects, Sunshine Group continues to launch the Sunshine Continental Project at a prime location in District 10 and Sunshine Horizon (District 4). This is considered a project that brings about a big breakthrough and development for the region in the near future.
In addition to the riverside urban "5-star resorts" that are "storming" the real estate market in Ho Chi Minh City, Sunshine Group continues to spend thousands of billion Vietnam dong on a more luxurious super product named Sunshine Horizon. Located right in District 4, this will be the only 4.0 Resort Apartment Complex in the heart of Saigon to the present time.
This project is "specially tailored" for the rich because of its exceptional elegance. In order to fully meet the needs of "luxurious living and enjoying on-site high quality services", Sunshine Horizon will be a worthy solution with unique green architecture and superior future design, corresponding to the trendy Wellness standard.
Sunshine Horizon stands out in the heart of Saigon with 100% of the apartments designed with green spaces as a small garden in the house, creating a unique highlight as well as providing a relaxing space for each family. Living at Sunshine Horizon, all senses of the home owners will be satisfied by a fresh green from thousands of green trees and the vast Saigon river surface right before their eyes. This is considered an expensive advantage that not many projects in Ho Chi Minh City can match.
Besides the 4.0 Resort Apartment Complex – Sunshine Horizon, Sunshine Continental is the fourth project in the series of Sunshine 4.0 Technology luxury apartment projects of Sunshine Group.
Sunshine Continental is invested to become a high-class apartment complex in the heart of District 10 with superior living standard. At Sunshine Continental, customers can not only live in a luxurious space but also experience the best "high note" of life. This is a place to show your personal level, where to enjoy the most uplifting and most complete of the vibrant life in Saigon. In order to meet the maximum needs of customers, Sunshine Continental provides a variety of building designs from luxury apartments, penthouses, sky villas, commercial and service malls, shop houses and officetels.
Continuing the success of previous projects, Sunshine Group always strives to bring its customers an extremely ideal utility system. With hundreds of inner utilities, all living needs of residents are fully met. In particular, with the trendy utility complex on the top of the project such as 5-star restaurant, panorama swimming pool, walking garden and meditation garden … residents of Sunshine Horizon and Sunshine Continental will feel the most of an upper-class life.
For any further details, please contact:
Sunshine Continental Project
332 To Hien Thanh – Ward 14 – District 10 – Ho Chi Minh City
Hotline: 19006112
Sunshine Horizon Project
78 To That Thuyet – Ward 16 – District 4 – Ho Chi Minh City
Hotline: 18006322