In pandemic, staying home, limiting out, with a mobile phone can make money seemingly absurd, but now it is completely feasible with the participation of technology.
Investors lamented when money "froze" and idle
In these days, most countries around the world are struggling to fight the Covid-19 epidemic, one of humanity's greatest dangers.
What investors expect now is that the epidemic will be quickly controlled and the economy will soon stabilize so that the stock market will recover. Under the impact of the disease, domestic investors were anxious to sit on the fire with the serious decline of most investment channels. Investors face the fact that "a lot of money … without knowing what to do".
Mr. Ngoc Tu, 40, Cau Giay, Hanoi bitterly confided: "Many plans, are expected to collapse due to Covid epidemic. After many years, we also saved a decent amount of money, expected to invest to make a profit. Since the end of last year, I and my wife have carefully calculated this. But suddenly, the epidemic dragged on, now going out has to be limited, not to say meeting many people, consulting, studying the market. Thinking about having money but not knowing where to invest to make a profit, we are really upset."
Mr. Tu's story is also a common concern of many other investors. In this context, the real estate is considered by many to be the most sensible "stormy bay", due to its tangible assets, the demand for housing of most people has never been "cold". However, with the situation that people have to restrict to go out, contact and gather in crowded places, it is difficult to implement the investment, business, meeting partners, and understanding the market at the moment.
Invest in the Covid-19 epidemic: Staying home still makes a lot of money
Meeting Mr. Ngoc Tu again after a week later, his face is full of radiance. Immediately, he actively told about the opportunity to earn money that he had just been told by a close friend. According to Mr. Ngoc Tu, the disease was complicated, so he could only stay at home and call his best friend to tell him: "Just heard me complaining about not making money, not knowing where to invest because now I had to avoid going out, my friend laughed at my face, told me to be rural, in what era that I still think about going everywhere to earn money myself. He showed me the Sunshine App to install on my mobile phone, and told me to the research. Thanks to that, I have found myself an ideal investment channel, the best is just staying home and not going anywhere."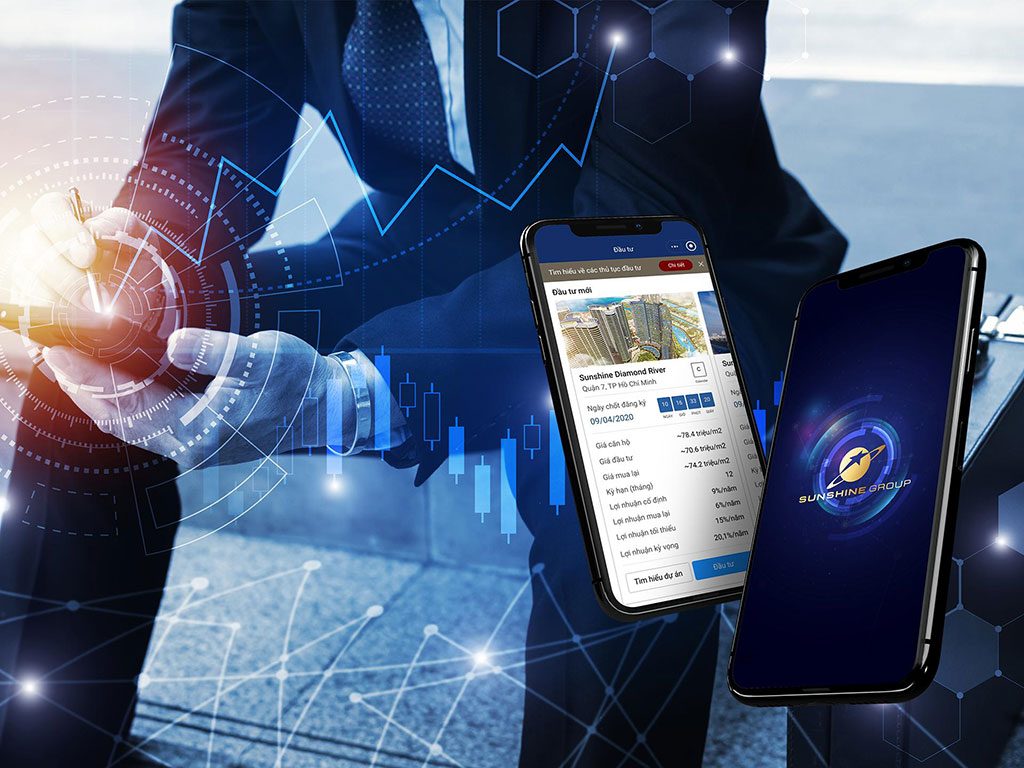 Right after that day, he took the time to thoroughly research the Sunshine App. This is the application of Sunshine Group – one of the "big" in the real estate market today. The more he learns, the more he finds that this is truly an "application for all applications". He quickly found a new way to make money not only convenient but also super profitable.
Mr. Tu decided to choose the Sunshine Fintech real estate investment feature of Sunshine App – the current hottest investment channel according to the media and experts.
>> Giải mã sức hút của Sunshine Fintech – Kênh đầu tư bất động sản 4.0 ưu việt giữa đại dịch Covid -19:
Outstanding advantage of Sunshine Fintech is flexible capital (only from VND 100 million), easy transfer, but also advance capital …
Of course, with a person doing business, investment, what Mr. Tu is most concerned about is the value and profitability of the product that he "put money" on.
Obviously, with these advantages, the liquidity of the projects is very high, super attractive profit potential. No longer freaking out, he decided to put all the money of the couple into investing: "I think the Sunshine App is not only a solution to the moment of the disease but also an indispensable online investment channel of the future. It's 4.0 era, you don't need to go anywhere, all transactions and information are done online via the phone App. Now, I do not have to worry about disease, just sit in one place and wait for the interest to flow into the account," Mr. Ngoc Tu shared.
Especially, in the time of this epidemic, many real estate experts assessed that: the real estate market is only leveling off in the short term, the excitement will soon return as soon as Vietnam and the world can repel the disease because the potential and demand of housing on the market is quite large.
"While many investors are still "hibernating" during the Covid-19 epidemic, I have quietly researched a number of Sunshine Homes projects to decide to "enlist" to make money", Mr. Ngoc Tu revealed. "Sunshine Homes has long been known for its exquisite architecture, prime location, synchronous infrastructure and high-end international standard utilities. In particular, my favorite part is the Smart Thing apartment and the Smart Living ecosystem of Sunshine. Especially in the context of this epidemic, the resort model 4.0 of most Sunshine Homes projects is superior, the green space, airy, diverse utilities are closed in the right compound style, meeting maximizing living and enjoying needs of residents without having to go far. Along with the feature of buying houses through Sunshine App and online investment of Sunshine Fintech, the owner also offers attractive policies so buying houses or investing at this time, I all have many incentives. Until the epidemic passes, the market like a compressed spring will be extremely strong and at that time, I will consider selling to make a profit"- Mr. Tu is confident with the opportunity to make a profit on Sunshine App.