When Lunar New Year 2019 is coming, the shopping market is excited every day. Sunshine Mart is full range of fresh and delicious items which is ready to serve customers for the last peak shopping season.
From early, residents living in Sunshine Palace and the surrounding area were bustling to visit shopping for food, consumer goods and cosmetics from the US, Korea, Japan … and high quality Vietnamese goods. Parking area of ​​Sunshine Palace building is always crowded, many people continuously poured into Sunshine Mart supermarket to wait for food, household items, cooking oil, fabric softener, apples, milk – promotional items terrible in the first day of opening.
Ms. Pham Thu Ha (a resident of Sunshine Palace) cheerfully said: "Comparing to other supermarkets, Sunshine Mart has many advantages. The items here are rich in types and specials with clear origin. I feel that the investor has carefully selected before importing, so it is very reliable in quality".
According to Ms. Ha, Sunshine Mart provides online ordering services, free 24-hour delivery for all residents in a 3km radius and especially coming, this supermarket applies Sunshine Pay electronic wallet payment, will bring a lot of convenience, saving time and money for Ms. Ha and the residents of Sunshine Palace.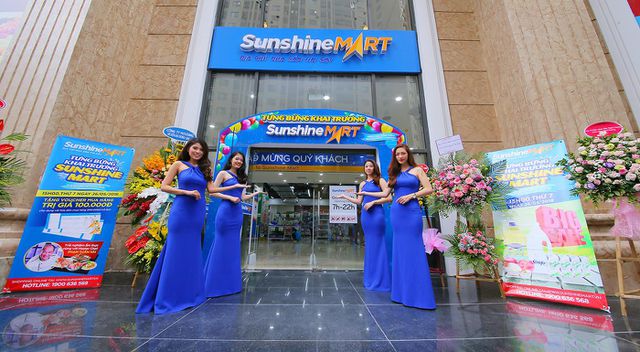 Attraction from the big discount incentive programs, purchase vouchers, and gifts that many customers care about and take advantage of shopping. In particular, the lucky draw program with a total gift value of up to VND 10 million, along with fun games with attractive gifts from Sunshine Mart attracted a large number of participants. In addition, the special music performances at the opening made many mothers and small friends very excited.
The highlight of Sunshine Mart's opening day is the experience of delicious and wonderful and unique dishes made by famous chef Master Chef Pham Tuan Hai.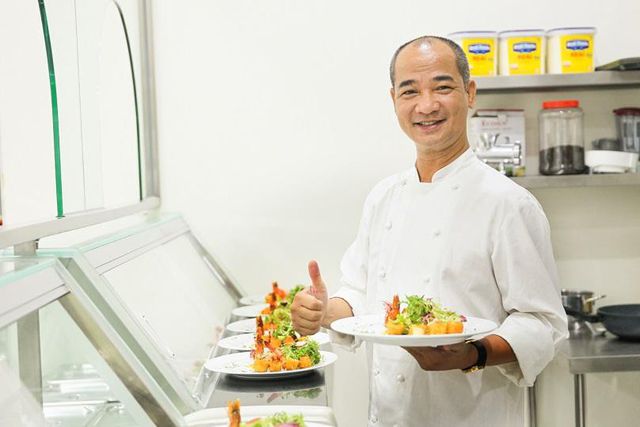 Master Chef Pham Tuan Hai cooks dishes that make customers extremely excited
Ms. Lan Anh, one of the customers who came to buy and experience excitedly said: "I am quite interesting because I enjoy the dishes prepared right here by chef Pham Tuan Hai. In particular, Fuji beef with red wine sauce, grilled squid with Chinese spicy sauce makes me love it because the material is fresh, attractive taste, beautifully decorated. I have saved the processing process so that whenever I cook for the whole family, everyone will like it. "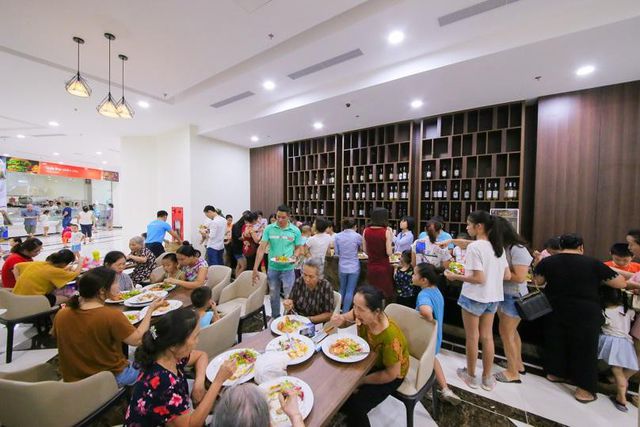 Customers enjoy delicious dishes prepared by Master Chef Pham Tuan Hai at the culinary experience area at the 2nd floor of Sunsine Mart supermarket.
Located in the campus of Sunshine Palace (Mai Dong, Hoang Mai, Hanoi), with an area of ​​more than 1000m2, Sunshine Mart is built on 2 floating floors. The first floor is a place for selling specialties of seasonal vegetables and fruits from regions of Vietnam and some countries in the world such as Australia, America, Korea, Japan, … dry food, cosmetics and consumer goods. The second floor is the exhibition area, fresh food processing and the space to experience delicious food will surely satisfy the most fastidious diners.
In particular, the key booth at Sunshine Mart is organic food, organic products for moms and babies, and cosmetics and consumer goods imported from Korea, Japan, Thailand, Europe, America and Vietnam with famous brands like Mommy Care, Kiyomi, Vinamilk, TH True Milk, Acecook, Ajinomoto, Cocacola, Trung Nguyen, Kinh Do, Almah, Zott, Orion …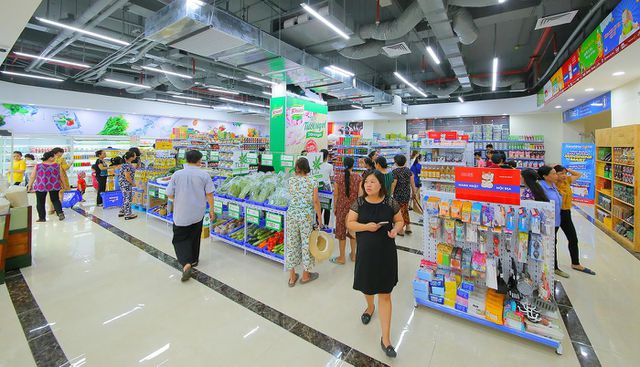 The booths are beautifully displayed at the 1st floor of Sunshine Mart supermarket.
Sharing at the opening ceremony, Ms. Vu Hong Yen, Deputy General Director of S-Mart Trading Services Joint Stock Company (Sunshine Group) said: "With the motto" Prestige creates strength ", we always be careful in investment, focusing on product quality, in order to achieve high standards of excellence and prominence. At its projects, Sunshine Group always devotes a large land fund to invest in building supermarkets to meet the shopping needs of residents. Sunshine Mart at Sunshine Palace is the first shopping area in the chain of supermarkets – commercial centers located in the campus of Sunshine Group ".
Ms. Yen also emphasized: This is one of the events marking the level and outstanding development of Sunshine Group when the Group officially entered the retail market.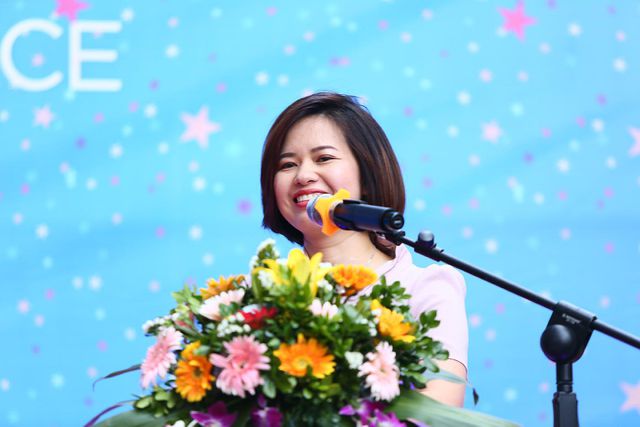 Ms. Vu Hong Yen Deputy General Director of S-Mart Commercial Services Joint Stock Company: The supermarket always places prestige first.
With the criteria of improving product quality, placing food hygiene and safety on top, this supermarket representative affirmed: Sunshine Mart will always promote and increase a variety of organic and organic products to bring peace. In terms of quality and safety for consumers, dispelling psychological concerns about food hygiene and safety are becoming problems on the market today.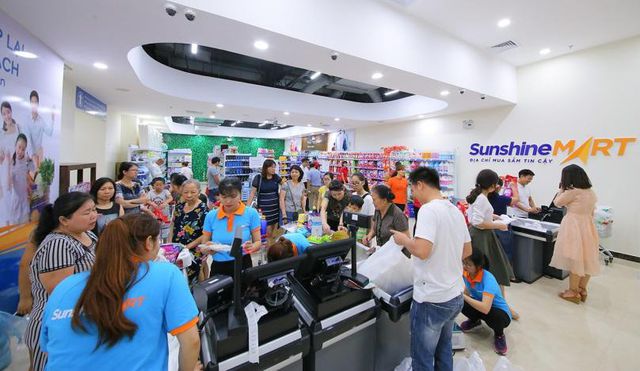 Crowded customers queuing for their turn to get paid.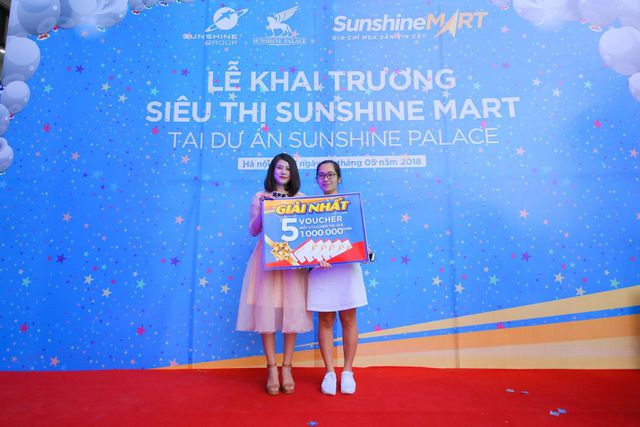 The lucky draw program with a total gift value of up to VND 10 million brings joy to many lucky customers.
"This system will provide safe and quality products for residents of Sunshine Palace in particular and consumers in Hoang Mai area in general. We hope that this will be a prestigious, quality and class shopping address that fully meets the essential needs and brings the most convenient life for residents" said Ms.Yen.
It is known that Sunshine Group – Sunshine Mart's "boss" and Sunshine Palace project line is the investor of a series of high-end projects such as Sunshine Marina Nha Trang Bay, Sunshine City, Sunshine Center, Sunshine Garden, Sunshine Palace, Sunshine Sky Garden … in Nha Trang, Hanoi and other provinces in the country. The outstanding feature of Sunshine Group is the pioneering position in applying technology 4.0 in project management and operation.
Theo Dân trí