On the morning of September 22, Sunshine Mart under the Sunshine Riverside project was officially put into operation. On the opening day, a lot of people came here to buy, creating a bustling and exciting atmosphere.
Residents crowded shopping on the first day of opening
With the goal of creating the richest, most diverse and convenient ecosystem for residents, Sunshine Group has recently expanded its service chain system by launching Sunshine Mart at Sunshine Riverside project. This is also the second supermarket officially put into operation of Sunshine Group after the "launch" of Sunshine Mart at Sunshine Palace project (Hoang Mai, Hanoi). 
With spacious space, beautiful and scientific layout and modern facilities, located in Sunshine Riverside complex – a high-class urban area with full facilities such as 4-season swimming pool, international standard inter-level school, high-class entertainment area,.. Sunshine Mart promises to be an ideal shopping place for housewives or place for every family on the weekend.
With the "great" promotion policy on the occasion of opening, a series of preferential products and extremely attractive discounts, on the opening day, Sunshine Mart has attracted a lot of customers to shop and experience the service. Food items such as rice, fruit, cooking oil were deeply discounted. Besides, useful household stores not only had a "good price" but also a lot of meaningful gifts came with. 
Through observation, Sunshine Mart in the area of ​​Sunshine Riverside project (located in Phu Thuong Ward, Tay Ho District, Hanoi) has an area of ​​nearly 1000m2. The 1st floor is for food products (including dry food and fresh food) and non-food products (such as cosmetics, beverages, household appliances, stationery, etc.). The 2nd floor is a culinary experience area with bakeries, processing counters, and hot, delicious dishes …
This supermarket conquers customers with a variety of items and categories. The stalls are exhibited scientifically, reasonably and with standards to preserve the best food. In particular, at the Culinary experience area, the dishes cooked on site by skilled chefs are clean, delicious, attractive. These customers not only enjoy the delicious dishes with unique flavors, but also can learn the recipes from this chef.
In addition, one of the things that scores with customers is the service style of the staff. The staff of the supermarket is fast, friendly, enthusiastic and civilized with customers. Therefore, although the supermarket is quite crowded on the first day of opening, most customers are very satisfied. 
Mrs. Ngoc Linh (Resident of Sunshine Riverside) excitedly shared: "What I care about most when shopping at the supermarket is that the items must be fresh and quality. When I come here, I feel very secure because the origin of the products is clear, the food and drinks are clean and fresh. "
And Mrs. Tran Ngoc Bich (a resident of Ciputra urban area) on the weekend also stopped by the supermarket on the occasion of the opening. Mrs. Bich said: "There are a number of supermarkets around here, but most are small and the items are not as diverse and rich as at Sunshine Mart. The difference that I like the most is: With the food experience area, sometimes I can come here to buy new food, change the taste for the whole family. I do not see this thing at other supermarkets."
Enhance utilities and put quality criteria on top
As a multidisciplinary corporation, in any field, Sunshine Group also considers "Prestige creates strength" as the motto of action. Therefore, in the field of commerce, Sunshine Mart was born not out of that criterion.
Since officially entering the retail market with Sunshine Mart at Sunshine Palace project, the investor of Sunshine Group has always determined to put quality criteria first. The whole supermarket system of Sunshine Group always selects fresh food products with clear origin, puts food safety and hygiene first. Especially in the context of human health is seriously threatened by dirty food today, Sunshine Mart focuses on organic products so that customers can use in peace of mind and safety for all ages. All vegetables at Sunshine Mart meet VietGap standard, organic vegetables, fresh hydroponic vegetables, imported from reputable suppliers such as FVF, T-Vita, Hydroponic vegetables 188 …; fish and meat products are raised in food hygiene facilities, certified by the authorities.
Particularly, cosmetic and consumer goods sold in S – Mart supermarket have clear origin, imported from Korea, Japan, Thailand, Europe, USA, Vietnam with famous brands such as Mommy Care, Kiyomi, Vinamilk, TH True Milk, Acecook, Ajinomoto, Cocacola, Trung Nguyen, Kinh Do, Almah, Zott, Orion … 
With the advantage of technology, the investor Sunshine Group thoroughly applies 4.0 applications to commercial activities. Residents of Sunshine Riverside can sit at home, at workplaces and order via the Phone App. Staff of the supermarket will deliver goods on time to the home, helping residents' lives become more convenient and comfortable.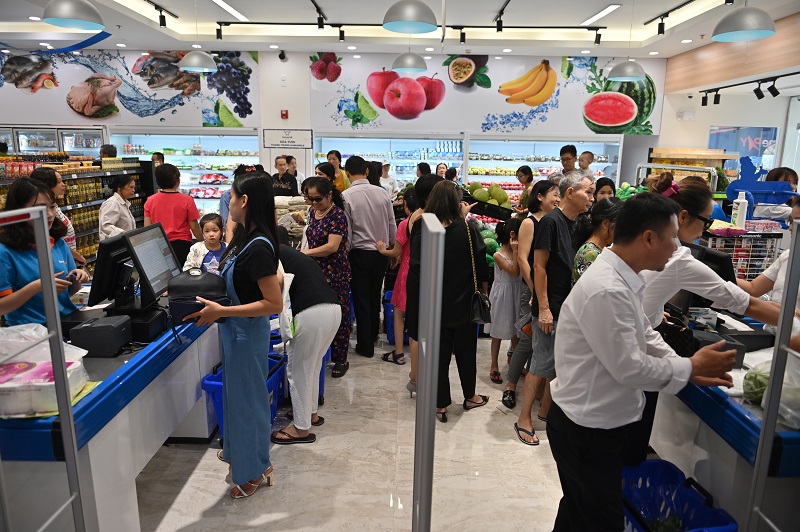 In particular, in order to improve service quality and catch up with the trend of shopping booming around the globe, Sunshine Group is also devoted to investing online payment systems via e-wallet Sunshine Pay. Accordingly, in the coming time, when shopping, instead of carrying cash, the payment process is longer, errors are more likely to occur, customers can pay with electronic wallet conveniently and economically in term of time and money.
The appearance of Sunshine Mart at the Sunshine Riverside project campus will not only meet the daily living needs of project residents but also become a prestigious and quality shopping address for residents living around the West of West Lake area. 
Speaking at the opening ceremony, Mrs. Duong Thi Mai Hoa – General Director of Sunshine Homes said: "When starting the construction of the project, our biggest concern is: How to make every resident Sunshine Group are all happy. And to do that, we have devoted much effort to create a full, closed, modern system of services – utilities, helping residents enjoy a comfortable and classy life. In particular, Sunshine Mart was born with the hope of becoming a prestigious shopping place for all customers.
On behalf of Sunshine Mart supermarket, Mrs. Hoa also pledged to provide a source of quality food and goods with clear origin, clean and safe for users. With Sunshine Mart, customers can feel secure to use. 
It is known that in addition to the two Sunshine Mart that have been put into operation at Sunshine Palace and Sunshine Riverside, Sunshine Group is also urgently in the final stages in the construction and completion of supermarkets and trade centers in the others high-end projects in Hanoi such as Sunshine City, Sunshine Center, Sunshine Garden. When the Sunshine Mart chain is launched, it will create a perfect piece for the Sunshine Group ecosystem, adding more value and new experience for residents of Sunshine Group.
Some other photos at the opening ceremony of Sunshine Mart :