There are only a few days left until Lunar New Year in 2019, Sunshine Mart is full range of fresh and delicious items which is ready to serve customers for the last peak shopping season.
According to Hanoi Department of Industry and Trade, during the 2019 Tet season, the total amount of goods supplied to the market is more than VND 46,000 billion VND, of which Hanoi VND 28,500 billion, Ho Chi Minh City VND 18,400 billion, growing 10 – 15% in comparison to the Lunar New Year 2018, marking the most exciting season of the year.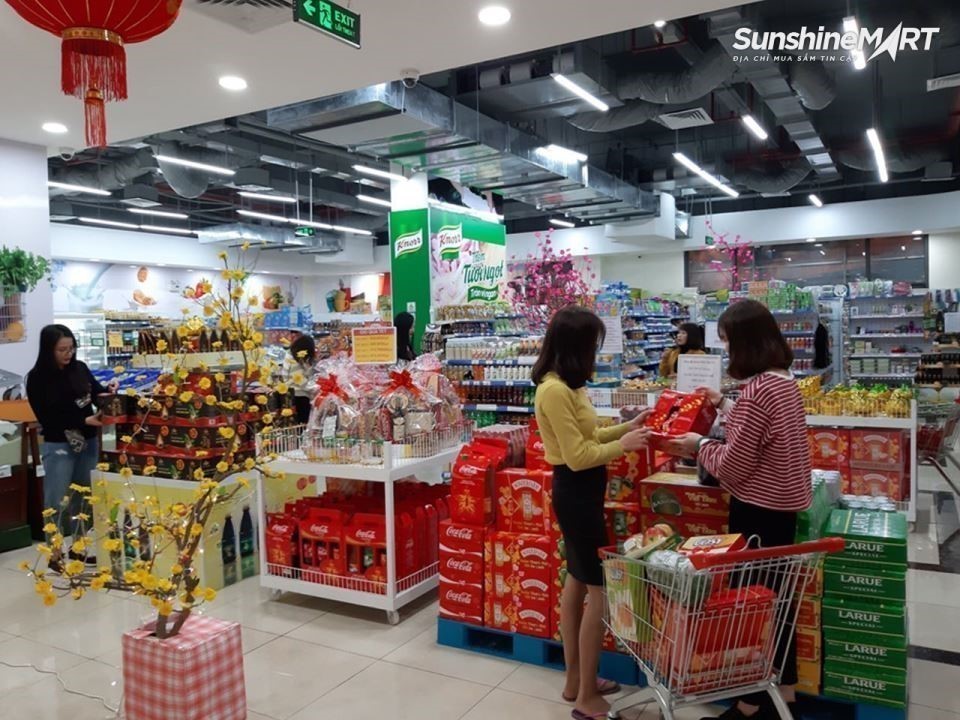 On the days of Tet holiday, Sunshine Mart bustles with the atmosphere of shopping for Tet.
In fact, in these days, customers come to shopping at Sunshine Mart (in the campus of Sunshine Palace – Mai Dong, Hoang Mai, Hanoi) crowder and crowder. To meet the shopping needs of customers, Sunshine Mart has maximized the source of goods for consumers. Up to this time, thousands of items have been put on shelves, especially fresh goods including meat, fish and vegetables, etc. According to the representative of Sunshine Mart supermarket, to be ready for Tet, supermarkets have prepared a large source of supply from very early, avoiding the shortage of goods.
With the criteria of improving product quality, placing food safety and hygiene first, Sunshine Mart always selects organic products and organic brings peace of mind in terms of quality and safety for consumers, dispelling psychological concerns about food hygiene and safety are becoming problems on the market today.
All vegetables at Sunshine Mart meet VietGap standard, Organic Vegetables, Delicious fresh hydroponic vegetables, imported from reputable suppliers such as FVF, T-Vita, Hydroponic Vegetables 188 …; Fish meat products are raised at food hygiene facilities, certified by the authorities.
Tet products at Sunshine Mart are not only diverse in terms of quality, but also very affordable. In addition, the supermarket also offers customers many promotions, discounts such as points earned when buying goods, offering products …
Especially, when shopping at Sunshine Mart, customers can visit the spacious dining experience area, including attractive dishes prepared by skilled chefs. In here customers will enjoy delicious dishes with great and unique flavors as well as learn recipes from these chefs.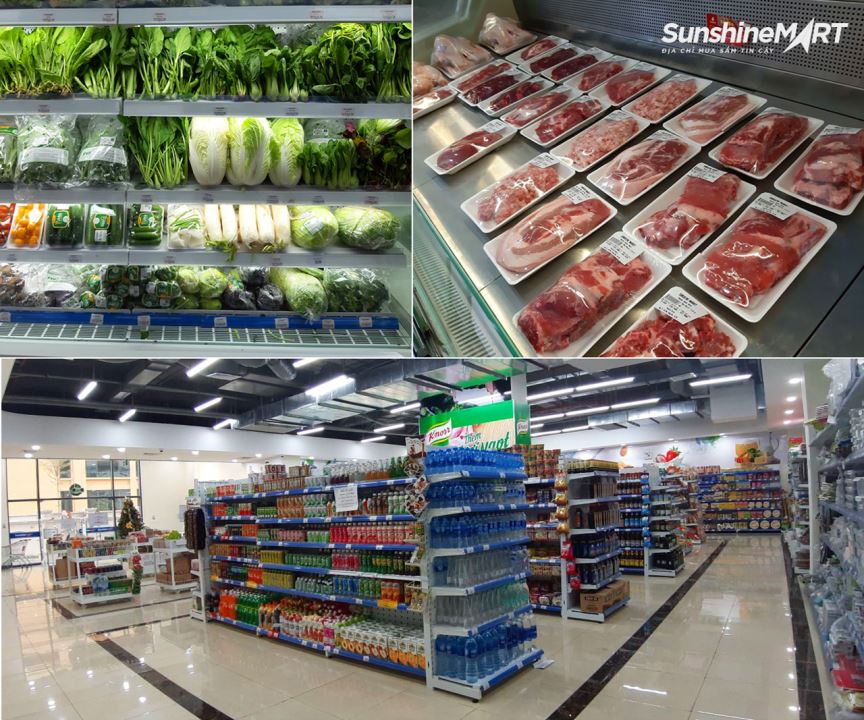 At Sunshine Mart, thousands of items have been prepared to serve customers.
In addition to the traditional distribution channels, the online sales channel is also specially focused by Sunshine Mart to reduce the pressure on traffic and save shopping time for customers and residents. Ms. Ngoc Mai, a close customer of Sunshine Mart commented, "I am very interested in 24-hour free delivery service for all residents in the upcoming 3km and special radius, supermarket. This applies Sunshine Pay e-wallet payment. These technology applications are very useful, helping us save a lot of time and money. "
According to Ms. Vu Hong Yen, Deputy General Director of Sunshine Mart Commercial Services Joint Stock Company (Sunshine Group), Sunshine Mart will deploy sales service until late in the evening on New Year 30 and open from the 6th lunar month with New year promotions, lucky money.
Sunshine Mart – reliable destination of customers
Located in the campus of Sunshine Palace (Mai Dong, Hoang Mai, Hanoi), with an area of ​​more than 1000m2, Sunshine Mart is built on 2 floors on the ground. The first floor is a place for selling specialties of seasonal vegetables and fruits from regions of Vietnam and some countries in the world such as Australia, America, Korea, Japan, … dry food, cosmetics and consumer goods. The second floor is the exhibition area, fresh food processing and the space to experience delicious food will surely satisfy the most fastidious diners.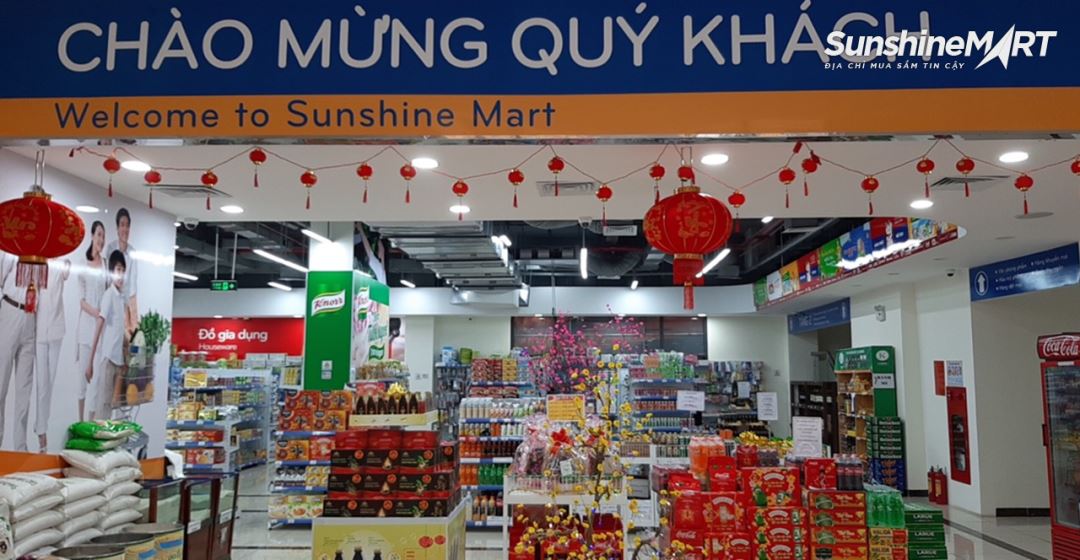 On the occasion of Tet, Sunshine Mart offers customers many attractive incentive programs.
In particular, the key booth at Sunshine Mart is organic food, organic products for mothers and babies, and cosmetics and consumer goods imported from Korea, Japan, Thailand, Europe, America and Vietnam with famous brands like Mommy Care, Kiyomi, Vinamilk, TH True Milk, Acecook, Ajinomoto, Cocacola, Trung Nguyen, Kinh Do, Almah, Zott, Orion …
Ms. Vu Hong Yen said: "At our projects, Sunshine Group always devotes a large land fund to invest in building supermarkets to meet the shopping needs of residents. Sunshine Mart in Sunshine Palace is the first shopping area in the line of supermarkets – commercial centers located in the campus of Sunshine Group. With the motto "Prestige creates strength, we are always careful in investment, focusing on product quality, in order to achieve the standards of superiority and prominence."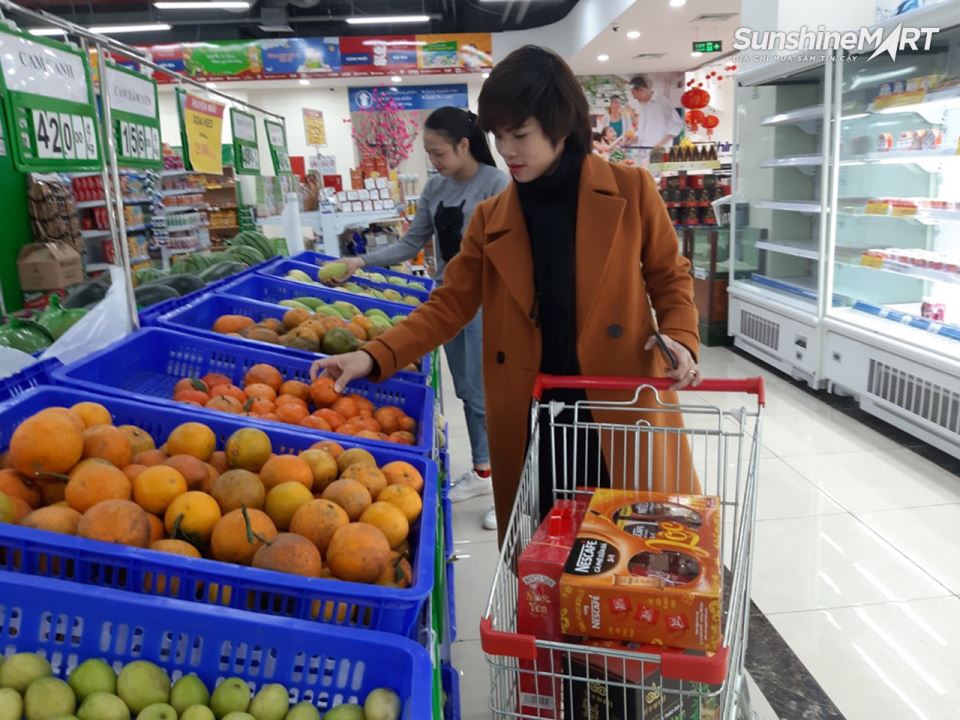 It is known that Sunshine Group – the "boss" of Sunshine Mart supermarket, is a major investor in the Vietnamese real estate market with a series of high-end projects in Nha Trang, Hanoi, Ho Chi Minh City and provinces throughout the country. In addition to the spearhead real estate sector, he has also invested heavily in other fields such as education, trade, services, entertainment, etc. In which, Sunshine Mart supermarket line is considered a puzzle piece. Perfectly create a rich ecosystem picture, giving residents a comfortable and class life.