In the context that students have to leave school to prevent Corona epidemic, Sunshine Maple Bear Educational System has actively developed a home study plan through Zoom software and Sunshine App to help pupils not to interrupt the curriculum.
Children leave school for a long time because of the pandemic, parents worry
In the complicated changes of the new Corona virus (nCoV) epidemic, under the direction of the Prime Minister, many provinces and cities decided to allow students to leave school to perform disinfection and prevention of epidemics. When the official decision was made, the lives of many families affected significantly. Most parents agree with this direction as this is a measure to protect children from a pandemic. However, there are still concerns about childcare arrangements, as well as concerns about the quality of schooling when children are absent from school for too long. 
Obviously, after the Tet holiday plus 2 weeks of anti-pandemic holidays, the old knowledge faded due to not being reviewed, the new school program was interrupted, plus distraction and lack of concentration will make it difficult for children to catch up when they return to school.
Mrs. Mai Chi (38 years old, Tay Ho, Hanoi) shared: "We have 2 children in Primary school and they are all staying at home this time. They are off but we still work, so it is very difficult to control order and schedule, especially to urge my children to review homework voluntarily. Therefore, my husband and I are very worried". 
It can be said that these are really the common concerns of the vast majority of parents. Faced with that fact, many families have also tried to spend time helping their children to review at home. However, this also faces many difficulties because parents do not know the previous curriculum as well as the method to study with their children, resulting in unexpected results.
Study Online: Solutions to help students revise at home during the break time for disease prevention 
In the context of complicated epidemics, schools may have long-term breaks, online learning is clearly necessary but to be implemented in a comprehensive and effective manner, must be sufficient educational institutions for both manpower and technology background.
With the available advantage from a technology investor, right after the decision of the Hanoi City Department of Education to make the student leave school, Sunshine Maple Bear Primary School's Board of Directors has developed a study plan at home through the Sunshine Group's Zoom software and Sunshine App to keep students from interrupting their curriculum. With simple, convenient and fast online interactions, Sunshine Maple Bear Primary School hopes this online teaching method will be useful for students as well as supporting families in raising children.
Sharing about this online teaching method, the representative of Sunshine Maple Bear said: "The prolonged absence of education will certainly affect the progress and curriculum. Students also engage in play that affects learning outcomes. Therefore, in order to adapt to this situation, the school administration immediately asked the teacher to prepare a plan to provide remote support for students to review online to avoid distractions."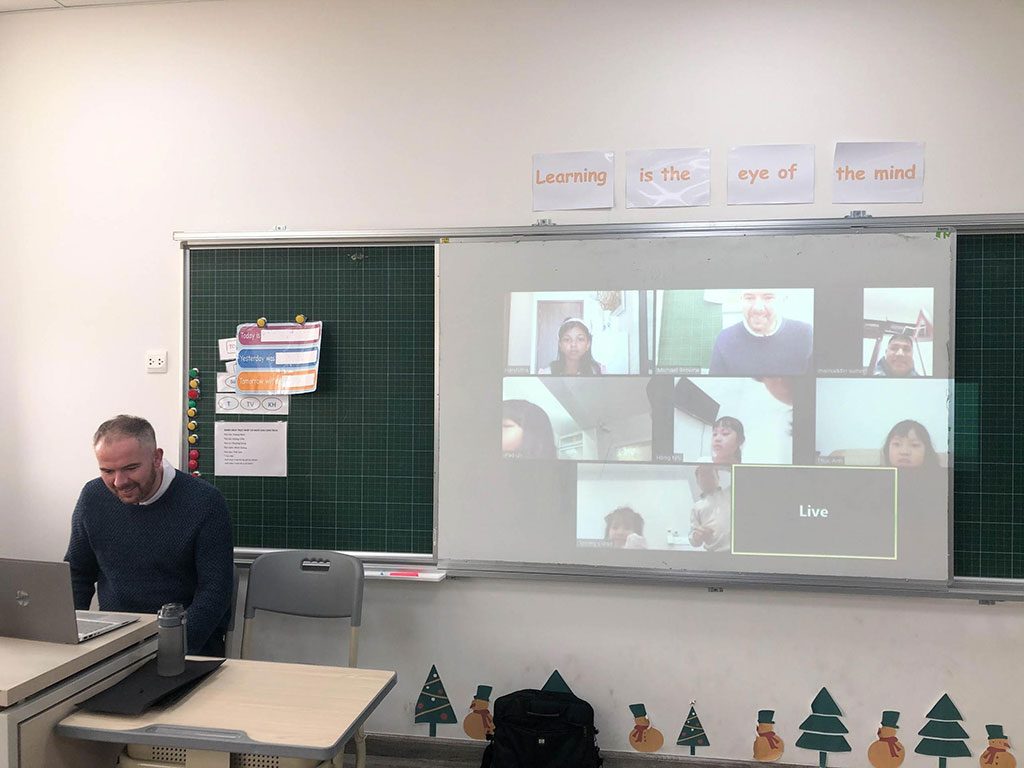 Sunshine Maple Bear organizes online learning to cope with the absence of disease due to disease.
Specifically, for primary students, through Zoom software and e-learning system of School Online, teachers will build learning content according to the learning schedule of their students according to each class. At the same time, the school will apply methods of teaching and learning online for children during breaks.
In addition to reviewing knowledge through assignments, workbooks, online lecture with self-study guide for parents, the school will also guide children to implement projects at home. The projects that the teachers choose for students are very friendly, up to date and close to students such as: Growing bean sprouts with plastic bottles, Learn about Corona, My handmade book, My favorite book, My poster…
For parents, the homeroom teachers will also form a group so parents can interact directly with the teacher, monitor the learning schedule, evaluate their child's homework with the teachers. Parents will take photos of homework sheets, record videos of their children reading and upload to class groups on the app. After that, the teacher will grade, correct the lesson, give feedback on the results, and answer questions and supplement knowledge for students.
In addition, towards the goal of cross-platform online teaching, Sunshine App will be included to support online learning for students. The teacher will also record the lecture content via video and upload it into the Sunshine App database to help the children have an additional information channel when exploring the content of the lecture.
It is known that Sunshine App is a technological breakthrough of investor Sunshine Group. This "one application for every application" is considered to be the link among Sunshine Group and residents and customers. By continuously updating the latest news or information about the project as well as the services that Sunshine Group provides, Sunshine App helps to help improve the standard of living for smart residents in the 4.0 era. School feature (Sunshine School) is one of the outstanding features on Sunshine App with full information about facilities, curriculum and detailed advice for parents on appropriate educational pathways. For your children, especially the online chat apps, tracking and picking up students, school cameras … will help parents feel secure when their children study at Sunshine Maple Bear.
Sunshine App is developed on both iOS and Android versions to meet all kinds of smart devices, extremely convenient, simple interface, easy to use. Integrated with the School Online e-learning system, this will be an easy tool to help teachers organize and manage the classroom with all documents, exercises, and grades saved in the same place. Also it allows students, parents and teachers to update the classroom situation anywhere just with mobile devices connected to the network.
With the online teaching plan for students during the pause period to prevent epidemics, it can be said that Sunshine Maple Bear has made every effort to accompany the beloved students to ensure the academic performance is maintained, create peace of mind for parents. Not only that, the latest information on the disease situation and learning plans will be constantly updated and sent to parents of students. "Hopefully, the school, students and families will work together effectively to ensure the learning of students in the time of a complex epidemic" – Sunshine Maple Bear Representative expected.