The Covid-19 pandemic is taking place very complicated worldwide, the number of infections increasing hour by hour, the battle with Corona is more intense than ever, from individuals to businesses and governments. While many companies have employees at home to work online to prevent diseases, at Sunshine Group, all work is still going on normally thanks to the optimal anti-epidemic measures with "digitization".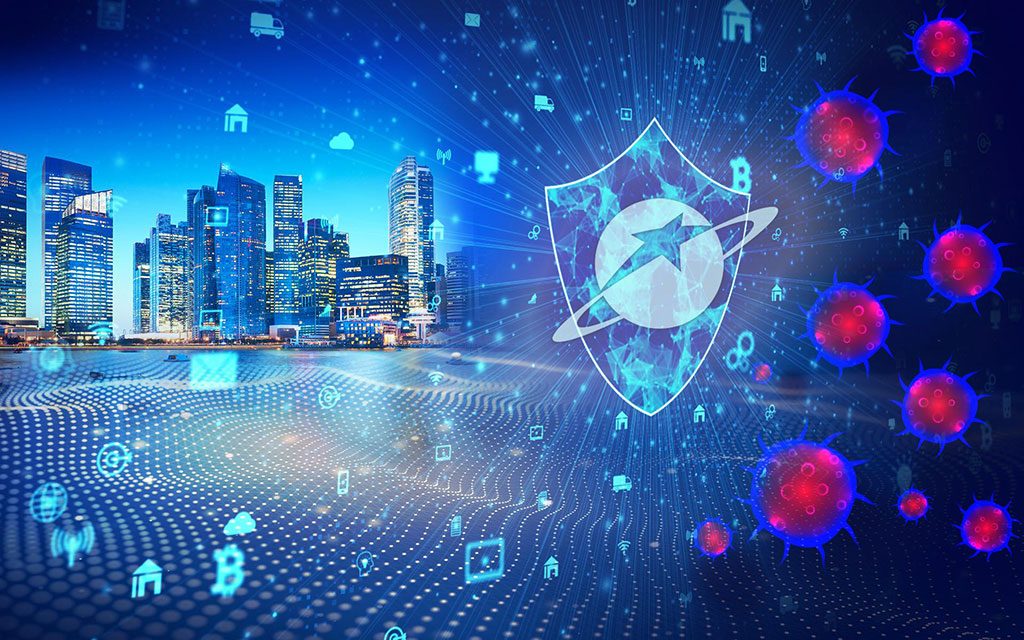 Continuously spraying disinfectant, giving masks free of charge, equipping dry hand sanitizer at all traffic-related locations such as the reception desks, elevators … were familiar methods, pioneered by Sunshine Group at the beginning of pandemic in Sunshine Homes buildings.
Not stopping there, with the long-standing technological strength in the market, Sunshine Group also strengthens disease prevention measures following the trend of 4.0, with security camera system, FaceID face recognition connecting directly with Sunshine App, multi-layer security checkpoints … equipped in 100% of buildings. This is useful in tracking strangers as well as accurately controlling the travel route of residents and employees. In case of detecting an individual at risk of infection, the system immediately extracts the object data and the travel schedule in order to actively coordinate with the security and health authorities in zoning the epidemic, optimally in prevention of disease outbreaks.
At the Group's headquarters in Hanoi City and Ho Chi Minh City, every entrance is equipped with a multi-layer security system controlled by a modern FaceID system, which controls all activities of employees and visitors.
In particular, the non-contact body temperature measurement system is the most modern strengthening method applied by Sunshine. This is the most modern infrared body temperature measurement product in the world, based on AI technology, so it has high accuracy and the error is only about 0.3oC. The device can measure an unlimited number of people with a distance of 3-5m, and the temperature of the tester will be displayed right on the screen to help control, detect and alerts instantly. When any individual has an abnormally high temperature above 37.2 degrees, the device will immediately send a siren signal to the security department, and the stopper will immediately close the door to prevent block the intrusion.
"Technology Shield" Program
 After testing at Sunshine Group's offices and buildings, our Group will work with authorities to fund some of these systems at governmental central office and some others locations in Hanoi.
It is known that due to the expensive cost (several hundred million dong / machine), this system has only appeared in public places of big countries in the world such as the US and China. In Vietnam, most buildings are using small body temperature sensors and contact at close range (press). That makes measuring the temperature of places very time-consuming and still creates a high risk of infection. Non-contact thermometers are only available at big airports such as Tan Son Nhat, Noi Bai, etc. Sunshine Group can be said as a pioneer and "dare to spend" Vietnamese enterprise when installing this system in offices and apartment buildings, contributing to complete the technology ecosystem 4.0, this enterprise is focusing on development investment.
With its state-of-the-art technology shield system, Sunshine has been building solid 4.0 barriers for residents, customers, employees and partners. This is also one of the activities of Sunshine Homes, Sunshine Tech … in the strategy of "Smart Livingize" the whole Sunshine ecosystem with a focus on e-residents, towards building and perfecting Wellness, smart cities and beyond e-offices, deploying digitalization platform of e-government.
In addition, the Sunshine App super app integrates many features for residents, sales and customers, as well as promoting more than ever in the pandemic time when providing and making all information transparent without having to meet and have direct contact. As a result, before the Corona virus pandemic, Sunshine's business system was still operating and trading normally, not affected by epidemics like businesses operating in the traditional way. According to statistics, every day more than 1000 people install Sunshine App, the number of Sunshine real estate transactions also increases dramatically. Currently, Sunshine also applies the home-buying policy through the Sunshine App to receive a voucher worth buying hundreds of millions of Samsung Smart Thing devices and the newly launched Samsung Note 11 phone.