A convenient and high-rank life is brought about only by a command or a touch on smart phones- This will be wonderful feelings of future residents when experiencing Smart Home technology combining with Smart Living ecosystem in Sunshine Center on October 27 coming up.
Although Sunshine Group is a young real estate company, it continuously makes the impressions on the market by a series of luxury real estate projects which have impressive design and locate in favorable positions in the inner big cities as well as convergence of a series of high-rank utilities. However, technology makes Sunshine group distinct and highly-ranked.
And these modern technological applications are crystalized in Sunshine Center, one of main projects is chosen for being the headquarters of Sunshine Group.
"The symbol of New York" Trump Tower 4.0 in inner city of Hanoi
Inspired from York Trump Tower- a New York symbol of richness, Sunshine Center is designed with a style which is modern and strong, but still sophisticated and magnificent.
The Owner reveals that: In order to build this tower, at the stage of design, it takes the Owner a great deal of time, devotion as well as money to seek, choose and give out the most optimal plan with unique design so as to make a masterpiece which stands a long with time.
"We are devoted to build Sunshine Center with thick and stable fundamental block with 17 fundamental floors, allowing the building to stand stably and bringing about a masterpiece of architecture which is both bulky and stable and also has timeless values ​​over time," the Owner's representative shared.
Located right on Pham Hung road, the life-line road in the West of the capital, Sunshine Center shows its high rank with horizontal and vertical line, which is strong and coherent, reflecting on the surface covered with luxury Low-E glass and sophisticate golden details. Window panes are arranged properly in a balance way in order to create artistic light and dark color arrays.
Especially, Sunshine Center is called as "the building of light and technology", Sunshine center makes impression by its glorious beauty at night thanks to lighting system with modern and progressive LED technology ranked with the leading position now. This lighting technology system creates sparling and fanciful lighting effect and covers the building with a colorful beauty as well as unique appearance to the whole building.
It is known that Sunshine center is one of very few projects which is designed to run LED covering the building. Along with project of caliber such as Eurowindow building (Ton That Tung), FPT building (Lang Ha), Businessman tower (Ha Dong), Sunshine Center is certainly a place of showing light performance which is wonderful and eye-catching for pedestrians going through My Dinh' s road (Hanoi).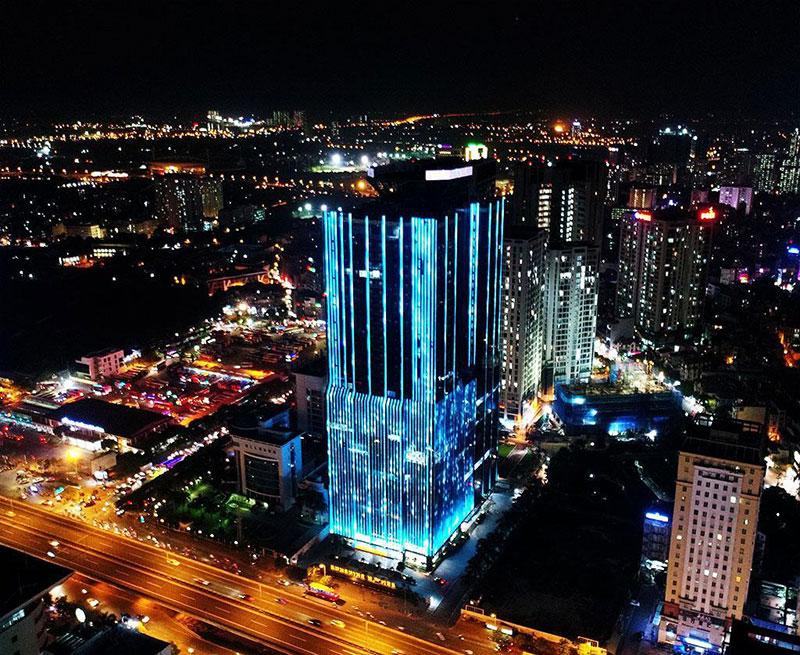 Among a busy space of urban, Sunshine Center becomes a majestic and wonderful project and one of the most remarkable landmark on Pham Hung Street.
Experiencing Smart Home apartment combing with Smart Living.
Sunshine Center's apartments are not merely common smart homes as usual; it also upgraded and widened the concept of Smart Home into high-rank Smart Living ecosystem.
To certify that Smart Living becomes really the life style in the future as well as helps customers have the realistic feeling about life at the Vietnamese version of Trump Tower, Sunshine Group is going to hold  the event "Experiencing technology 4.0 In Sunshine Center" on the coming October 27th .
The representative of Sunshine Group's leaders shared: "Our purpose of developing real estate is to create "a Sunshine ecosystem" with the center point of developing "electronic residents". Whereby, Sunshine Group wants to bring its close and precious customers true value of smart and energetic life in the trend of "Internets of things" which is rising to dominate the global.
According to the organization board, the event is going to happen on the first floor of Sunshine Center project- 16A Pham Hung. Up to now, there are hundreds of customers and Owners enrolling. The special gift for this event is special with total value up to about 1 billion Vietnamese dong, a full package of smart equipment in Sunshine Center is provided for for the first 10 customers to place their deposit from October 20 to October 27.
In the framework of this event, customers can experience Smart apartment combining with Smart Living ecosystem with 4 group of technological solutions applied in Sunshine Center which assures a smart life serving for residents' needs from A to Z.
In detail, when the residents are coming home, they will experience the technology of Smart Parking allowing them to book and keep the vacant parking lot. Then, through security system/ multi–layer smart security with Face ID technology, the security is assured in a maximum way. When coming into the apartment, Smart Home system will help the owners to remotely control electronic, lighting and curtain equipment, etc. in their apartments, which are optionally customized by them. Moreover, Smart Management System will help residents comfortably use, order utilities and services in the ecosystem of Sunshine Group only by a touch on Smart phone.
To be one of guests in this event, Ms Thu Huyen (Thanh Xuan, Hanoi) shows: "Last month, I and my husband pegged an apartment with 3 bedrooms in Sunshine Center, therefore, I look forward an event to know about how convenient my family's future life will be when it was supported by technologies."
Mr Duc Huy (Hai Ba Trung, Hanoi) who shared the same emotion and eagerness for this event as Ms Huyen, expressed that he would like to experience the feeling of living in a smart apartment with lighting system, auto curtains via Smart Home app.
Besides the "gold" position on Pham Hung road, both top utility system and Smart Living ecosystem make experts to evaluate it as an advantage which helps residents to enjoy a high-rank and up-to-date life in the style of high-tech in the time 4.0 which is hardly seen in other projects.