Bespoke for branded residence lovers, Sunshine Marina Mui Ne is the first world-class, 6-star hilltop beach resort villa project in Phan Thiet. The project drew inspiration from Vietnam's rich cultural heritage and unique natural sceneries, promising to become a masterpiece in the resort capital of Mui Ne.
A mega-project at an unbeatable location in Mui Ne
Internationally, owning hilltop beach villas has become a trendy inner-circle playground for the elite. The super-rich businessmen, billionaires, or world superstars see owning such properties as the final piece to complete their branded residence collection. Famous cities with this type of property are Beverly Hills, Hollywood Hills, or Phuket (Thailand) with mesmerizing hilltop villas like Casa de la Flora and Maikhao, etc. These properties attracted many investors and soon became the most desirable retreat destinations, appealing to even A-class celebrities.
According to real estate experts, due to scarcity and unique values, the demand to experience and own hilltop or mountain resort properties has always grown twice as fast as the market average.
With the ambition to offer a bespoke 6-star resort masterpiece to Vietnam's elite class, Sunshine Homes, The luxury lifestyle creator (member company of Sunshine Group) has taken advantage of the most prestigious location in Mui Ne to create Sunshine Home Heritage Mui Ne. Nestled entirely on Hon Rom hill, embracing the most beautiful strait of Mui Ne (Phan Thiet), Sunshine Marina Mui Ne is the largest resort, entertainment, cultural and heritage complex in the area.
Sunshine Marina Mui Ne possesses a one-of-a-kind natural position in Mui Ne, with its back to the mountain and facing the waters of Hon Rom – the most beautiful strait in Phan Thiet. Sunshine Heritage, stretching from the hill to the beach, close to the area's famous soft dunes, offers priceless values always sought by the upper class.
Mesmerizing natural beauty envelops the entire Hon Rom area of the project, providing high-end experiences to visitors. The Southwestern side of the project boasts an endless beach with white sand and clear azure water, suitable for leisure retreats. On the other hand, the Eastern side has a gorgeous reef where lapping waves gently nudge the shore. Farther ashore, guests can experience sea sports, or enjoy private parties on a 6-star yacht on pristine waters – a privilege only available at Sunshine Marina Mui Ne.
Sunshine Marina Mui Ne also possesses the best location for ocean sunset view in Phan Thiet. Standing on top of the hill, inside the majestic villas, to watch the magical ocean sunset is an experience for which visitors to the Maldives would pay thousands of dollars. Yet, these resorts in the heavenly Maldives are constantly sold out.
The 6-star hilltop beach resort complex: a masterpiece of the century
The villas within Sunshine Heritage Resorts offer a new concept of "resort in resort", a lavish design that only appears in ultra-luxury resorts in the world with huge investment budgets.
Sunshine Marina Mui Ne has 6-star ocean-view resort villas, offering top-class retreats for esteemed guests. Especially, in a limited quantity, Sunshine Marina Mui Ne created villas spanning thousands of square meters – designed like garden mansions with private pools, panoramic glass panes, on-premise utilities, services, and entertainment systems – to bring a unique sense of ownership.
For the first time, Sunshine Marina Mui Ne offers 7-star standard services that are bespoke to each villa owner. A multitude of privileged facilities will be provided: a VIP restaurant, Music square, Pool Bar, Sky Clubhouse, and Party Clubhouse – a unique sea-view restaurant designed specifically for scenery enjoyment. This restaurant is set to become a hotspot in Mui Ne, and the most beautiful location for sunrise and sunset views in Mui Ne upon its completion.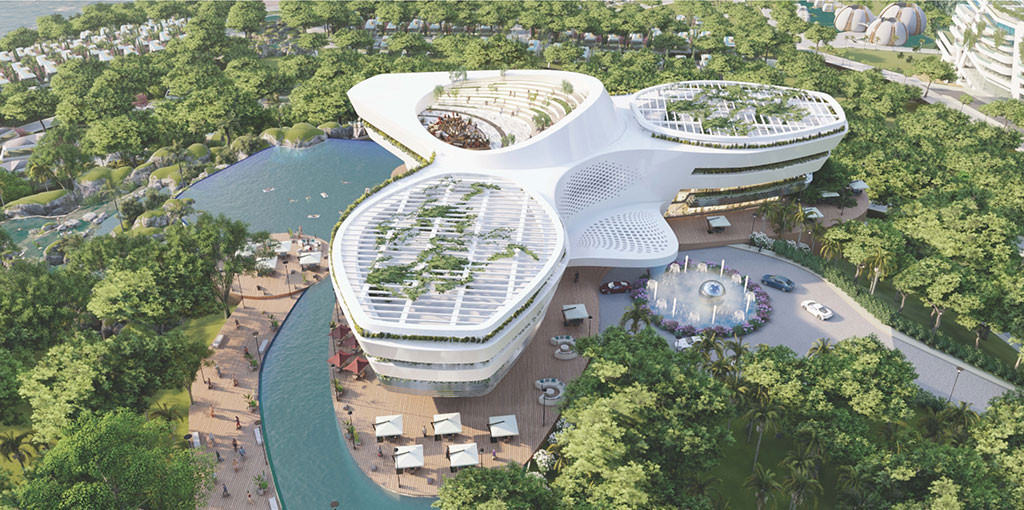 Sunshine Marina Mui Ne will become a highlight of the beach city, creating a top-class resort haven.One special feature of the resort, which will become an attraction on its own, is the first 36-hole golf course in Vietnam, designed in the links style of St. Andrews Links, Scotland – the most historic golf courses in the world, where 29 international golf tournaments have taken place.
Sunshine Marina Mui Ne Golf course has its own links-style characteristics: sea winds, natural undulating sand dunes, and various water hazards, challenging even legendary golfers' swing shots.
At Sunshine Marina Mui Ne, investors specifically dedicated a wellness sub-section to provide the top healthcare services in Vietnam. With tailor-made beauty treatments, body cleansing and detox programs, and personal health therapies, etc., this section will complete a holistic retreat for visitors, nurturing both physical and emotional wellness.
Sunshine Marina Mui Ne is developed by Sunshine Homes, and distributed – consulted on 4.0 financial investment solutions by KSFinance Group. Both are Vietnam's leading corporations, a guarantee for top-quality products and solutions in the market.
As the first billion-dollar 6-star megaproject in Phan Thiet, Sunshine Marina Mui Ne is considered the Heart of an exclusive entertainment resort. It is set to elevate the area's beachside resort properties to new heights and make Phan Thiet one of the most desirable retreat destinations in Asia.