Fierce spirit of thousands of sales in Ho Chi Minh City with a "bulk" of investment from Owners made the ceremony of releasing Sunshine Marina Nha Trang Bay Resort extremely monumental and full of felling.
Thousands of salesmen attended
In 2018, when the investor of Sunshine Group has revealed initial information about the name of Sunshine Marina Nha Trang Bay, the opening project of resort real estate line Sunshine Marina, public as well as investors immediately were attracted. Inspired from extraordinary stories of Marina Bay Sand, the work of the century created an miracle in Singapore, the market hopes that this project will become a breakthrough project symbolizing for Vietnam's tourism, also create a big turning point in the journey of promoting Nha Trang beyond the current position to become a second Singapore.
Super complex of relaxing-entertainment Sunshine Marina Nha Trang Bay, which has the total investment of 15 thousand of billion Vietnamese dong as well as is the pioneer in bringing to Vietnam the Integrated Resort (IR), a complex mode of entertainment and relaxing which is famous in the world, created a big hit on property market.
And because it don't want to make the market wait for so long, on the two days of October 22 and 24, Sunshine Marina Nha Trang Bay opened officially, created much more new investment opportunities and promised to bring tourists experiences which never appear in Vietnam.
As on October 22, 13 agencies and a lot of partner guests, especially, thousands of Hanoi "sales warrior" mix themselves with vibrant and enthusiastic atmosphere of "Opening ceremony of Sunshine Marina Nha Trang Bay" with the theme "Be iconic" at Grand Plaza Hotel, the latest October 24, in Ho Chi Minh City, a large number of "Sai Gon warriors" filled up the projection room in Riverside Palace Hotel. This certifies for the attraction of the resort brand Sunshine Marina Nha Trang Bay.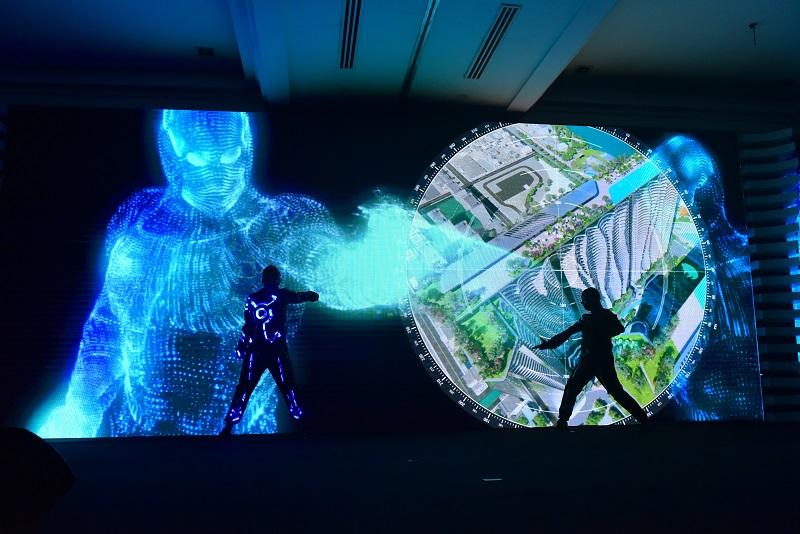 This event is not merely a meeting, but also a spiritual party with special art performances, vivid and eye-catching interactive tableau. The program brings Sales warriors an opportunity to listen, consult and clear out special problems from the investor.
Additionally, this opening ceremony held vibrant game shows with lots of attractive presents for player teams. This is actually is festival, also a gratefulness which the investor wants to send to the partners during the process in which promotes the development of Sunshine Marina Nha Trang Bay beyond the current position.
Representative of the Owner, Mr Tran Anh Quan, Vice General Director of Sunshine Group shared: not only owning unique architecture, Sunshine Marina Nha Trang Bay is also integrated resort technology 4.0 and converge all utilities with lot of experiences combining top world activities of travel and entertainment. Sunshine Marina Nha Trang Bay is a promising symbol of new relaxing tourism in Vietnam.
Representative of an agency determined to commit to bring customers the most official and sufficient information right at the opening ceremony that: "We will be unanimous to promote Sunshine Marina Nha Trang Bay as a breakthrough project and best sellers in the upcoming time.
Sunshine Marina – upgrading Vietnam relaxing market
It may consider Sunshine Marina Nha Trang Bay a "favorite child" masterpiece which the investor of Sunshine Group put a lot of devotion in investing and developing.
Besides a grand location among the heart of Nha Trang beach city, Sunshine Marina Nha Trang Bay shook the market by its sophisticate architecture and superb utility system firstly established in Vietnam. A relaxing complex in international scope with activities of high-rank travel and entertainment, a coastal resort with standard of 5 stars along with a series of modern utilities 4.0 keep pace with Internet of things (IoT) trend breaking through globally.
It can be seen with some utilities that the Owner of Sunshine Group takes effort to travel around the world so that they can bring to the "century" project-Sunshine Marina Nha Trang Bay the most luxury experiences.
For example, yacht port with the service of sight-seeing cruise in the river in the inner area will bring travelers interesting experiences. In addition, unique utilities such as the stage of performing light and music with water base, the service of diving to see corals, go fishing on ocean which satisfy update sense of entertaining in a float water park and under water sport center, etc., promoted high social class experiences for the viewers.
It is true as the name of Sunshine Marina, a line of resort –real estate complex containing a vast of experiences, Sunshine Group is not afraid to spend a big fortune investing and developing the system applied the most modern and advanced technology in every corner of Sunshine Marina Nha Trang Bay, project in order to bring traveler new experiences.
Representative of the Owner always stresses that: "Although it is not a pioneer project in Vietnam following the orientation if becoming "smart" resorts, the best things that they are proud of is the mark of Vietnamese intelligence in technological applications which are "made in Vietnam" and realized in Sunshine Marina".
With the support of technology along with bringing the model, which is famous worldwide, named Integrated Resort to Vietnam, also equipped with a lot of new preeminent things lengthening customer's satisfaction, Sunshine Marina Nha Trang Bay is promised as a breakthrough "blockbuster product to draw investor's attraction and interest of the market and the Owners in real estate in this 2019.