Absolutely being different, Integrated Resort's multi-experienced journeys (5-star complex resort) is not only beautiful resort but also a place for paradise emotion.
Marina Bay Sands – Singapore's famous Intergarated Resort model having consistently conquered international awards, brings a new style of Las Vegas and arouses Asia. In recent years, with masterpieces of Hong Kong, Singapore, and Macau, Integrated Resort has become a phenomenon, a trend of global resort real estate field.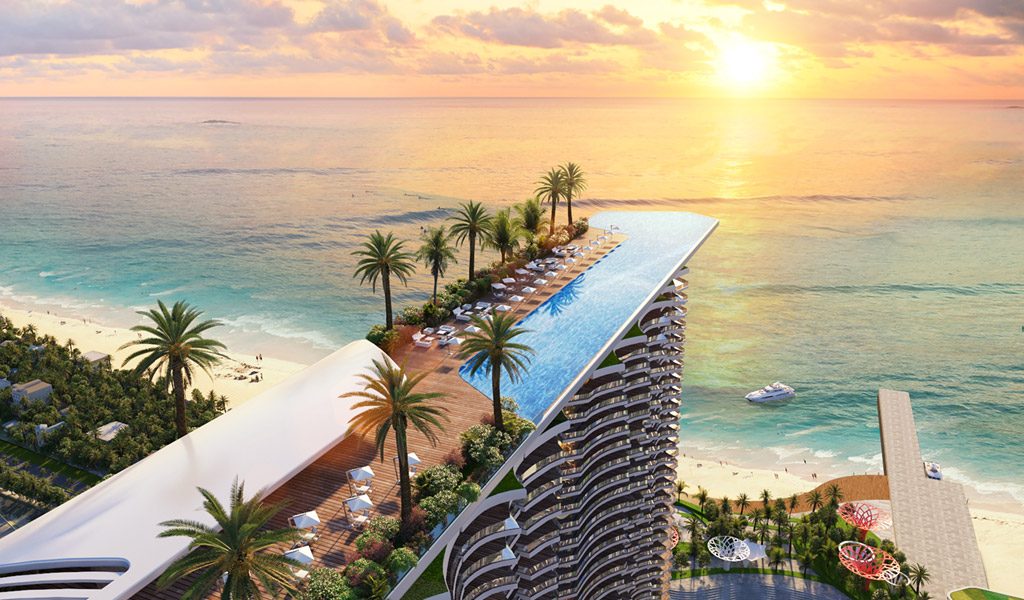 Integrated Resort, a 5-star complex resort model is a trend in the world. (Perspective photo of Sunshine Marina Nha Trang Bay project)..
The Integrated Resort trend of course cannot ignore Southeast Asia, where is famous for the most beautiful bays on the planet. The Philippines' City of Dreams Manila, Malaysia's Resorts World Genting and Sunway Resort Hotel are among the winners of Asia's Leading Fully Integrated Resort 2017 award, etc. Meanwhile, Integrated Resort in Vietnam is still an unfamiliar name, though compared to those in Philippines or Malaysia, Vietnam always stands higher in the world's most beautiful landscape / bay rankings.
2018 is a "timing" for Integrated Resort to develop in Vietnam
2017 is a memorable year for Vietnam tourism. Vietnam welcomed nearly 13 million international tourists, increased by 30% compared to 2016 and reached a high record so far. 2017 also marked the first time Vietnam reached the Top 10 fastest growing tourism markets in the world.
According to Mr. Stephen Wyatt, General Director of JLL Vietnam, 2018 is expected to continue to be an exciting year for the real estate industry when investors introduce their projects simultaneously to capture The potential development wave of resort tourism. According to Savills, thanks to the spectacular momentum of 2017, 2018 will be the most appropriate time for Vietnam's resort tourism and resort real estate to boom.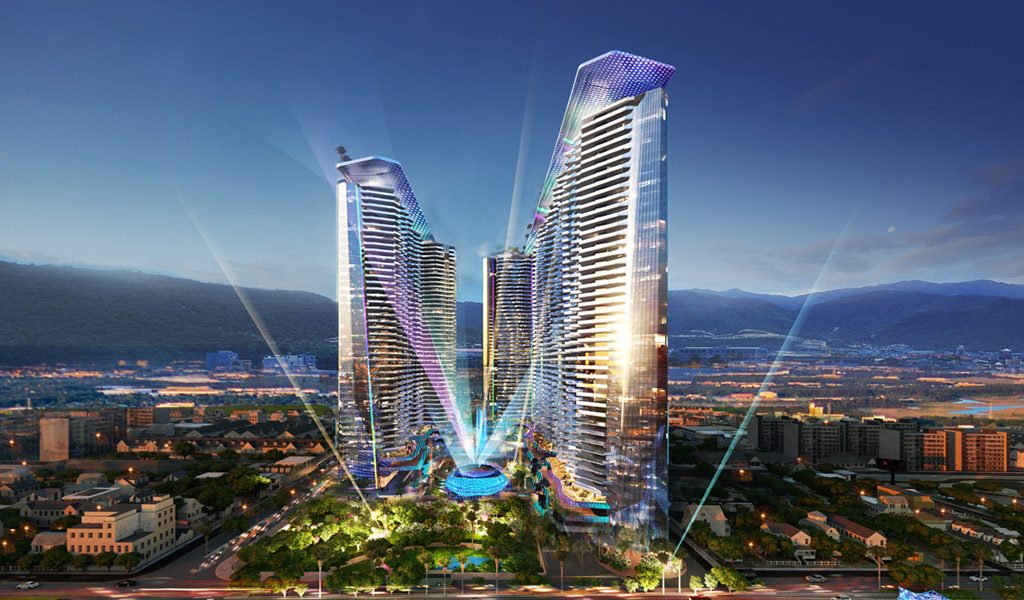 Integrated Resort Sunshine Marina Nha Trang Bay impresses with the perspective of grandiose Lighting Show stage at the center of the project.
With reference to the context of the world, Integrated Resort will be an ideal choice for real estate investors in this period. However, starting a new resort model that is complicated and requires 5-star standards in all aspects as Integrated Resort is not a simple problem.
Nha Trang will continue to pioneer in Integrated Resort model?
Having formed and developed in the last 10 years, Vietnam resort real estate is really mature and has made its mark since the period of 2014 – 2015 with outstanding achievements of three names: Nha Trang, Da Nang and Phu Quoc. Looking back on the development of Vietnam resort and the three locations, Nha Trang will probably be the most suitable choice for Integrated Resort model.
Firstly, Nha Trang is waiting for a symbolic project to truly create a foothold on the international tourist map. The beauty of Nha Trang has been mentioned on CNN, the world's most popular tourist site, and many famous magazines, but most of the compliments are only for Nha Trang like a sleeping mermaid, needing a hero to awake to really shine. The appearance of Integrated Resort, the world-class resort model will definitely be a big boost to Nha Trang resort tourism to a new era.
Secondly, it's planning advantages. Like the center of Saigon, the central area of Nha Trang today, more precisely, the Tran Phu road was planned by the French over 100 years ago to become the destination of millions of visitors. This road is divided into 2 separate up and down lanes to create a clear flow, this plan remains the same and promotes its advantages until today.
Thirdly, according to the plan of the provincial People's Committee to 2025, Nha Trang will be an international tourism and resort center. To accomplish this goal, the airline route No. 2 and international terminal of Cam Ranh International Airport will be put into operation around June 2018. Previously, Nha Trang has also continuously made imprints on Vietnam's tourism map by the increasingly synchronized and developed infrastructure system.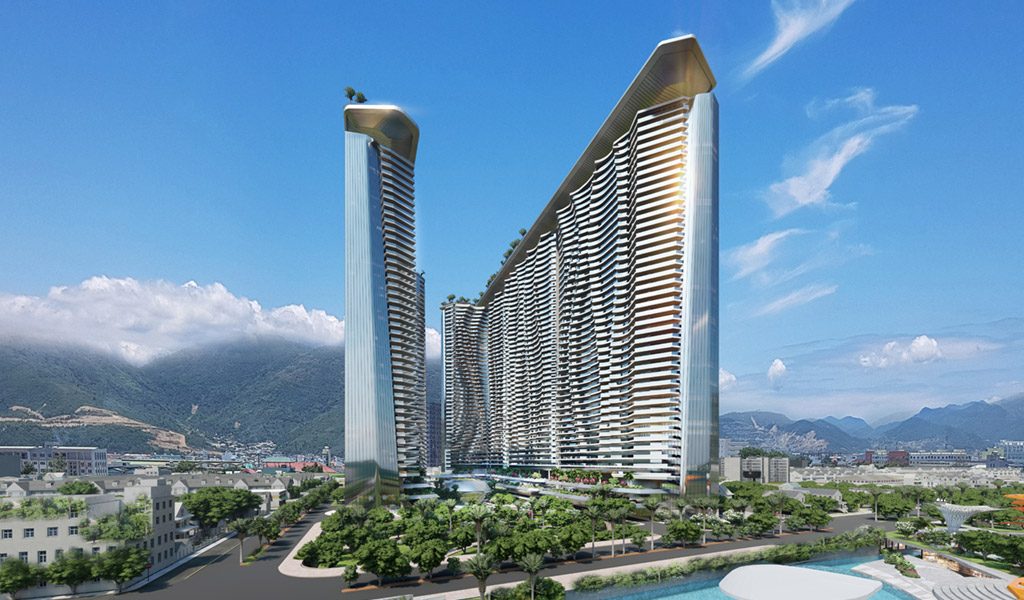 Tran Phu road was planned over 100 years ago to be ready for a resort masterpiece.
Fourthly, the average length of stay of visitors to Nha Trang is much higher than other places. According to Vietnam National Administration of Tourism, the average stay of international visitors to Nha Trang is 3.5 days, higher than the rate of 2.8 days in Da Nang and 2.6 days in Phu Quoc. Even for Russian tourists, the stay often lasts up to 12 days. For investors, this is the key point to note. Because of the longer time of guests' stay, the more profit from the room business and service business. In particular, with a multi-utility, multi-experience resort model like Integrated Resort, long stay is an important factor.
Finally, compared to Danang or Phu Quoc, Nha Trang is an experienced place in pioneering new resort real estate models. Although the trend of resort apartments (Condotel) really exploded in Vietnam since 2014, in fact, the first Condotel project has presented in Nha Trang since 2009 and also achieved success in a local scale. Then, in 2011, Vinpearl Nha Trang tourism complex was completed and officially put into operation, marking the appearance of the "All in one" resort model in Vietnam.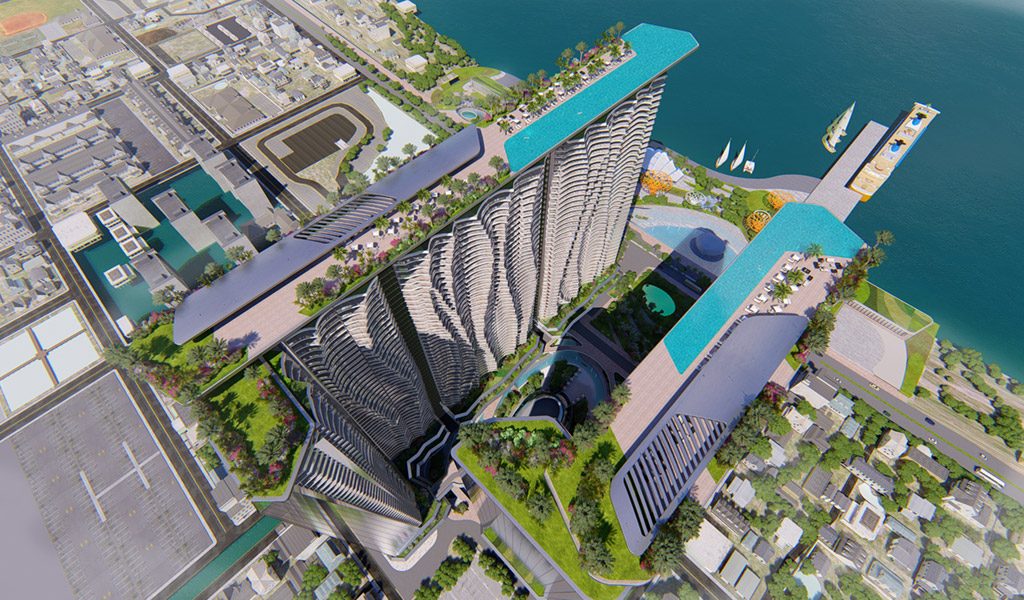 With Integrated Resort model, Nha Trang will continue to hold the throne in resort real estate market in the coming years.
Nha Trang resort tourism is developing every day but the market door is also narrowing for investors. According to many sources, the Sunshine Group has occupied a large area of land on Tran Phu Street to build the Integrated Resort project called Sunshine Marina Nha Trang Bay. Hoping that the investor known for the "pioneer" brand will soon make Nha Trang a truly impressive project like it made with Hanoi before.
Sunshine Marina Nha Trang Bay is a resort real estate project developed by Sunshine Group – The Group is currently very successful in the residential segment with the chain of Sunshine City, Sunshine Center, Sunshine Garden, Sunshine Palace, Sunshine Riverside, Sunshine Crystal River, etc. in Hanoi and provinces throughout the country. The outstanding feature of Sunshine Group is the pioneering position in applying 4.0 technology in project management and operation.
Source Dân Trí