The opening ceremony of Sunshine Diamond River project in Saigon became one night of art sublimation with top performance full of emotion, which creates an unforgettable experience for the guests about "a desire place for coming back" – a high-class "4.0 resort".
After establishing stable position in the North Real Estate Market with a series of million-worthy projects in November 2018, Sunshine Group entered the South Market successfully with "first" real estate product Sunshine City Saigon – "Best luxurious apartment project 2019". With the ambition of conquering this vibrant and potential Land of the South through the strategy "Creating voguish lifestyle", Sunshine Group only after half year continues introduces the second project – a luxurious super-project carried the name Sunshine Diamond River.
On 10th August night, at Gem Center Hotel of Ho Chi Minh City, the opening ceremony of Sunshine Diamond River called "VVIP NIGHT OUT" was officially started. This event attracted almost 1000 guests including investors, partners and media agency representative, which is considered the most famous event of this week in Ho Chi Minh City.
"Huge" celebrities attending Sunshine Diamond River Opening Ceremony
Sunshine Diamond River Opening Ceremony converged "huge" stars like Thu Phuong Diva, Le Hieu, Toc Tien, Vo Ha Tram, who can guarantee the success of the show in which they participate in… An impressive artistic night was famed and resonated by powerful voice, intense emotion and carefully organized performance.
Through special art performance, Sunshine Group wishes to convey fully and clearly the information of our Group about the product segments and projects that investor is implementing. At the same time, with our grateful musical gifts, Sunshine Group hopes that our guests can, to some extent, feel the sublimation of architecture, technology and top art that Sunshine Group investor implies in each products.
In this event, Sunshine Group for the first time also publish the cooperation with Progetto Lusso Industrial Cluster – a strategic partner from Italy for development activity of the Sunshine Group's Interior Showroom in Vietnam.
Accordingly, Sunshine Group with Progetto Lusso will discuss about the investment in suitable interior package based on the customer's need, long experience and understanding of market trends from the Italian architects. Progetto Lusso's Representative highly appreciated the well-organized and professional investment and expressed the trust: "We will together bring out the most sophisticated and appropriate choices, which gives the top European furniture to the customer, to be a part of creating the most perfect spaces, building the dream home with dominated class including the significant project – Sunshine Diamond River".
Through the well-organized, professional and luxurious investment, the event has made strong impression on customers, partners and guests who attended the event about different, unique remarks and Sunshine Diamond River own identity.
Ms. Ngoc Ha, a guest who attended this event said: "We known about Sunshine Group through a series of projects with elegant architect, facilities and high-class service along with modern, innovated technological application; however; not until the opening of this Sunshine Diamond River project, could we have opportunity to experience and thoroughly feel such a upper-class and luxurious living space like this".
According to Ms. Ngoc Ha, her family is looking for buying their own apartment, and Sunshine Diamond River truly satisfies her and her husband.
Sunshine Diamond River creates total new lifestyle
Leading with art, light and technology, the picture of an ideal home at Sunshine Diamond River seemed to appear through lively brush, which provide a high-class and voguish living space for Saigon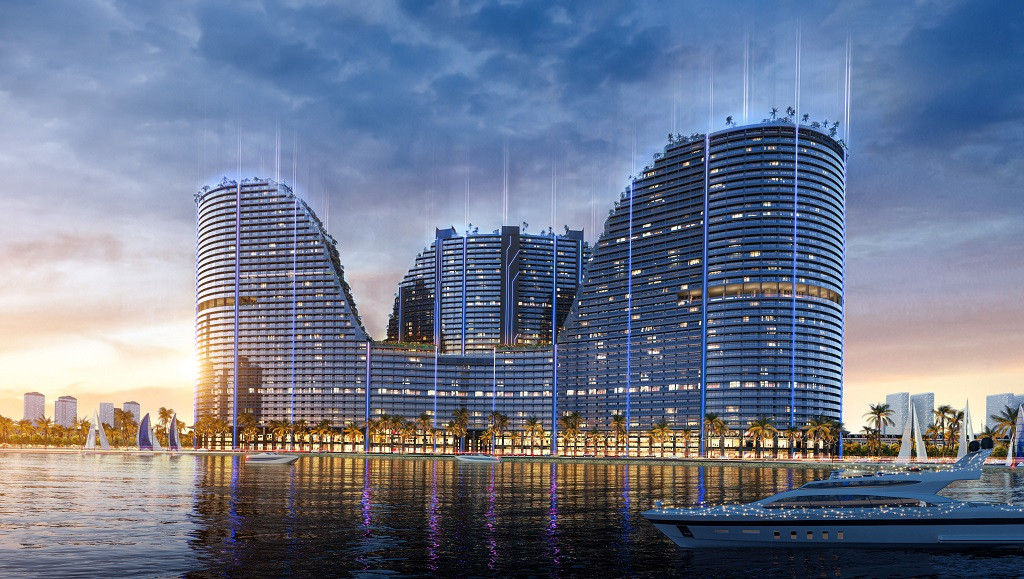 In that picture, Sunshine Diamond River locates in the best position in District 7, with 3 directions facing Saigon River. Owning a green and clean living space, but 8 towers of Sunshine Diamond River only few minute communes from the hustle and bustle Ho Chi Minh City. Like a diamond with all the sparkling and perfect edges, Sunshine Groups removes the "mass production" concept from its project in order to invest perfectly to make every facilities become the highlight of the work.
The new level of 4.0 resort super-product overlooking into Saigon River – Sunshine Diamond River also applies the All-in-one model with full living, entertainment, commercial, and education…facilities inside the complex.
In addition, with the advantage of being a domestic and abroad former professional software developer, Sunshine Group has made a lot of plus point for Sunshine Diamond river by applying 4.0 most advanced and modern technology in project management and operation, which gives residents a comfortable and fashionable "ecosystem".
Through the speech at the event, Ms. Do Thi Hong Nhung – Representative for investor – General Director of Sunshine Group shared: "With the Sunshine Diamond River masterpiece, we commit to put all effort in creating new life values, contributing a big part in making a better and more beautiful identity for Saigon urban, and providing experiences at totally different level and breakthrough for the customers at the same time.
Sunshine Diamond River converges all sophisticated values – a place for everyday emotional sublimation as an excellent resort experience. With luxurious 5-star standardized space, whenever everyone come to Sunshine Diamond River can fully senses the magical feeling of family with worthy resort landscape.