In addition to the riverside"5-star resorts" urban are that are "shaking" in District 7, Sunshine Group will continue to spend thousands of billion dong on a more luxurious super product named Sunshine Horizon. Located right in the heart of District 4, this will be the only Resort 4.0 apartment complex in the center of Saigon.
According to the reveling information, this project is "specially made" for the rich by its special elegance, in which, the group of overseas Vietnamese customers is specifically directed. In order to meet the needs of "luxurious living and enjoying high-class on-site service" of high-paying customers and extremely fastidious when looking for a satisfactory settlement, familiar with personality, habits after these years living abroad, Sunshine Horizon will be a worthy solution with a unique green architecture, superior design of the future, in line with the trendy Wellness lifestyle.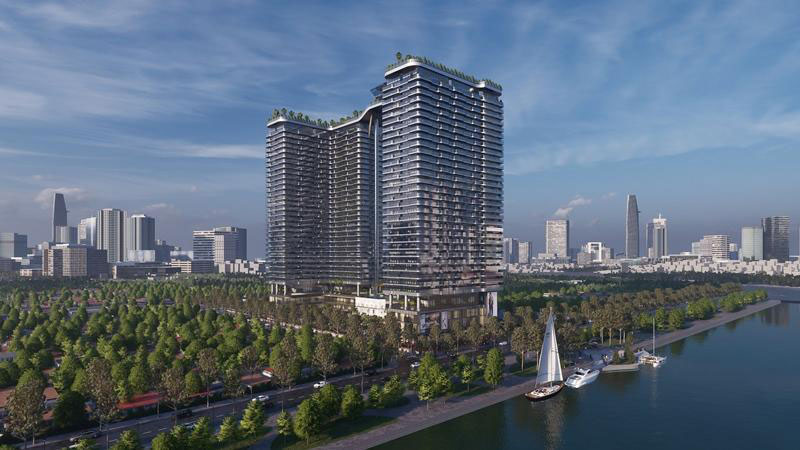 Located in a unique position in the center of District 4, Sunshine Horizon has a great advantage of being located in the "gold mine" of real estate investors, brought by the criteria of "the first is close to marker and the second is close to river." with 3 sides of the river and being right next to the center of district 1. With synchronous infrastructure, an important trading hub of the city, Sunshine Horizon is fully qualified to become the most luxurious resort urban area in Saigon.
Living at Sunshine Horizon, the vision of homeowners will be satisfied by a cool green from thousands of green vegetation and the vast Saigon River right in front of your eyes. This is considered an expensive plus that few projects in Ho Chi Minh City have. A harmonious combination of green elements from nearly 800 hanging gardens in each apartment, parks and walking street with the "Water" element from the river, swimming pool and the system of wonders of multi-layer technology spill Art have created a peaceful natural picture, helping residents to breathe fresh air and feel positive emotions, energizing for the new day.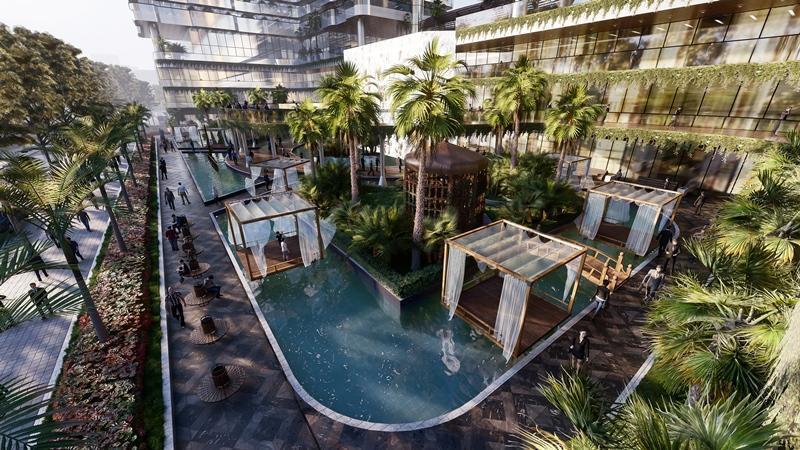 Especially, in the center of project, thousands of m2 area is reserved for the development of tropical gardens in combination with the regulation lake and the "sun deck" bungalow complex that will bring cool space raising the level for the trendy resident community.
After a tiring day, listening to the familiar sounds of life such as the sound of art waterfalls, the sound of children playing in the amusement park right on the project site, residents will feel the value of enjoyment and relaxation.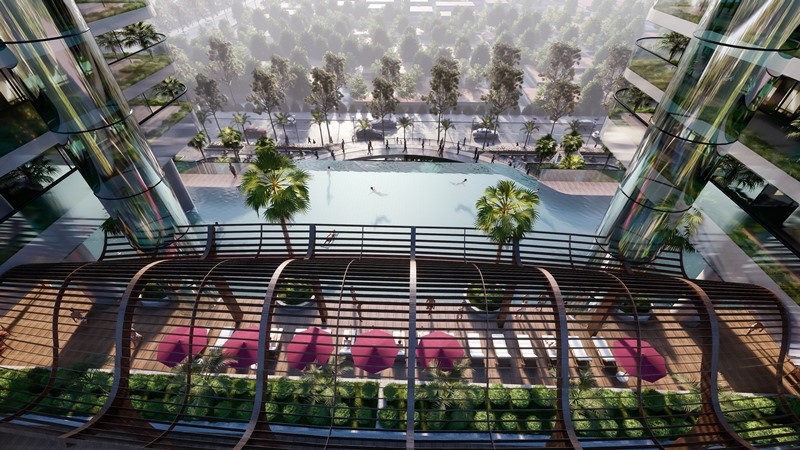 With the criteria of a 5-star resort, Sunshine Horizon has a lot of space for residents to rest and relax, many walking streets are built, not only at the foot of the building but also hovering at high altitudes. Walking at the footpaths connecting buildings through the sky with trees covering the walkway also brings new and wonderful experiences to residents amidst the hot four-season climate of Saigon.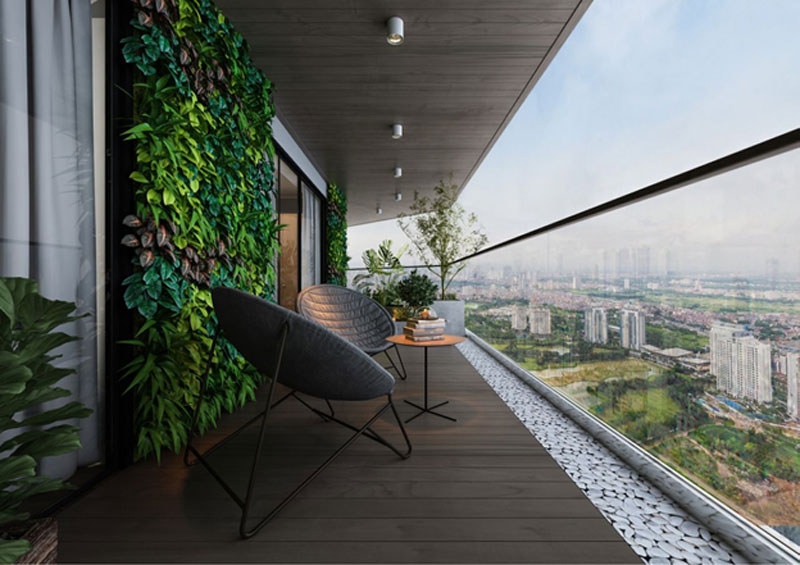 "Super product" Sunshine Horizon stands out in the center of Saigon with a unique green architecture with 100% of the apartments designed as a small indoor garden, creating a unique highlight as well as bringing to a relaxing space for every family. Here, residents can arrange a tea table or organize small parties on a weekend, happily gathering with relatives, family and friends.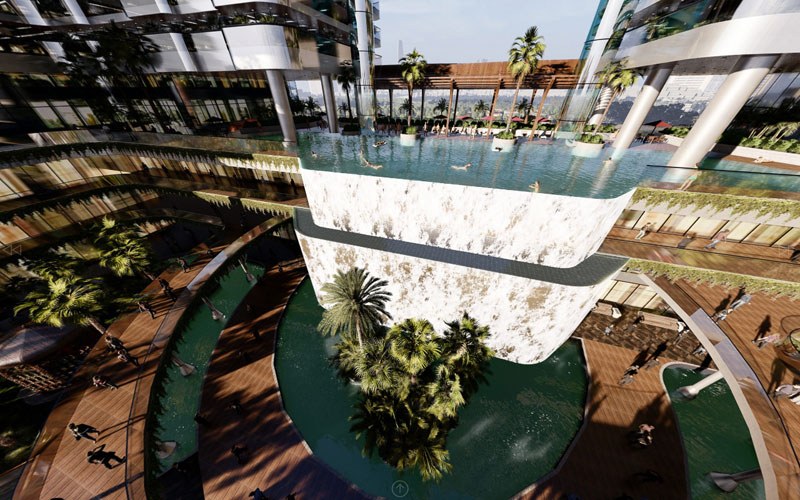 Khi màn đêm buông xuống, nhìn từ trên xuống, hay từ ngoài vào trong thác tràn nghệ thuật cùng với ánh sáng lung linh được bày trí tinh tế khắp lối đi sẽ khiến cuộc sống của cư dân thêm phong phú.
Located on the rooftop, with a sophisticated design, the Sky bar appears as a "diamond" sparkling and softening in the air, opening up a vast vision. From here, anyone can take a cup of strong coffee and can see the fast changing day by day of bustling Saigon.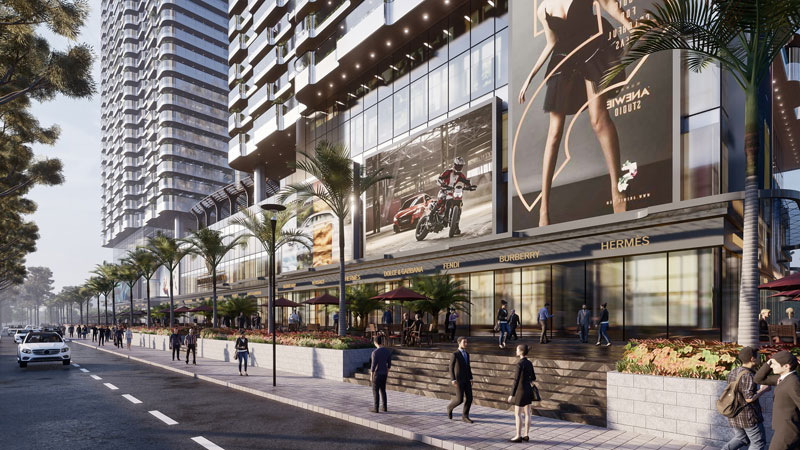 In addition, Sunshine Group wishes to bring the most luxurious life to overseas Vietnamese, so the investor has made an effort to build a shophouse system at the foot of the building. Pioneering in the form of "Shopping in the Park" – The shopping walkway between the park, like other 5-star resorts of Sunshine Group, at Sunshine Horizon, everyday residents will feel the bustling shopping atmosphere in a modern design space with famous brands.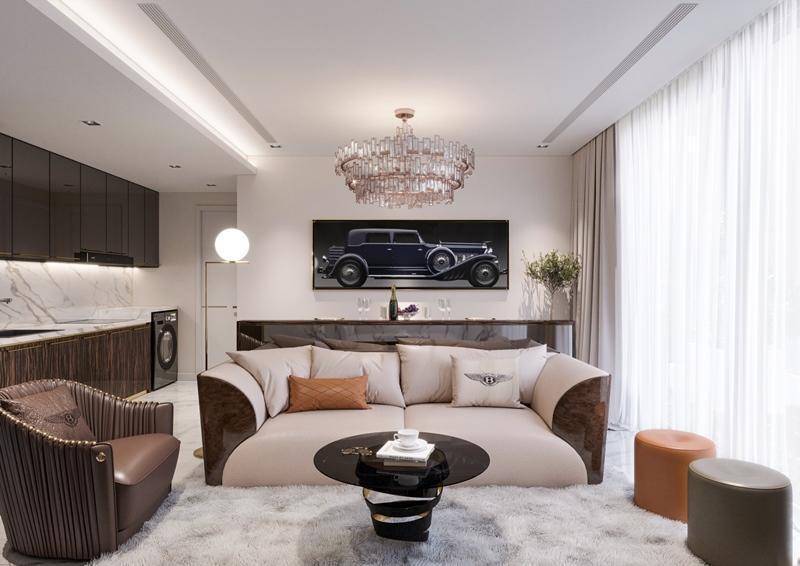 Besides green construction which is unique and luxury and prime utilities, Sunshine Horizon apartments are designed sophisticatedly with selective furniture of classy brands like: Duravit, Daikin, Ferroli…
It is certain that Sunshine Horizon will satisfy overseas Vietnamese, "the king" in the future when apartments are not only gentle but also smart with the style of Smart Homes combining with luxury Smart Living.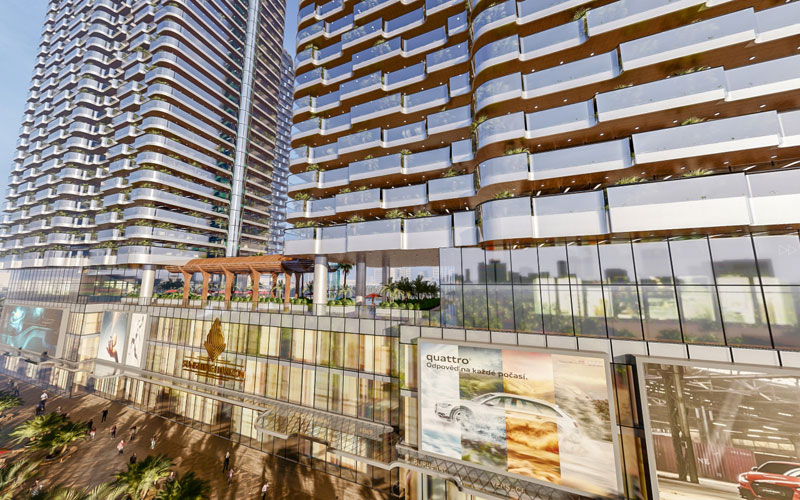 Along with Sunshine City – District 7, Ho Chi Minh City, Sunshine Diamond River in District 07, Sunshine Horizon in District 04 is going to be added in high-rank five-star projects so as to create a new life style which has "housing with garden and near the street" for overseas Vietnamese and high class society in Sai Gon in upcoming time.