Với mong muốn mang đến cho khách hàng cơ hội thưởng thức, trải nghiệm lễ hội bia châu Âu ngay trong lòng Hà Nội, ngày 27/10, Sunshine Group đã tổ chức thành công sự kiện "Amazing Journey Sunshine Beer Festival" ngay tại khuôn viên dự án Sunshine City (khu đô thị Ciputra, Hà Nội).
As described by the theme of the event "Amazing Journey Sunshine Beer Festival", when attending the program, guests not only immersed the vibrant party with the best types of beer, the most attractive dishes, in a luxurious, classy space but also "had a good time" with DJ and famous singers like Duong Tran Nghia – The Voice, Phuong Thao …
Simulating space of Oktoberfest, a famous 200 year-history beer festival with of German, the event took customers into luxurious European space, worthy of the upper class in the middle of Hanoi autumn.
It is known that Sunshine City is one of the products with heart and soul of Sunshine Group into. With European-styled architecture, green space and high-class interior and exterior facilities, Sunshine City desires to bring a modern life to the upper-class. Besides beautiful residential buildings, Sunshine Group also strives to create an emotional life for its residents.
After the attractive "Autumn Party" held last year, this year Amazing Journey Sunshine Beer Festival is organized to extend the residents' emotion in the same cool atmosphere as that of the last year.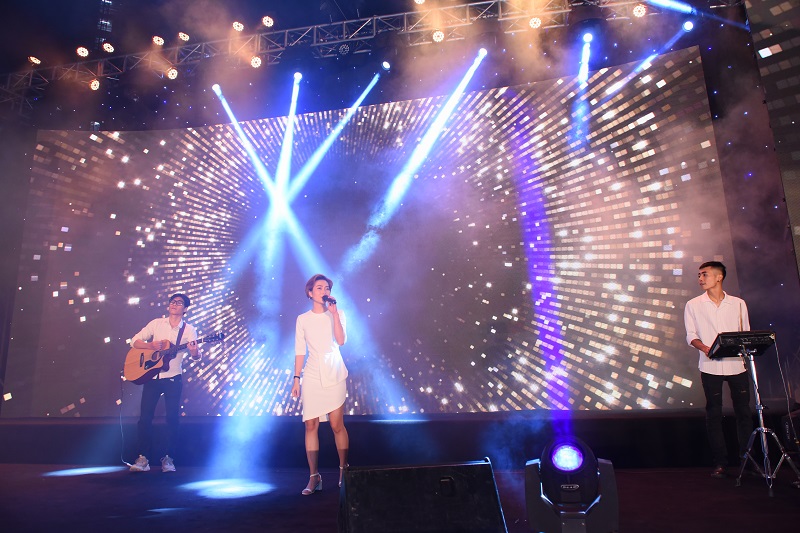 Through colorful cultural and art events, Sunshine City creates a cohesive bond among the high-class community, creating a meaningful spiritual gift for customers on the impressive weekends.
At the event, many customers and the investor directly visited and experienced the green living space with two high-rise and low-rise subdivisions designed with modern European architecture of Sunshine City, especially when the project is being gradually completed. Seeing the healthy architecture lines, breathing the fresh air in Sunshine City, many people have ordered Sunshine City apartments and villas with many attractive incentive programs and award packages as well as bonuses up to hundreds of millions from the investor.
Ms. Thu Phuong (Nam Tu Liem, Hanoi) said: "We have ordered an apartment in a high-rise area because of the desire to have a healthy living environment along the Red River. Daily relaxation and resting with the chain of self-contained facilities here, from diving in the cool water pool to stepping out to have a high-class gym and spa, coming together for a walk, leisurely admiring the colorful interior color of plants and flowers ".
The thing Ms. Phuong loves most is that the international standard school system for children is on the project site, convenient for their children's education. "This year, my child is young, I will send him to Sunshine Maple Bear Kindergarten in Sunshine City and next year when he enters Grade 1, I also feel secured because there is an elementary school and an education system. Canadian Maple Bear is right at Sunshine Riverside near home. Not to mention there is a royal inter-school building at the project with the Sunshine brand – Sunshine Wonder Villas "- Ms. Phuong cheerfully said.
Located in Nam Thang Long urban area, with a broad view of the Red River, West Lake and expensive Ciputra golf course, Sunshine City consists of two high-rise and low-rise areas with European-American style design which make people think of a vibrant, modern New York and a magnificent Paris.
In addition to the system of green utilities with Landscape, walking paths, fountains, internal greenery …, Sunshine City also attracts customers when owning a 5-star utility chain, intelligent and modern technological applications which bring up opportunities of settlement and potential investment for customers and investors.