The launch of Sunshine App in the beginning of 2020 is considered as an important milestone of Sunshine Group on the path of pioneering to create new values. In particular, for the real estate market, this is a "breakthrough" when bringing technological solutions, directly impact on traditional real estate transactions.
The "master creator" of this super-app dubbed "one application for every application" is the Chairman of Sunshine Group, Mr. Do Anh Tuan, who has appeared on domestic and foreign media with enthusiastic sharing about the desire to bring Vietnamese real estate to international level. Meeting with us on New Year's Day, Chairman Do Anh Tuan said: "It is all just a warm-up step, with the power of technology master, Sunshine Group will make many new breakthroughs!"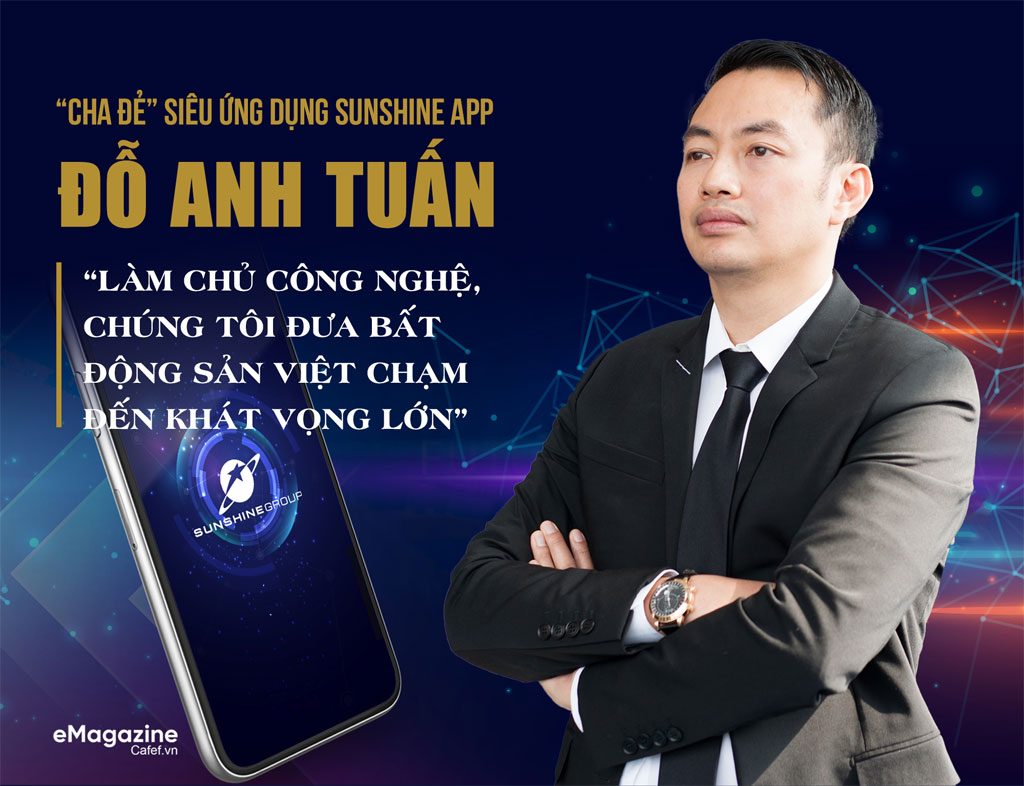 A COUNTRY THAT WANTS TO BE STRONG, A COMPANY THAT WANTS TO BRING ITS PRODUCTS TO THE FLAT WORLD ARE BOUND TO DIGITIZE
In early 2020, the real estate market boils down to Sunshine App – a smart application that fully meets all the needs of homebuyers, investors from buying – selling – renting houses, investing online, consulting projects, consumer loans to features such as entertainment, car calling, maids, travel, education, health, shopping, housing management … Please tell us, what is the motivation for Sunshine to build this "One application for every application"?
As you know, the 4th industrial revolution is the trend of automation, exchanging technological data in production. It is all things connected to the Internet, cloud computing and cognitive computing. It can be seen that this revolution has a great impact on society, can change the basis of human values ​​and identity.
I think that a country that wants to be strong, a company that wants to bring products to the flat world must definitely digitize. When we thoroughly apply the technology, the product delivered to the user will always be the best, most transparent and most convenient.
More than 2 years ago, when building a comprehensive smart platform for buildings, we realized that many smart products must be connected together such as smart air conditioners, electrical systems, smart elevators…. When connecting these discrete platforms accidentally created inconvenience for users.
Therefore, we determine to have a technology mastering solution, connecting devices with both hardware and software, creating an overall breakthrough platform, bringing the most complete experience to customers when using an application but control all devices in the apartment, creating a Smart – Living ecosystem.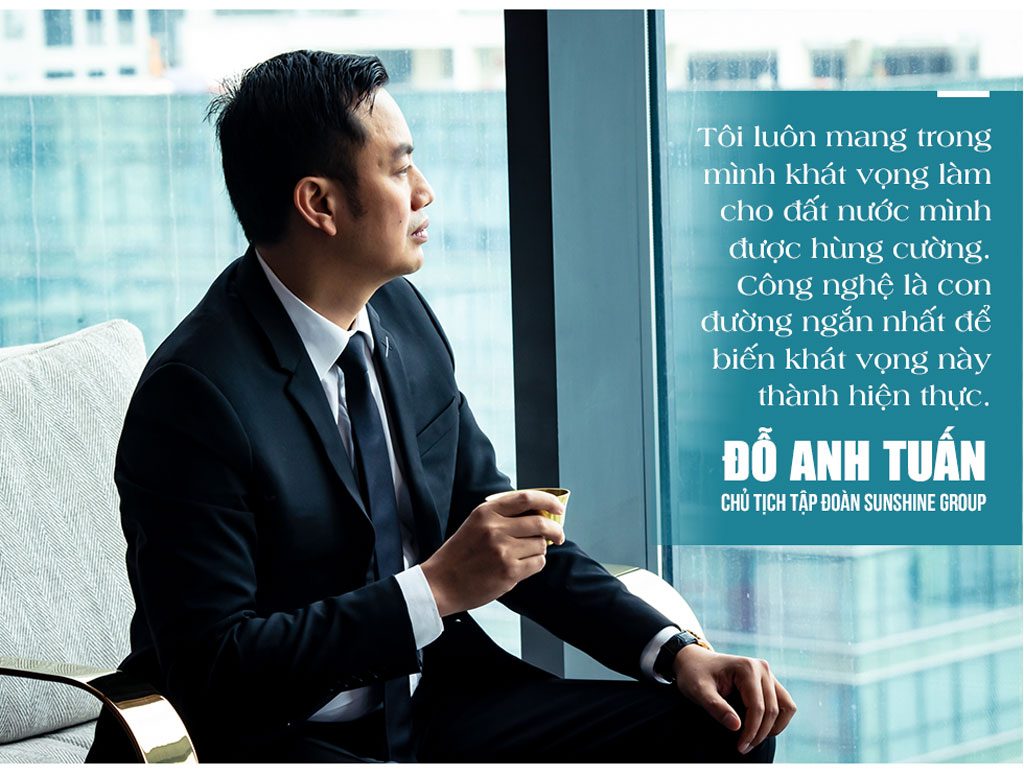 From a customer perspective, what do you think users benefit from this application?
Digitizing transactions is the trend of the whole world. The future of the world is in Fintech's hands, if we can't catch up, we will easily be left behind. Fintech field in Vietnam has been attracting the special attention of large technology companies and enterprises such as FPT, Viettel and VNPT to join in.
Sunshine Group is proud to be the pioneer in applying Fintech in real estate. In Sunshine App, we have integrated Fintech to create flexible, transparent and suitable investment – payment – credit features for all audiences, providing real solutions for a 4.0 electronic citizen.
Buying a house seems complicated, now all operations will be conducted online and the signing is done automatically. Buying a home is as easy as buying a book on Tiki or an item on Shopee. Not only that, with Fintech, Sunshine App also opens up real estate investment opportunities, promising to bring investors into the exciting, safe and highly profitable game.
It can be said that when transactions are digitized, besides bringing convenience to customers and transparency of information, lowering production costs is the most important factor. In particular, this application not only benefits customers but also brings many impacts to society.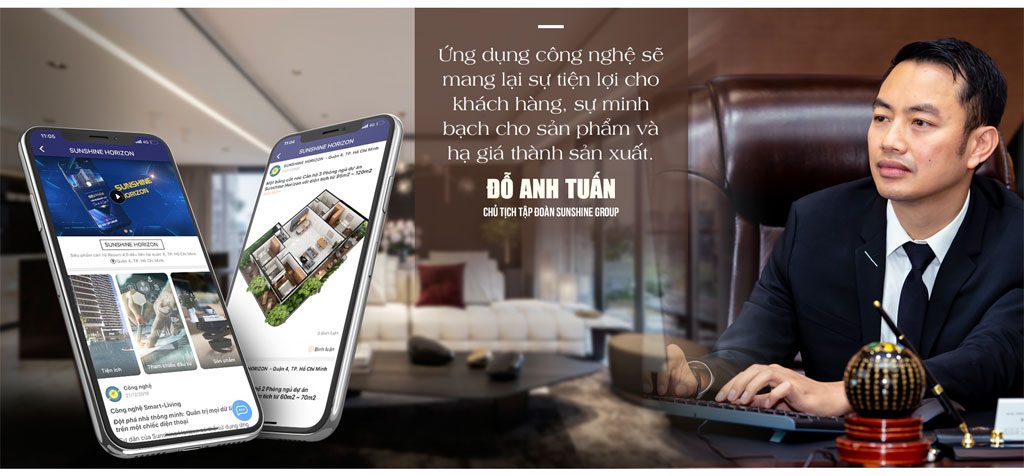 You just mentioned the "impact on society", so, in your point of view, to the Sunshine App how is social responsibility implemented?
A company can only grow when it accomplishes three major goals: business efficiency, law compliance and social responsibility. The introduction of the Sunshine App not only brought about sales effectiveness but also addressed a painful aspect of the market now, which is the real estate marketing method of the broker.
Every day, we waste time and money when customers receive dozens of phone calls, spam messages offering real estate. With Sunshine App, instead of constantly annoying customers like that, now brokers can actively introduce products by technology. In addition, Sunshine App will protect the interests of brokers who bring a lot of value to customers but have little regard in the marketplace. At the same time, limiting unhealthy competition, sales robbing each other's customers, bringing a fairer working environment for true professionals.
In addition, customers in the technology era can also grasp the most accurate information about the legal, schedule, design of the investor project … Avoid unfortunate cases of buying projects that are inadequate legal document, delay schedule resulting in future consequences.
It can be said that Sunshine App will protect the interests of customers, brokers and bring many benefits to society.
"Do technology, master technology "
To digitize a product, to deploy a lot of features on a Sunshine App, is there any difficulty with Sunshine Group, sir?
We are real coders who have outsourced software to foreign partners. We always set a goal, when making technology no matter how big or small it is, you must always master the technology.
You think merely that Smart – Homes has been done by many real estate businesses and everyone can do it. But if you notice a bit, the products on the market are only Smart on the surface. As for Sunshine Group's products, we create our own boards, manufacture, program and connect everything smart by ourselves.
With the rapid development of technology platform 4.0, it is not difficult for us to own a house. The Sunshine App has just been launched, but we have also been appreciated by international friends.
I know that right before the Sunshine App was launched, Samsung Group had signed a comprehensive strategic development agreement for Smart – Living with Sunshine Group. Is it possible that Sunshine Group's products have a special attraction with a big technology company like Samsung?
When working with Samsung, I still remember the words of Mr. Suh Kyung Wook – General Director of Samsung Vina: "We realize that there are many interesting similarities between Sunshine Group and Samsung Vina. It is the pioneering spirit of applying breakthrough technology innovations to bring the most unique and meaningful experience to customers. "
I think that cooperation with Samsung is an honor of any Vietnamese company, especially a technology company, because Samsung products are always innovative with breakthrough technology. In the near future, Samsung is about to introduce a series of superior smart home appliances such as refrigerators, washing machines … Especially, these devices are designs of the future and they are compatible with the technology platform we are developing. This is an outstanding advantage for us to deploy the Smart Home ecosystem, Smart Living perfect right from the IC, the motherboard of the first device in Vietnam and in the region.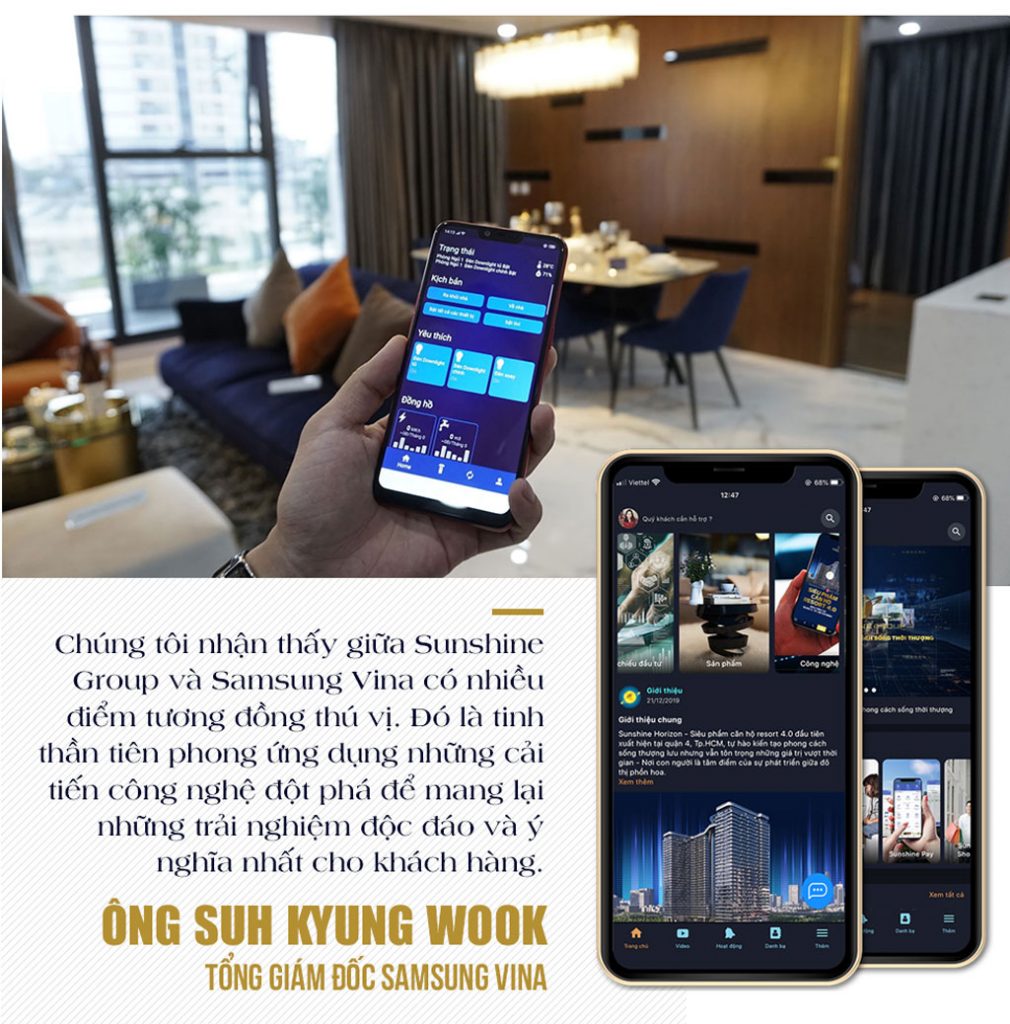 As a real estate company pioneering in bringing 4.0 revolution into real estate, now pioneering in digitizing transactions, applying Fintech to real estate, is Sunshine Group going too fast?
In 2016, when Sunshine Group officially launched with the orientation of bringing technology revolution 4.0 into real estate, I am sure many people laughed. They did not believe Sunshine could do that. But in fact, in the past 3 years we have done and done very successfully. For Fintech too, we have not done yet so it is difficult, but when we determinie to do, the importance is that whether we pursue to the end or not.
Sunshine Group has an advantage compared to other companies, we know both technology and real estate. And especially, we can master the technology to be able to develop the most perfect applications. Meanwhile, it is difficult for other companies to do this when hiring technology from outside.
I believe that startups start with technology and fintech are not few, but successful people are extremely rare. And I want to prove that nothing is impossible when deciding to do Sunshine App.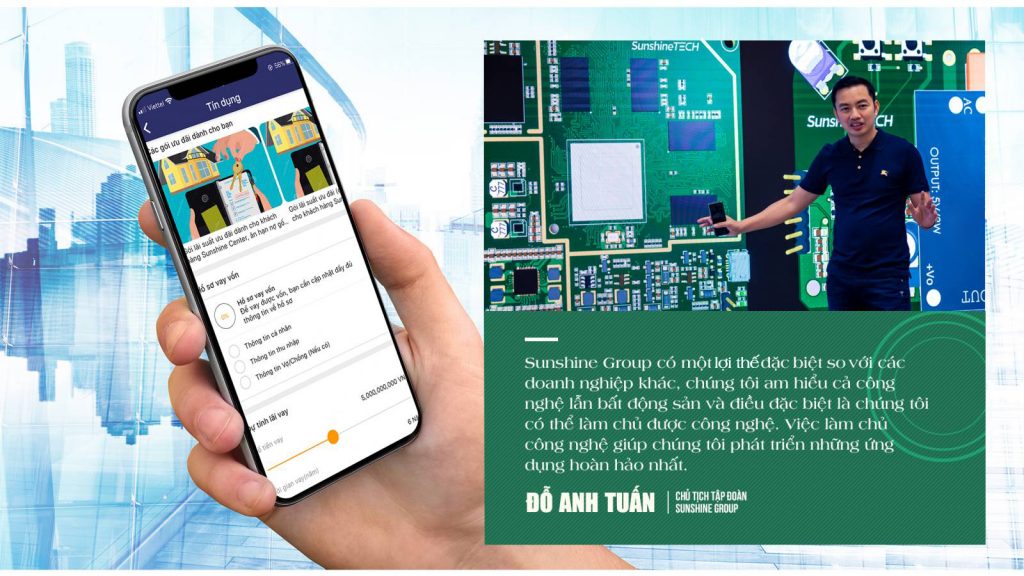 No pioneer vietnam will always lag behind
The recent launch of the Sunshine App was a "shock" for the real estate market in early 2020. Do you think you've succeeded?
Thank you for considering Sunshine App to a "shock". Sunshine App is an application that integrates the core technologies of the industrial revolution 4.0 such as artificial intelligence (AI), Bigdata …
In the process of deploying Sunshine App, the difficulty is there, the challenge is not small, but I think we need to create new playgrounds to catch up with the world. Sunshine pioneered the 4.0 technology revolution and made sure that if Sunshine Group did not bring Fintech to real estate, it would be difficult for any company to dare to do so. It is a disadvantage for the Vietnamese.
For Sunshine App, the most successful thing is not the technology but the people. Sunshine people always have a desire to bring Vietnamese real estate to the world with technology and with the Sunshine App I think we are gradually touching that desire.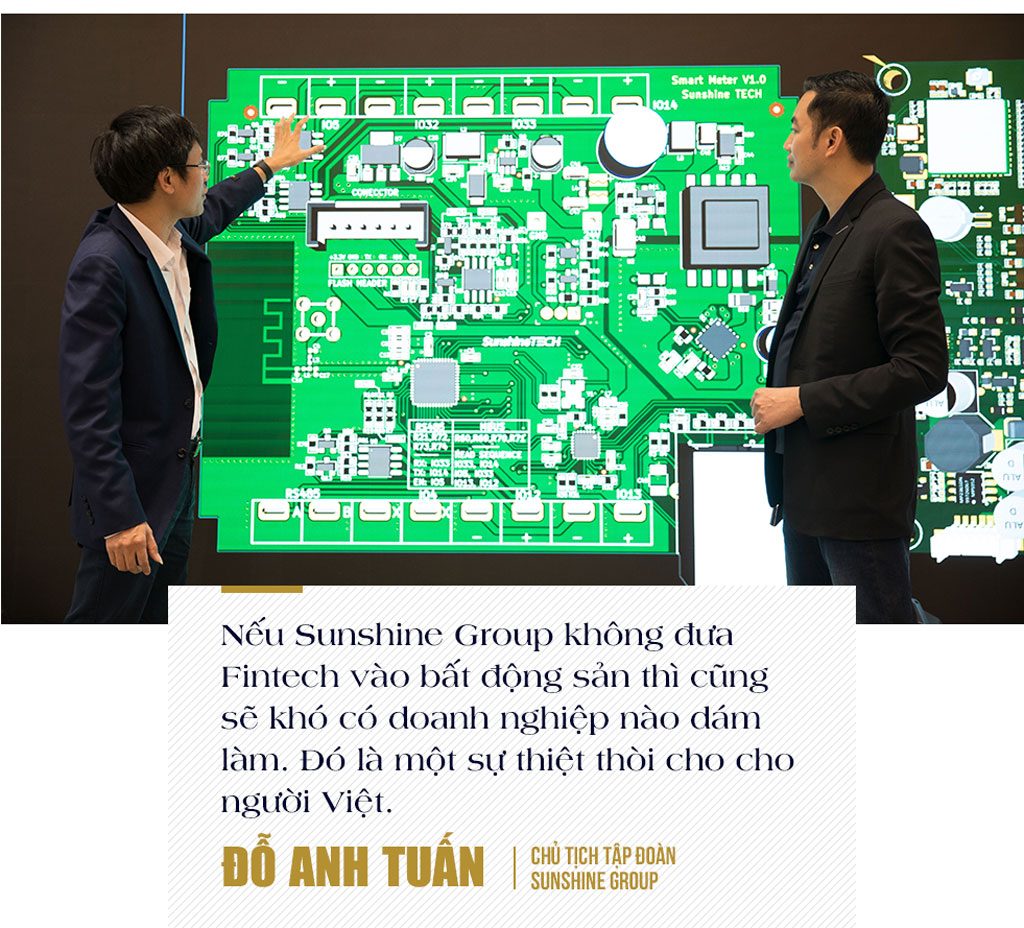 You have said that if Sunshine does not do it, it is difficult for any company to dare to do it? Is what Sunshine Group doing is risking for themselves?
It can be called risky but actually it is the bravery of people doing business in general. If you are not brave, you will not dare to stand apart from the crowd. At Sunshine Group, it is a collective enough bravery to be ready to face challenges. And the result is that we always create values that bring society and country.
Without these pioneers, Vietnam will always be left behind. If we do not create new products, how can we change the old ones. With Sunshine Group, we are willing to do things that others consider impossible.
Sunshine Group, Sunshine Homes and now the Sunshine App, … are the brands that constantly make a splash in the real estate market. Do you think you are a successful Start-up?
We often know the Start – up rate of failures in the world generally ranges from 75 – 90%. Maybe I'm lucky to fall into the remaining 10% …!
I used to roll on the market from my bare hands and understand the bitter, grim things when starting – up. Therefore, Sunshine Group is currently having startup incubation programs through both direct and indirect forms such as investing in forming Fintech companies, establishment of investment funds, incubators to support Fintech startups…
Together with the fund for startups of VND 500 billion, we are willing to sponsor free coworking space for technology or Fintech startups with an area of up to thousands of m2 at the Group's headquarters.

Technology is like a flow and never stops. In 2016, you succeeded as a pioneer in bringing 4.0 into real estate, now Fintech. By 2020, what is Sunshine Group planning to do in this flow?
Over the years, we have built tens of thousands of smart apartments, many smart buildings, contributing to changing Vietnam's urban image. In 2020, we will continue to build large-scale urban areas using the most advanced 4.0 technology but still bearing the Vietnamese cultural identity. The tradition of building and defending the country and the cultural heritage of thousands of years will accompany the technological flow in these urban areas.
In addition to smart urban areas with Vietnamese cultural identity and preservation, we will build the most modern economic zone in the world, where people, companies and governments will be 100% digitized…
Is that your biggest dream on the Rat Year that you are cherishing?
Actually, that is the goal of Sunshine Group. As for me, I always stand in my heart of a dream of being able to advise, support and guide Vietnamese small and medium enterprises to digitize, support technology to enhance production and bring products to global.
And one thing I have cherished for a long time, is able to build a shipyard, to build bigger, more advanced and stronger ships so that people going out to fishing are not as hard as they are now. (Laugh).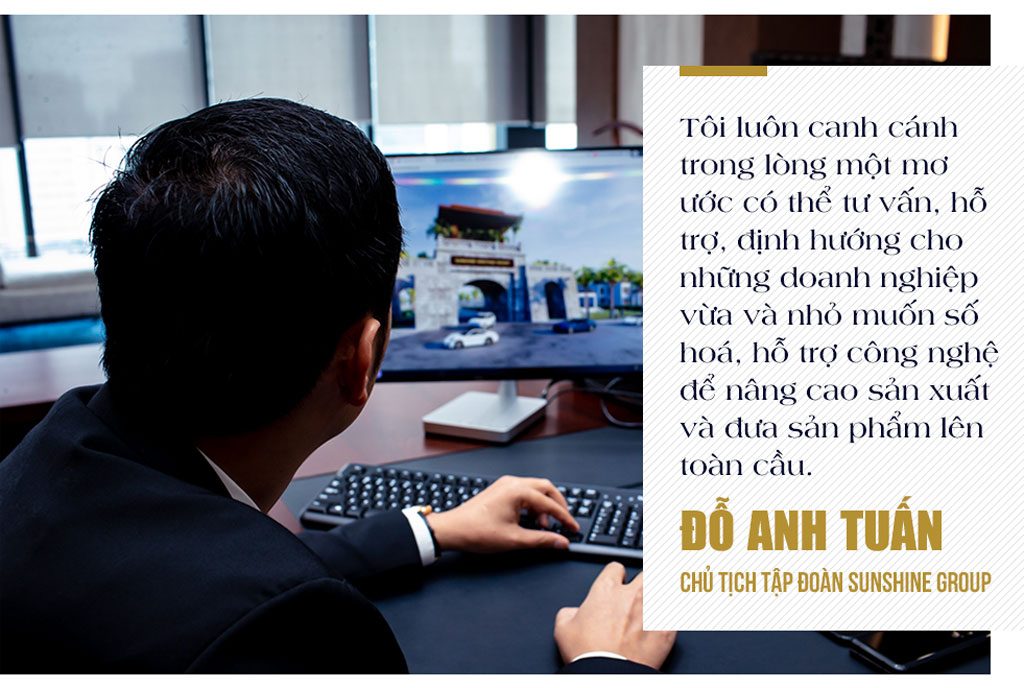 Thanks for your interesting sharing and wish you everything is as your expectation in the New Year.
Cre: Cafef.vn