"I am so surprised. I feel like hitting the jackpot!" – Mr. Dinh Quyen Anh, a housing buyer via Sunshine App of Sunshine Group bursts into happiness being informed that he won a lucky prize, and only needed to spend 2020 dong buying a 3-billion-dong apartment on the first day of New year.
"Spending a fortune" on Tet, Sunshine Group hold "God of wealth knocks at your door" on Sunshine App, giving a "great" prize, a Smart Homes apartment in Sunshine Diamond River project (District 7, Ho Chi Minh City) which is nearly 3 billion dong on the first day of Tet Canh Ty.
After finishing lucky draw, the name of one lucky customer is shown on mobile phone's screen via Sunshine App, Mr. Dinh Quyen Anh. He is a customer making successful booking transaction for an apartment in another project of Sunshine Group.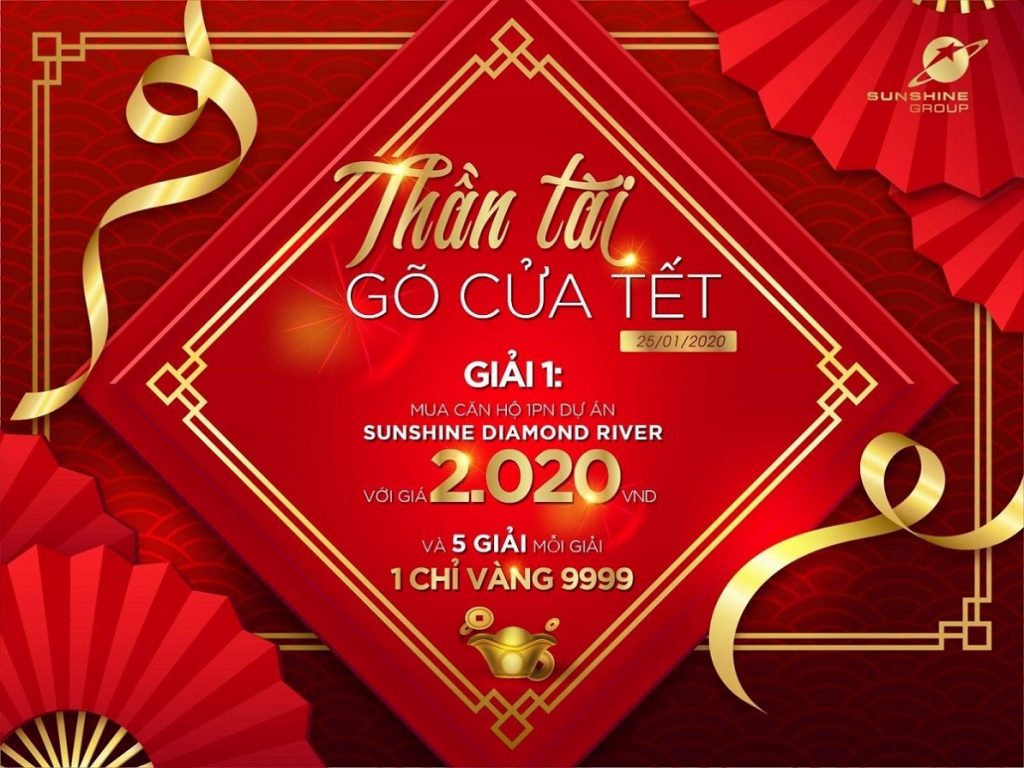 It can't be difficult to visualize happiness of this customer and his family when God of Wealth knocked at his door to give out such a valuable present at the beginning of the year.
Mr. Quyen Anh can't help but shares his happiness with a reporter of Sunshine News tremblingly: "I am so surprised. I feel like hitting the jackpot. I have been shocked and embarrassed because of my extraordinary happiness when informed and instructed by Sunshine Group's staff. I am so lucky to win such a valuable prize on the first day of Tet."
Mr. Quyen Anh was actually amazed to be the lucky one who "God of Wealth" called on the first day of New Year and said: This is really a propitious gift for him and his family in the event of the beginning of spring.
Mr. Quyen Anh was informed about winning the special prize which allows him to spend 2020 dong owning a nearly 3-billion-dong apartment in Sunshine Diamond River project while he was celebrating New Year party with his family.
Mr. Quyen Anh added: "I like Sunshine's apartments because they have a bright, spacious and long balcony extending from bedroom to living room. They are fully equipped with technology 4.0 according to the level of a luxurious apartment".
It is known that the apartment Mr. Quyen Anh won as a lucky prize from Sunshine Group costs nearly 3 billion dong with beautiful design, like of 5-star hotel, in Sunshine Diamond River project. Also, it is one of classy apartments of resort standard on the nicest location in District 7, Ho Chi Minh City, whose 3 sides are contiguous to Sai Gon River.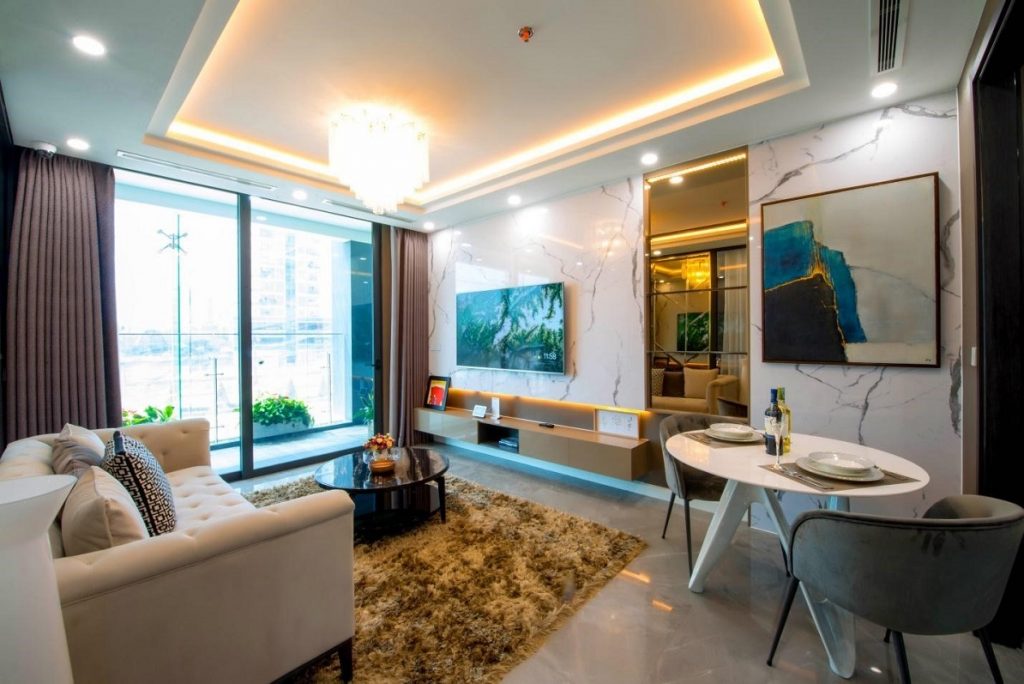 Thanks to outstanding advantages from prime location to sophisticated and pioneering architecture which bring about 3 best living values: Smart resort – Smart utility – Smart life, Sunshine Diamond River is recognized with 2 reputable awards: Best Innovative Green Building Vietnam and the Most Favorite Project in 2019 honored by DOT Property Vietnam Awards 2019. Thus, at the launching time in August, 2019, this project has been sold out, creating an irresistible attraction to people in Sai Gon.
Although it hasn't been a long time since Sunshine Group took part in Sai Gon market, it is famous for reputable projects which have good quality in construction, design as well as completion of luxury apartments. Most of Sunshine Group's apartments are equipped with costly interior from prestigious Europe brands, classy garden, yard and utility system satisfying families seeking for green living space which is both luxurious, noble and smart, equipped with technology.
Particularly, Sunshine Group has just released a special technological app lately: Sunshine App fully changing the mindset of buying and selling real estate on the market. In detail, instead of buying housings in a traditional way, every manipulation and real estate sales process via Sunshine App are performed by some "touches" on Smart Phone's screen thanks to the most transparent and clearest information system. Additionally, Sunshine App is also a "handbook" to supply users with "The world at hand" by integrating all features involved in investment, technology, finance, shopping, entertainment, services, etc. in one app.
This super app has been the main key providing customers the biggest prize system since its release. Specifically, some customers of Sunshine Group had won prizes from 500 million dong to 1 billion dong, before Dinh Quyen Anh won the special prize (a 3-billion-dong apartment) on the first day of Tet Canh Ty.
It is so easy to use Sunshine App because of its smart and flexible design. "This app is convenient and easy to perform. Moreover, the information is really quick and correct!" Mr, Quyen Anh agreed.
After a period of using Sunshine App, Mr. Quyen Anh realized that this is really an application offering many practical and meaningful benefits to customers, such as the unexpected gift of great value that he received in this Lunar New Year.
Besides the 3-billion apartment, Sunshine Group also gave customers other "lucky" gifts at the beginning of the year. In particular, on the first day of the Lunar New Year, the lucky draw on the Sunshine App found other 5 lucky residents who received 1/10 tael of gold 9999 from Sunshine Group.
In addition, not only did customers receive gifts but Sunshine Group's project sales staffs were also overjoyed to participate in the lucky draw and got awarded. There were a consultant who won 50 million VND and 3 sales specialists being awarded 1/10 tael of gold 9999.
It can be said that in the jubilant atmosphere of celebrating the national traditional Tet Holiday of Canh Ty 2020, the gifts of Sunshine Group have doubled the joy of customers and sales specialists to enter a new year with talent, fortune, luck and happiness.
It is known that the lottery program for sales lasted until the end of the 3rd days of the Lunar New Year with the highest prize of up to 100 million VND. Moreover, in January, customers booking housings at Sunshine Group project via Sunshine App are presented vouchers worth up to VND 200 million to buy Samsung electronic devices and a 40% discount compared to the listed price.